Recipe in:
One Dish Dinners
  (Pies, Pizzas and Quiches)
Tomato and Chevre Tart 
Total time: 60 minutes, 45 if rice cooked earlier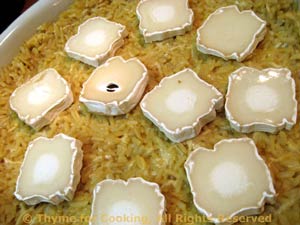 I use a brown rice crust for this; it's healthier.  But you could certainly use a proper pastry or pie crust if you prefer.  Instead of Prosciutto you could substitute a bit of regular, baked ham or smoked turkey.  And any cheese would work, just don't use too much.... Use the aged goat cheese that comes with a thin edible rind.
 Ingredients:
 Instructions:
The crust:
Cook rice in stock according to package instructions.
When done, spread out on a plate for 5 minutes to allow to cool a bit.
Lightly oil a 10" (25 cm) pie or quiche plate. 
Lightly whisk 1 egg.
Add 1/4 cup shredded cheese and the cooked rice.  Mix well. 
Pat into the quiche plate or pie pan, working it up the sides as best you can. 
Bake in 400F (200C) oven for 5 minutes. 
Remove.

The filling:

Slice goat cheese into 1/4" (.6cm) rounds.
Slice tomatoes about 3/8 " thick, (.3cm).
Tear or cut Prosciutto into large pieces.
 Leave basil leaves whole.
Whisk eggs and yogurt together.
To assemble:
Arrange sliced goat cheese on crust.
Top with Prosciutto and basil leaves.
Pour egg mixture over as evenly as you can.
Top with tomatoes; do not overlap.
Bake for 30 minutes, until center has set. 
Remove and let rest 5 minutes.
  Slice and serve.
Note:  When baking quiches or tarts, I put the dish on a sturdy baking tray, before pouring in the egg mixture, for easier handling.