Pasta with Ham and Peas
Total time: 25 minutes
   This is such a colorful pasta dish it makes me happy just looking at it.  Using frozen peas and deli ham has this is ready faster than you can cook the pasta. A bit of creamy goat cheese brings it all together.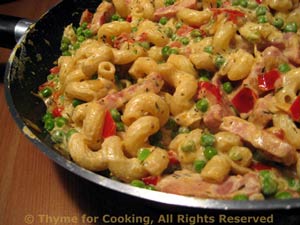 Ingredients:
 Instructions:
Cook pasta according to package directions.  Cook pasta a minute less than usual and let it finish in the sauce.
Roughly chop onion and pepper.  
Cut ham into bite-size pieces. 
Heat oil in large skillet.  Add onion and pepper and sauté until tender, about 5 minutes. 
Add ham, paprika and sauté 5 minutes longer. 
Add chicken stock, thyme, mustard and stir to combine. 
Add peas, cover and simmer until peas are tender, about 5 minutes. 
Add goat cheese and stir until melted and combined. 
Add pasta and stir to coat. 
Sprinkle with cheese and serve.