Spinach with Chevre and Dates
Vieux Carré Scampi
Quinoa with Herbs
Brussels Sprouts with Prosciutto
Vieux Carré Scampi
Total time: 30 minutes
    This is based on one of a 'box' of recipes I got years ago.  It's a bit heavy on the butter, which makes it ideal for serving over rice or pasta... or Quinoa.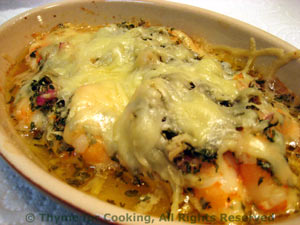 Ingredients:
12oz (360gr) shrimp (prawns)
1 tbs lemon juice
1 clove garlic, minced
1 shallot, finely chopped
1 tbs dried parsley
2 tbs butter

1/2 cup (2oz, 60gr) shredded cheese

-

your choice, I use Gruyère
 Instructions:
Clean shrimp if needed. 
Divide into 2 buttered, shallow, individual baking dishes or 1 larger one, arranging nicely. 
Divide garlic, shallots, parsley and sprinkle over shrimp. 
Drizzle with lemon juice, dot with remaining butter and sprinkle the cheese over all. 
Bake at 375F (190C) for 15 - 20 minutes, until hot, bubbly and shrimp are done. 
Time varies depending on size of shrimp.  Serve. 
Note: I put the small dishes on a baking sheet for easier handling.