Artichokes with Lemon Sauce
Shrimp in Green Sauce
Orzo with Green Garlic and Mascarpone
Asparagus with Lemon Parsley Vinaigrette
Shrimp in Green Sauce
Total time: 20 minutes
    A typical 'green sauce' would be parsley, green onions and garlic.  If you can't get green garlic, use the substitutes.  This is reminiscent of the Italian Scampi, but without the butter....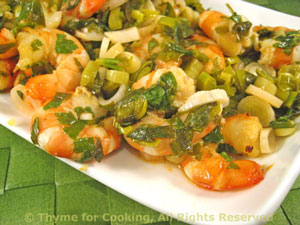 Ingredients:
12oz (360gr) shrimp (prawns), cleaned
2 tbs olive oil
1 tbs fresh lemon juice
4 tbs chopped, fresh parsley

3 green garlic, including green tops

 

substitute 3 green onions and 2 cloves garlic
 Instructions:
Trim green garlic, slicing off the root and removing 1 layer.  Thinly slice as much as you can, including the green tops. 
OR trim the green onion the same way and slice; mince the garlic. 
Chop the parsley -

I cut with a scissors.

Mix olive oil, lemon, chopped parsley and green garlic (or onion and garlic) in a medium bowl. 
Add shrimp and combine. 
Put into a small baking dish and bake, 400F (200C) 15 minutes, until shrimp are just cooked through.