Recipe in:
Barbecue
(Chicken and Other Poultry)
Balsamic Glazed Turkey Cutlets
Total time: 25 minutes
    Turkey cutlets are an economical and flavorful meat, cut from the turkey breast, and can be used in place of, more expensive, veal scallops.  They should be about 1/4 inch (.6cm) thick.  Because they are so thin they take well to marinades and cook quickly, without a chance of drying out.  They can be quite large; cut to a more manageable size.  If you are unable to find them, and don't have an accommodating butcher to cut them for you, use chicken breasts or buy turkey tenderloin and slice it yourself with a sharp knife.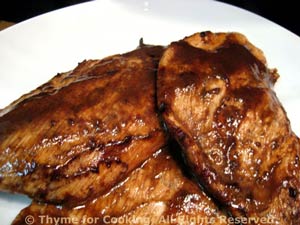 Ingredients:
2 - 4 turkey cutlets, depending on size, 12oz total weight (360gr)
1 tbs Dijon-style mustard
2 tbs Balsamic vinegar
2 tbs olive oil
 Instructions:
Mix mustard and vinegar.
Slowly whisk in olive oil until you have a thick marinade. 
Pour over turkey and let marinate for at 10 - 15 minutes. 
Remove from marinade and cook on barbecue grill for 3 - 5 minutes per side or until done.

OR

sauté in nonstick skillet for 4 - 6 minutes a side or until done. 
Remove and serve.