Recipe in:
Barbecue
(Chicken and Other Poultry)
Barbecued Chicken 
Total time: 60 minutes
  As it is assumed people want to do most things for themselves here, we have to buy the whole chicken and cut it up - otherwise we might not get the feet... Get a cut-up chicken or packages of your preferred pieces, freezing what you don't use for another day.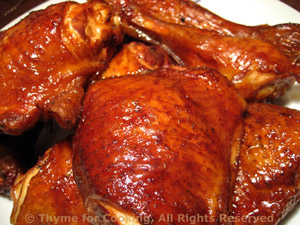 Ingredients:
 Instructions:
Wash chicken and pat dry with paper towels. 
Sprinkle with salt, pepper and paprika. 
Put on barbecue grill on indirect heat and close cover. 
Check periodically - if any pieces flare up just move around a bit.  An instant-read or remote read meat thermometer is a great help. 
After about 30 minutes start basting with barbecue sauce (if you do it earlier the sauce may burn).  I always put 2/3's of the sauce in a separate small bowl to be used for dipping at the table before mon mari starts the basting. 
Chicken will be done at 170F or when it is no longer pink and the juices run clear when pierced with a knife.  Try not to cook it too long or it will be dry - and remember that the breast will be done before the thigh.  It should take about 45 minutes over indirect heat but can be up to an hour, depending on heat. 
Remove and serve with sauce on the side. 
Oven method: Put chicken skin side down on baking sheet with sides or in 9X13 pan. 
Sprinkle with salt, pepper and paprika and put in a 400F (200C) oven. 
After 30 minutes turn chicken and baste with barbecue sauce. 
Continue to bake 15 minutes longer or until done, basting once more with barbecue sauce. 
Remove and serve with a bit of sauce on the side. 
Barbecue Sauce:
Mix all ingredients in small sauce pan and bring to a boil over medium heat stirring frequently.
Simmer 10 - 15 minutes, remove from heat and use when needed. 
Sauce will keep for a week in the refrigerator.