Filet Mignon with (simple) Marchand de Vin Sauce
Total time: 30 minutes
   This sauce in lovely with filet mignon, but use any tender steak that you like.  Use a hot skillet or grill pan to cook quickly, adjusting time for desired degree of doneness.  The sauce is simple, but intensely flavorful... And easier than the original.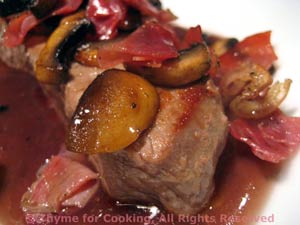 Ingredients:
4 slices beef tenderloin, each 1 inch thick (2.5cm), 14oz (420gr) total weight 

or other steak of choice

2oz (60gr) Prosciutto, about 3 slices, divided
2 shallots
4oz (120gr) mushrooms
2 cloves garlic
1 cup (8oz, 240ml) beef stock
1 cup (8oz, 240ml) red wine
1 tbs cornstarch dissolved in 2 tbs beef stock
2 tsp olive oil
 Instructions: