Main Course Menu Plan: Week 9 
Fall II
Day 1:

Bacalao a la Marinera (Fisherman's Cod)

Total time: 30 minutes
  This is a Spanish dish that would, traditionally, be made with dried, salted cod.  I used fresh.  In Spain you can buy the bacalao dry as a board or already reconstituted and rinsed.  You can substitute any white fish: tilapia, snapper, mahi mahi;  adjust cooking times slightly, according to thickness.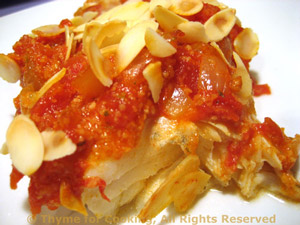 Ingredients:
12oz (360gr) cod filets or other white fish, fresh or frozen and thawed
1oz (30gr) slivered or chopped almonds
1/2 onion
2 cloves garlic
1 tbs olive oil
1 3/4 cup (15oz, 450gr) chopped tomatoes, drained 
1/3 cup (3oz, 90ml) white wine
2 bay (laurel) leaves
2 tbs dry bread crumbs
 Instructions:
Finely chop the onion and garlic. 
Heat oil in a medium skillet over medium heat.  Add onion, garlic and sauté until tender. 
Drain tomatoes, reserving juice for another use.  Roughly chop the tomatoes. 
Add tomatoes to pan along with white wine and bay leaves. 
Bring to a simmer and let cook, uncovered, 5 minutes or until thickened. 
Remove bay leaves and stir in bread crumbs. 
Place fish in baking dish just large enough to hold it in one layer. 
Spoon the sauce over, sprinkle with almonds and cover either with a lid or foil. 
Bake at 400F (200C) for about 15 minutes, or until fish is done. 
Uncover for the last 5 minutes of baking time.  Fish flakes easily when done.  (If you have pieces more than 1" (2.5cm) thick it may take 20 minutes.) 
Remove fish from dish, place on a small platter and serve.
Day 2:

Braised Lamb with Chickpeas and Butternut Squash

Total time: 1 hour 15 minutes
    This is meant to be like a tagine - which is the name of both the method/type of cooking and the conical-shaped dish they are made in.  This should be thick and chunky, with little visible liquid remaining. Couscous is the traditional accompaniment.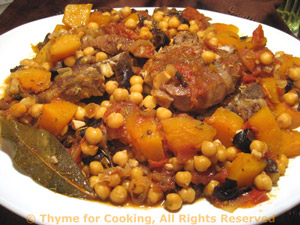 Ingredients:
 Instructions:
Slice shallots; mince garlic.
Drain and rinse chickpeas. 
Pit olives if needed and roughly chop. 
Cut lamb into large pieces and trim excess fat.
Heat oil in a heavy pot or Dutch oven with tight-fitting lid. 
Add lamb and brown on all sides. Remove and set aside.  
Add the shallots, garlic, paprika and sauté until tender and starting to brown, about 5 minutes. 
Return the lamb to the pot, add herbs, wine, tomato, chickpeas and squash. 
Cover, turn heat to low and braise for 60 minutes.  
When done, spoon meat and vegetables onto a platter and serve. 
Day 3:

 Chili

Total time: 70 minutes
   This is my recipe.  I know it is not authentic 'Texas Chili'.  If any of you 'Chili' aficionados want to argue about what's wrong with it go ahead.  I use tomato juice to 'thin' it.  This is purely to taste.  I use 1 - 2 cups; mon mari would use none, my sister would use 5 - 6.  You can drink or freeze any unused juice in 1 cup portions.
 Ingredients:
16oz ground beef (480gr mince) 

coarsely ground for chili is nice if you can get it

2 medium onions
6 cloves garlic
2 medium green bell peppers or 1 large
30oz (900gr)whole tomatoes

plus the rest left from Saturday

30oz (900gr) red kidney beans, drained and rinsed
15oz (450gr) pinto or navy beans in tomato sauce (pork & beans, pork removed)
3/4 cup chickpeas, 

leftover from Saturday

4oz (120gr) green chiles
1 tbs oregano
1 tbs basil
4 bay leaves
2 tbs chili powder,

more or less to taste

1/2 tsp cumin
1 tbs Worcestershire sauce
2 tsp beef base, paste or 1 stock cube or 1/2 cup beef stock
1 tbs olive oil
1 - 4 cups tomato juice,

depending on your preference

jalapeños, hot peppers, hot sauce, Tabasco, to taste
 Instructions:
Chop onion and pepper. 
Mince garlic.
Drain green chilies and chop if whole.  
Heat olive oil in 5qt (4 litre) Dutch oven or stock pot .
Add 1 tbs chili powder and sauté for 1 minute.
Add onion and pepper, sauté for 5 minutes.
Add garlic and sauté 5 minutes longer.
Add beef and brown, breaking it up as it cooks.  
Drain tomatoes, reserving juices. Roughly chop tomatoes.  
Drain and rinse kidney beans.  
Open pinto beans and remove pork if any. 
When beef is brown add tomatoes, juices, and beans.  Stir well. 
Add green chiles, herbs, beef paste, 1 tbs chili powder and Worcestershire.  
Heat to boiling.  Add 1 or more cups of tomato juice. 
Cover, reduce heat and let simmer at least 20 minutes. 
Taste.  Add more chili powder, jalapeños, hot sauce, if you choose. 
Simmer 10 minutes more - or longer. 
Taste again... Adjust again if you like.

Remove bay leaves and serve. 

You can garnish with shredded cheese, crème fraiche, or both, on top...
Day 4:

 Chicken Stroganoff with Pasta

Total time: 30 minutes
    Chicken breast, cut up and quickly cooked, makes a very tender meat for the Stroganoff.  You may never go back to the traditional Beef! I break from tradition again, using Greek yogurt rather than the sour cream.  Greek yogurt is thicker and creamier than regular plain yogurt, but lower in fat and calories than sour cream.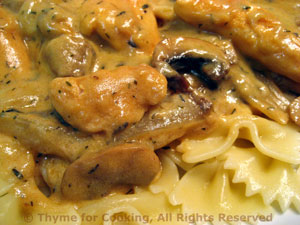 Ingredients:
2 chicken breasts, boneless, skinless
1 medium onion
4oz (120gr) mushrooms
2 tbs olive oil
1 tbs paprika
1/4 cup flour
1 cup (8oz, 240ml) chicken broth
1 tbs Dijon-style mustard
1 tsp thyme
2 tsp cornstarch (maizena) dissolved in 1 tbs water
1/2 cup (4oz, 120gr) Greek yogurt, plain yogurt or sour cream

1 1/4 cups (4.2oz, 125gr) pasta, bite-size 

  

I like farfalle or egg noodles for this
 Instructions:
Cook pasta according to package directions.
Peel and vertically slice the onion into thick wedges.
Brush any dirt off the mushroom and slice - trimming off the tough stem ends. 
Cut the chicken into bite-size pieces. 
Put flour and paprika into a medium food bag - large enough to easily hold the chicken. 
Mix the flour and paprika, then add the chicken.  Shake to coat well.
Heat 1 tbs oil in large nonstick skillet and sauté onions for 5 minutes. 
Add mushrooms and continue to sauté until onions are tender, about 10 minutes longer. 
Remove to a plate. 
Heat remaining 1 tbs oil in same skillet.  Add chicken and sauté until golden, 3 - 4 minutes. 
Add chicken stock, onions, mushrooms, thyme and mustard to skillet, cover and simmer 5 - 7 minutes. 
Dissolve cornstarch in water and stir into pan. Continue stirring until quite thick. 
Remove from heat, add yogurt, mix thoroughly. 
Put the pasta in large pasta bowl, spoon the Stroganoff over and serve.
Day 5:

 Turkey Cutlets with Sherry and Almonds

Total time: 15 minutes
     Much more economical than the traditional veal cutlets, breaded turkey with a light sherry and almond sauce is an impressive, but simple dish.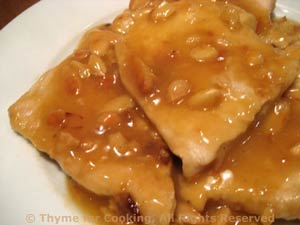 Ingredients:
2 - 4 turkey cutlets, depending on size, 12oz total (360gr)
2 tbs flour
1/4 cup (1oz, 30gr) slivered or roughly chopped almonds
1/4 cup (2oz, 60ml) chicken stock
1/4 cup (2oz, 60ml) sherry
1 tbs olive oil
1 tbs butter
2 tsp cornstarch dissolved in 1 tbs chicken stock
 Instructions:
Day 6:

 Sautéed Sausage and Butternut Squash over Rice

Total time: 25 minutes
     Everything is stir-fried quickly to brown, then left to simmer a few minutes while the rice finishes. Use any type of sausage you like.  This should end up very moist, almost glazed.
 Ingredients:
The Rice:
1/2 cup (3.3oz, 95gr) Basmati rice
1 cup (8oz, 240ml) chicken stock
The Sausages:
4 - 6 sausages, 12oz (360gr) total weight
12oz (360gr) butternut squash
1 onion
2 cloves garlic
2 tsp olive oil
1 tsp paprika
2 tsp dried sage
1 tsp dried oregano
2 tsp Balsamic vinegar
1 tsp Worcestershire sauce
1/4 - 1/2 cup chicken stock
 Instructions:
Cook rice according to package directions.
Cut butternut squash into large chunks. 
Roughly chop onion, mince garlic.
 Cut sausage into 1" (3cm) lengths.
Heat oil in large nonstick skillet over medium high heat. 
Add onion, paprika and sauté 3 minutes. 
Add garlic, sausage and sauté until sausage starts to brown. 
Reduce heat to medium.  Add butternut squash and sauté until squash starts to brown. 
Add herbs, vinegar, Worcestershire and 1/4 cup chicken stock. 
Cover, reduce heat and simmer 5 minutes to blend flavors and finish cooking squash. Add more stock if needed.
When rice is done, spread on a platter.
Spoon sausage and vegetables on top and serve.