Main Course Menu Plan: Week 5 
Fall II
Day 1:

Sesame-Crusted Salmon

Total time: 20 minutes
 The sesame crust adds just the right amount of crunch to these flavorful salmon filets; roasting keeps the crust nicely in place.
 Ingredients:
2 salmon fillets or steaks, 12oz total weight (360gr total)
2 tbs sesame seeds
2 tsp soy sauce
2 tsp sesame or walnut oil
1 tsp brown sugar
1/4 tsp ground ginger
 Instructions:
Mix soy sauce, sesame oil, ginger and brown sugar in a small bowl, whisking until sugar and ginger are dissolved.  
Put salmon on a baking sheet with a lip.  Divide soy mixture and spoon over salmon, coating evenly. 
Sprinkle sesame seeds on top of each filet, pressing them in lightly. 
Bake in 400F (200C) oven for 15 - 17 minutes, depending on thickness.  Salmon will be done when it flakes easily, slightly pink in the center is fine.  The sesame coated top should be a golden brown when done.  Remove and serve.
Note:  For easy clean up cover pan with foil first.  This is especially nice if you are using fillets with the skin on.  You can carefully lift the salmon off the skin to serve, leaving the skin on the foil.  Then wrap the whole mess up and toss.
Day 2:

Chicken Breasts Savoyard    

Total time: 45 minutes
   An elegant party dish, it expands easily.  Boneless chicken and artichoke bottoms, baked in a white wine sauce.  It can be prepared ahead and baked at the last minutes.  Very little work for gourmet main course.  Serve with some fluffy Basmati or Mashed Potatoes.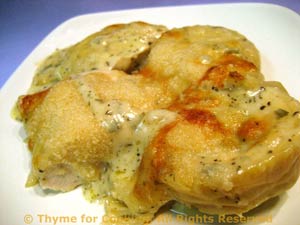 Ingredients:
2 chicken breasts - boneless, skinless
1 medium onion
1 tsp dried tarragon
1 tsp dried thyme
1 tbs olive oil
3/4 cup (6oz, 180ml) dry white wine
1/2 cup (4oz, 120ml) chicken broth
1/2 cup (4oz, 120gr) Greek or plain yogurt, or sour cream
1 tbs Dijon-style mustard
1/2 cup (2oz, 60gr) Parmesan cheese
2 tbs cornstarch dissolved in 3 tbs chicken broth
15oz (450gr) artichoke bottoms
 Instructions:
Cut onion in half and slice thinly.
Cut the chicken breasts in half, the short way. 
In nonstick skillet heat oil over medium-high heat.  Add onion and sauté until tender. 
Add tarragon, thyme and chicken breasts and sauté until chicken starts to brown.
Add the white wine, cover and reduce heat to low. Simmer for 10 minutes. 
Open and drain artichoke bottoms. 
In a small baking dish (just large enough to hold everything and, if possible, nice enough to go directly to the table) arrange artichoke bottoms in a single layer. 
Remove chicken breasts and arrange around artichokes. 
Increase heat under skillet to medium-high, add the chicken broth and mustard to the wine. 
When simmering hard stir in cornstarch mixture and cook until thickened. 
Remove from heat; add yogurt and Parmesan. 
Pour sauce over chicken and artichokes and bake in 400F (200C) for 15 minutes. 
Remove and serve.
Day 3:

 Meat Loaf with Creamy Mushroom Sauce

Total time: 70 minutes
      Classic meat loaf paired with a creamy sauce made from field mushrooms.  You can use any ground meat or combination.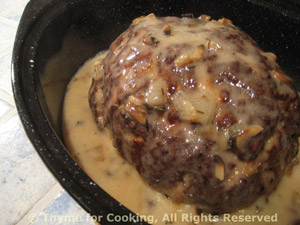 Ingredients: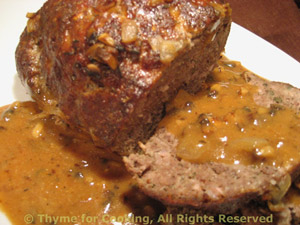 Instructions:
Mince onion as finely as possible. 
In large bowl lightly beat egg with a fork. 
Add onion, red wine, mustard, crumbs, herbs and mix well. 
Add beef and pork, mix well - best to use your hand, kneading it like bread dough. 
Shape into a loaf and put into a roasting pan large enough to hold it with room on all sides. 
Bake at 400F (200C) for 40 minutes. 
Remove and pour mushroom sauce over the top. 
Bake 15 minutes longer or until done. 
Remove.  Slice and serve. 
Mushroom Sauce:
Roughly chop mushrooms. 
Sauté in oil, in medium skillet, until tender and well browned. 
Add chicken stock and bring to a simmer. 
Dissolve cornstarch in water and add to chicken stock, stirring until thickened. 
Remove from heat and stir in yogurt.  Set aside until needed.
Day 4:

 Meat Loaf with Creamy Mushroom Sauce

Total time: 20 minutes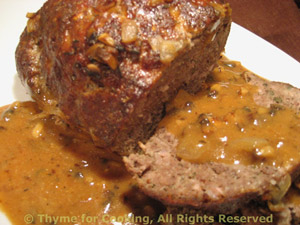 Ingredients:
leftover meat loaf
leftover Mushroom Sauce
 Instructions:
Either reheat the meat loaf in the microwave for 3 - 4 minutes or in a covered baking dish in the oven for 15 - 20 minutes. 
Reheat the sauce in a small saucepan on the cook top or in the microwave. 
Day 5:

 Spaghetti Timbale with Tuna

Total time: 50 minutes
    Spaghetti Pie with Tuna. The spaghetti forms a thick layer on the bottom with the tuna and cheese in layers on top.  If you used a spring form pan you could let it cool a bit and then unmold it for a proper timbale.  We're never that patient.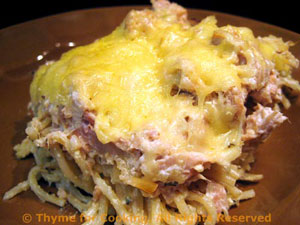 Ingredients:
 Instructions:
Cook pasta according to package directions.
Chop onion, celery, and mince garlic. Slice mushrooms. 
Heat oil in skillet over medium heat.  Add onion, celery, mushrooms and garlic sauté until tender.
Put tuna into a bowl and break it up with a fork. 
Add half of the ricotta and mix lightly.
In large bowl lightly whisk the egg. 
Add the rest of the ricotta, herbs and whisk.
When pasta is done, drain well.  
Toss to cool a bit (do not rinse) then add to the egg mixture along with 1/4 cup of shredded cheese. 
Mix well and put into a glass baking dish (mine is 9 inches square).  Pat into place. 
Spread onion/mushroom mixture evenly over the top. 
Spoon the tuna/ricotta mixture on top. 
Sprinkle with remaining 1/4 cup of cheese.  
Bake, covered with foil (or lid) at 400 F (200C) for 20 minutes. 
Remove foil (or lid) and bake 5 minutes longer.  Serve.
Day 6:

 Chicken Stew with Sherry   

Total time: 50 minutes
    Sherry adds flavor notes that go well with stews.  It blends well with the traditional root vegetables and enhances the flavor of the chicken.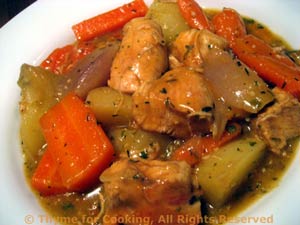 Ingredients:
2 chicken breasts, boneless, skinless
3 tbs flour
1 tbs paprika
3 - 4 shallots
2 medium carrots
2 potatoes
2 ribs celery
2 cloves garlic
1 tbs olive oil
1 tsp rosemary
1 tsp thyme
2 bay leaves (laurel)
1 cup (8oz, 240ml) chicken broth
1/4 cup (2oz, 60ml) sherry or white wine
1 tbs cornstarch (maizena) dissolved in 2 tbs chicken stock (if needed)
 Instructions:
Cut chicken into 1 1/2" (4cm) pieces.  
Put flour and paprika into a plastic food bag and mix well.  
Add chicken, close bag and toss well to coat thoroughly. 
Peel shallots and leave whole. 
Peel or scrape carrots, cut into 2 inch (5cm) lengths, then quarter the long way. 
Cut celery in half the long way, then into 2" (5cm) lengths.  
Mince garlic.
Heat oil in medium saucepan over medium-high heat.  Add chicken and brown quickly. 
Add garlic and sauté 1 minute. 
Add shallots, carrots, celery, herbs, broth and sherry. 
Bring to a boil.  Cover, reduce heat and simmer 5 minutes. 
Quarter the potatoes the long way then cut in half or thirds depending on size. 
Add potatoes to stew. 
Simmer 30 minutes longer, just until vegetables are tender.   Pierce vegetables with a fork or sharp knife to see if they are done; if not simmer another 5 - 10 minutes.
If desired, for a thicker gravy, dissolve cornstarch in chicken stock. 
Uncover, increase heat and remove bay leaves.  Add cornstarch mixture and stir until sauce is thickened.  Serve directly from pot or ladle into serving bowl.