Main Course Menu Plan: Week 11 
Spring II
Day 1:

Grilled Tuna with Lemon

Total time: 30 minutes
    If you get sushi-grade tuna you will definitely want to have this rare (it has to be graded to a higher standard so it is okay to eat raw).  Regular tuna we normally have medium.  Well done tends to make it rather dry.  This is a simple preparation, finished with a bit of sea salt.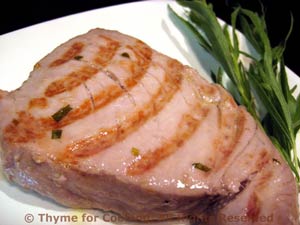 Ingredients:
2 tuna steaks, 6oz each (180gr each)
Marinade:
1/4 cup (2oz, 60ml) white wine
2 tbs lemon juice
1 tbs olive oil
1 tbs fresh tarragon, snipped  

substitute 1 tsp dried

sea salt
 Instructions:
Put tuna in a dish with deep sides. 
Mix all ingredients for marinade, pour over fish and let marinate for 10 - 20 minutes, no longer. 
Remove from marinade and cook on barbecue grill for 4 - 6 minutes per side (depending on thickness) for regular tuna, 2 - 3 minutes for ahi. - or until done to your liking.
Remove and serve. 
Can also be cooked under broiler or sautéed in nonstick pan for roughly the same amount of time.
Note:  A grill basket, skillet or mat makes working with fish easier.
Day 2:

Grilled Cornish Hens with Lemon, Honey, Rosemary Glaze

Total time: 60 minutes
   If you can get them weighing 16oz they are perfect individual servings (with maybe a snack leftover).  If you get larger birds one may be enough.   When done, they should have a lovely, dark gold glaze.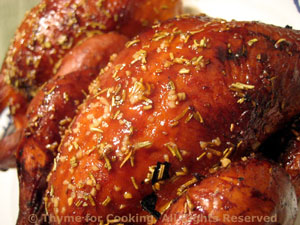 Ingredients
 Instructions:
Rub birds with 1 tsp of the oil. 
Cook on barbecue grill over indirect heat (either charcoal or gas), covered, for 45 - 60 minutes, depending on size or until done, basting half-way through.  Poultry is done at 160 F (70C) on your meat thermometer and/or the juices run clear when pierced with knife. 
Basting Sauce:
Chop rosemary. 
In a small bowl mix remaining oil, lemon, mustard, honey, rosemary and garlic. 
During last 30 minutes of cooking baste with sauce 2 or 3 times. 
When done, remove and serve - don't forget finger bowls (it's messy) and bone bowls (to keep your plates tidy). 
Or they can be baked in a shallow roasting pan in a 400F oven for 45 - 60 minutes, until done.  If baking, start basting immediately. 
Day 3:

 Giant Stuffed Burger

Total time: 35 minutes    longer if using oven  
    You could make smaller burgers, but we like this big one.  Cut into wedges, with cheese oozing out of the center.... Serve with or without extra ketchup.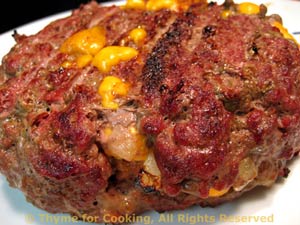 Ingredients:
 Instructions: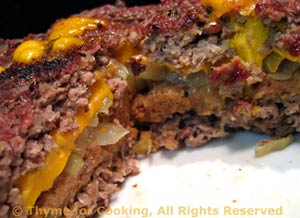 Chop onion and sauté in olive oil in nonstick skillet over medium-high heat until tender and starting to brown, about 7 minutes.  

Oil grill basket, mesh pan or baking sheet. 

Divide beef in half.  On plates or waxed paper pat each half into a thin patty, 8 or 9 inches (20 - 23cm) in diameter.
Put the 'bottom' patty in the grill basket, pan or on the baking sheet. 
Mix bread crumbs, ketchup, soy sauce, mustard and garlic powder and immediately spread over 1 patty to within 1/2 inch of edge. 
Spread fried onions on top of bread crumbs mixture and cheese on top of onions.

 (It gets rather 'high' but it works). 

Flatten the second patty a bit more and carefully put it on top and work the edges together with your fingers to seal. 
If using the barbecue, grill for 8 - 10 minutes over medium-high heat, carefully turn and grill another 8 - 10 or until done. 
If using oven, bake at 400F for 35 - 40 minutes or until done. 

Hint:

When cheese starts oozing out of the edge I consider it done.
Remove to platter, cut into wedges and serve.
Day 4:

 Chicken, Spinach and Asparagus Salad

Total time: 20 minutes
      Based on an old-fashioned Egg Salad, this mayonnaise-based dressing coats the Asparagus Egg Salad nestled on a bed of spring greens and surrounded with slices of moist, poached chicken.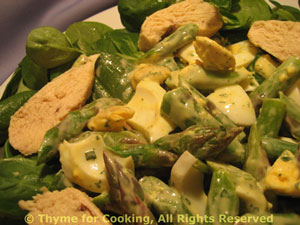 Ingredients:
 Instructions:
Cook eggs.
If using leftover Grilled Hens: 
Slice remaining meat off of the hens.
If using chicken breasts: 
Put chicken breasts in a skillet large enough to hold them easily. 
Add the stock and enough water to come half way up the sides of the breasts.  Cover and bring to a boil. 
Reduce heat and simmer until done, about 12 minutes.
Reserve stock for another use. Remove and slice.
The asparagus: 
Snap off ends of asparagus.  Cut asparagus into 1 inch (2.5 cm) lengths. 
Fill a large saucepan half full of water and bring to a boil over high heat. 
When boiling, drop in asparagus and parboil for 3 minutes. 
Drain and immediately refresh with cold water.
The rest: 
Prepare spinach; wash and spin dry if needed. 
Creamy Mayonnaise Dressing:
Mix all ingredients in a medium bowl.
To assemble: 
When eggs are done, peel and roughly chop. 
Add to the bowl with the dressing, along with the asparagus.  Stir gently to combine. 
Arrange greens on two plates. 
Spoon asparagus/egg salad in the center, dividing evenly. 
Arrange chicken around the edges.  Serve.
Day 5:

 Grilled Chili Chops

Total time: 30 minutes
      Do 2 boneless chops or 3, thinner, bone-in chops.  It all depends on availability and your appetite.  The marinade adds a zesty flavor to the pork and helps keep them tender as they cook.  Remember, slightly pink is okay, too done dries them out, and makes them rather tough.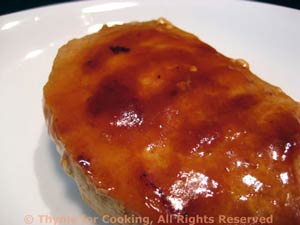 Ingredients:
2 - 4 pork chops, 12oz total (360gr) 
1 clove garlic minced or crushed
1 tsp dried oregano
1 tsp chili powder 

or more

1/4 cup ketchup
1 tbs soy sauce
1 tbs olive oil
 Instructions:
Mix garlic, oregano, chili powder, ketchup, soy sauce and oil. 
Spoon over chops and let marinate for 10 - 20 minutes. 
Cook on barbecue for 5 - 8 minutes a side or until done.  Should be slightly pink near bone when done - take a peak (techniques). 

Or

fry in nonstick skillet over medium-high heat the same amount of time. 
Baste both sides of chops with marinade once when turning.
Day 6:

 Caprese Pasta Salad with Salami

Total time: 25 minutes
   Salami packs an enormous amount of taste into a very small package.  The Balsamic Vinaigrette enhances the sweetness of the salami and the mellowness of the mozzarella.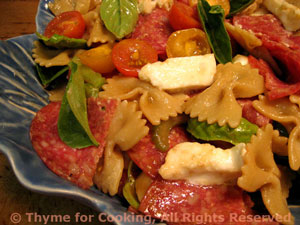 Ingredients:
4oz (120gr) salami
1 package (ball) mozzarella di Bufala (4oz, 120gr)
1/2 cup (3oz, 90) cup cherry or grape tomatoes
2 ribs celery
Fresh basil - about 1/2 cup of leaves
1 1/4 cups (4.2oz, 125gr) pasta, farfalle
1 tbs good olive oil
Balsamic Vinaigrette:
2 tsp Dijon mustard
1 tbs Balsamic vinegar
3 tbs salad olive oil
 Instructions:
Cook pasta according to package directions. 
Drain and toss with olive oil. 
Slice salami in quarters. 
Thinly slice celery. 
Cut tomatoes in half. 
Slice mozzarella, then cut into 1/2" (1.25cm) cubes. 
Tear large basil leaves, leave small ones whole. 
Make vinaigrette: 
Mix mustard and vinegar. 
Drizzle in olive oil, whisking constantly. 
Should be thick.
To assemble:
Add vinaigrette to pasta and toss to combine. 
Add tomatoes, celery, mozzarella, salami to pasta and toss lightly. 
Top with basil leaves and serve.