Main Course Menu Plan: Week 4 
Spring II
Day 1:

Pan-Seared Tuna Mustard Cream 

Total time: 15 minutes
     This is best with good sushi-grade (ahi) tuna that is quickly seared on both sides and cool or just barely warm in the center.  If you get regular tuna you will need to cook it until it is closer to medium. If you use hot mustard (like I do) this sauce will have a bit of a kick... You can, of course, use less...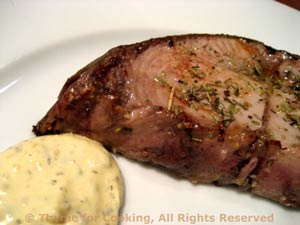 Ingredients:
2 tuna steaks, 12oz (360gr) total weight
2 cloves garlic
1 tbs olive oil
1 tbs lemon juice
sea salt for sprinkling (or other nice salt) optional
Mustard Cream:
1 tbs Dijon-style mustard
1/4 cup (2oz, 60gr) Greek yogurt
1 tbs salad olive oil
1/4 tsp garlic powder
1/2 tsp dried oregano
1/2 tsp dried tarragon
 Instructions
Peel garlic and cut in half. 
Heat oil and lemon in a large non-stick skillet over medium-high heat.
Add garlic and fry for 1 - 2 minutes.  Remove and discard.
Add tuna and sauté 3 - 5 minutes per side (depending on thickness - 3 minutes if 1 inch (2.5 cm), 5 minutes if 2 inch (5 cm)) for medium-rare, longer if you want them more done. 
Remove, sprinkle with sea salt and serve, Mustard Cream on the side.
Mustard Cream:
In a small bowl whisk together all ingredients except olive oil.
Drizzle in olive oil, whisking until combined and thick.
Day 2:

Veal Paprika

Total time: 30 minutes
      The tender veal scallops cook quickly and are finished with a sauce  of mushrooms, paprika and yogurt.  Chicken breasts, pounded thin, or turkey scallops can substitute for the veal.  Both would need a bit more cooking.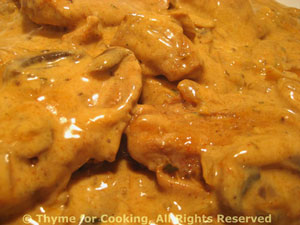 Ingredients:
12oz (360gr) veal cutlets, thinly sliced - scallops
4oz (120gr) mushrooms
1 onion
2 cloves garlic
1 tbs paprika
1 tsp Worcestershire sauce
1/2 cup (4oz, 120ml) white wine
1/2 cup (4oz, 120gr) Greek yogurt
2 tsp cornstarch (maizena)
1 tbs water
1 tbs olive oil
 Instructions:
Trim and slice mushrooms. 
Cut onion in half, then slice vertically. 
Mince garlic.
In a large, nonstick skillet heat the oil over medium heat. 
Add veal and quickly brown on both sides, about 1 1/2 minutes each.  Remove to a platter. 
Add paprika, onion, garlic, mushrooms, and sauté 5 - 8 minutes, until tender and starting to brown slightly. 
Add white wine, Worcestershire, and stir well, scraping up any brown bits. 
Add veal and any juices on the platter, cover and simmer 2 - 3 minutes. 
Remove veal back to platter and cover with the hot pan lid. 
Dissolve cornstarch in water.  Stir into skillet, thickening sauce. 
Stir in yogurt and heat through, without boiling. 
Spoon sauce over veal and serve.
Day 3:

 Lemon Spinach and Chicken Salad

Total time: 25 minutes
    The brown sugar and paprika make an interesting, light crust on the chicken.  I cut the breasts in half, the short way.  They cook a bit faster and it makes a nicer presentation with the salad.

 Ingredients:

 Instructions:
The chicken:
Mix flour, paprika and brown sugar. 
Cut chicken breasts in half.  Roll in flour mixture to coat. 
Heat a large nonstick skillet.  When hot, add oil, chicken and brown well on both sides. 
Add lemon juice and white wine, cover, reduce heat and simmer 10 minutes, or until done.
The salad:
Slice green garlic, including green tops (or green onion and garlic). 
Sauté lightly in olive oil. 
Add lemon juice.  Keep warm.
Pick through the spinach, discarding any wilted or damaged leaves.  Wash and spin dry if necessary.
The finish: 
When chicken is done remove and place on a platter. 
Add 2 tbs of the chicken cooking liquid to the green garlic. 
Turn heat up under the chicken skillet and reduce the rest of the liquid by half. 
Put spinach in a bowl. 
Pour the warm green garlic and juices over the top, toss well to coat and wilt slightly. 
Arrange spinach next to the chicken.  Pour the reduced cooking liquid over the chicken and serve.
Day 4:

 Italian Beef and Beans

Total time: 40 minutes
     A simple, one pan dish:  the pasta cooks right in the skillet, thickening the sauce and absorbing the flavors.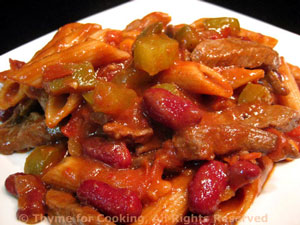 Ingredients:
12oz (360gr) flank steak or other beef appropriate for stir frying or quick cooking, or ground beef
1 medium onion
2 garlic cloves
1/2 green pepper
1 tsp chili powder
4 tsp olive oil
1 tsp oregano
1 tsp basil
1 cup (8oz, 240ml) beef broth 
1 3/4 cups (15oz, 450gr) whole tomatoes
1/2 cup (4oz, 120ml) red wine
1 cup (8oz, 240gr) red or white kidney beans
1 1/4 cups (4.2oz, 125gr) pasta - penne, rigatoni, rotelle
 Instructions:
Peel and chop the onion. 
Peel and finely chop the garlic. 
Chop the pepper. 
Heat 2 tsp oil in large non-stick skillet and sauté chili powder for 1 minute. 
Add onions, garlic and peppers; sauté until tender.  Remove to a plate. 
Slice the beef on an angle across the grain, then cut the slices into large, bite-size pieces. 
Heat remaining 2 tsp oil in same skillet.  Add beef and sauté until starting to brown, 3 - 4 minutes. 
Open the tomatoes.  Remove the whole tomatoes and roughly chop; reserve the liquid. 
Return peppers & onions to pan and add all remaining ingredients including tomatoes and reserved liquid. 
Stir to combine, cover, reduce heat and simmer 20 - 25 minutes, until pasta is done. 
Stir from time to time to keep pasta from sticking.  Serve.
Day 5:

 Stir-Fried Chicken with Snow Peas (Mangetout)

Total time: 25 minutes
   A lighter, fresher stir-fry, with snow peas, cherry tomatoes and water chestnuts.  Add the tomatoes, left whole, at the last minute.  They'll cook very quickly.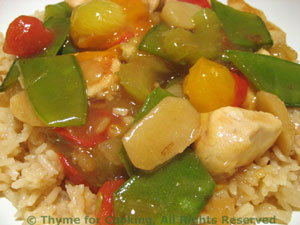 Ingredients:
2 chicken breasts
4oz (120gr) snow peas (mangetout)
4oz (120gr) cherry or grape tomatoes, any color
4oz (120gr) water chestnuts 

1 small can or tin

1 medium onion 
2 ribs celery

optional

2 cloves garlic
2 tsp minced, fresh ginger
2 tsp olive oil
2 tsp soy sauce
1 cup (8oz, 240ml) chicken stock
1 tbs cornstarch (corn flour, maizena)
1 tbs sherry
1 tbs water
Basmati rice:
1/2 cup (3.3oz, 95gr) Basmati rice
1 tsp butter
1 cup (8oz, 240ml) chicken stock
 Instructions:
Basmati Rice:
Melt butter in small saucepan over medium heat. 
Add rice and sauté, stirring for 2 - 3 minutes. 
Add stock, cover and cook rice for length of time on package. 
Stir-Fry:
Cut chicken into bite-size pieces. 
Mince garlic. 
Peel a small section of ginger, cut into thin slices, then mince.
Cut onion into quarters, lengthwise, then slice thinly. 
Trim snow peas and cut in half at an angle. 
Open and drain water chestnuts, slice. 
Slice celery at an angle.
Heat oil in large skillet. Add onion and sauté 3 minutes. 
Add garlic, ginger, snow peas, water chestnuts, celery and sauté 5 minutes longer. 
Remove vegetables to a plate. 
Add chicken to skillet and sauté 5 minutes. 
Add soy sauce, stock, cover and simmer 5 minutes.
Uncover, return vegetables to skillet and increase heat.
To finish:
Dissolve cornstarch in sherry and water. Add to skillet and stir until thickened. 
Add the cherry tomatoes and stir well. 
Remove from heat and cover and let rest for a minutes or two to finish the tomatoes.
Spoon over rice and serve.
Day 6:

 Pork Chops Creole

Total time: 40 minutes
    Use boneless chops for this if you can get them.  The lively sauce keeps them tender even though they are only simmered 20 minutes or so..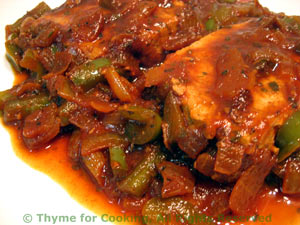 Ingredients:
2 - 4 pork chops, depending on size, 12oz (360gr) boneless weight
1 tbs olive oil
1 medium onion
1/2 green pepper
4oz (120gr) mushrooms
2 cloves garlic
1/3 cup (3oz, 90ml) ketchup
1 tbs Worcestershire
1 tsp chili powder
2 tbs chicken stock
1 tsp oregano
 Instructions:
Mince garlic. 
Cut onion into quarters and slice thickly. 
Thickly slice green pepper, then cut slices in half. 
Clean mushrooms and slice. 
In medium nonstick skillet heat oil over medium-high heat. 
Sauté pork chops until lightly browned, about 3 minutes per side.  Remove and set aside. 
Add chili powder, garlic, onions, pepper and mushrooms to pan and sauté 5 minutes. 
Return chops to pan.  Spread ketchup and Worcestershire sauce over top.  
Add stock and bring to a boil.  
Reduce heat to low, cover and simmer 20 - 30 minutes, turning once and stirring sauce, until chops are done and tender.  
Serve.