Main Course Menu Plan: Week 1 
Summer II
Day 1:

Lightly Smoked Cod

Total time: 30 minutes
  This is a cross between smoker cooking and grilling, and it flavored the cod perfectly:  a light smoke and dill combination.  It needed nothing else.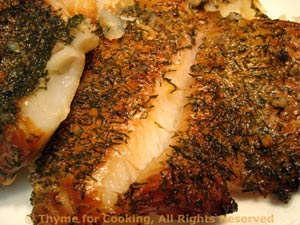 Ingredients:
1 - 2 filets of cod, or other thick, firm white fish, 12oz (360gr) total weight
2 tsp dill weed
1 tbs olive oil
1 tsp soy sauce
wood chips for smoking - apple is nice    See Barbecue Grills for more info
Weber-type kettle barbecue with charcoal  or Gas Grill
 Instructions:
Day 2:

Grilled, Brined Turkey Breast with Allioli

Total time: 60 minutes plus 5 earlier
   I used a boneless, skinless turkey breast for this, that was tied into a roll.  It doesn't need to be boneless,  but do take the skin off if yours comes with it on; it lets the brine permeate better.  You can tie it into a round shape or leave it as is.  You could also use turkey tenderloins.  Cooking times will vary according to the weight and thickness.  An instant read meat thermometer is great!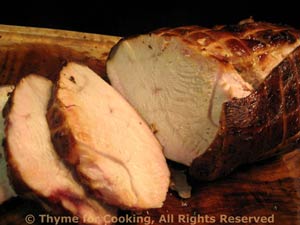 Ingredients:
3 - 4 cups cold water
1 cup ice cubes
1/4 cup sea, kosher or other coarse salt
1/4 cup honey
2 tbs brown sugar
2 tbs white wine tarragon vinegar
1 tbs juniper berries
1 tbs dried thyme leaves
1 tbs mustard seed
1 tbs black peppercorns
1 turkey breast, (or half or tenderloin) 24 - 32oz (750 - 1000gr)
Allioli Mayonnaise
1 tbs allioli
1 tbs mayonnaise
 Instructions:
At least 6 hours and up to 24 hours before cooking, mix 3 cups water, salt, honey, sugar and vinegar in large, deep bowl. 
Stir until sugar and salt are dissolved.
 Add herbs and spices, stir. 
Add ice, turkey and enough water to cover turkey.
  Cover and refrigerate, turning occasionally, until ready to cook.  You could also use a large, zip-lock food bag.
When ready to cook, remove turkey and let air dry 10 minutes. 
Discard brine.
Cook turkey on barbecue grill for 35 - 60 minutes, turning to brown all sides.  Cook until 165F (75C) in the center.  If you don't have a thermometer, remove after 35 minutes and cut a small slit in the center to check.  A 32oz (1000gr) turkey tenderloin should take 35 - 45 minutes.
Remove and let rest a few minutes. 
Slice and serve with Allioli Mayonnaise.
Allioli Mayonnaise
Mix well, taste, add more mayonnaise if desired.
Note:  You could add a few wood chips, that have been soaked in water for 15 minutes, if you like a smoky flavor.   You could also bake it in a 400F (200C) oven for about the same amount of time.
Allioli 
Time: 15 minutes
   This is the Spanish/Catalan method, without egg yolks.  It's heavy on the garlic, and very hot!  Yes, garlic packs a lot of heat when fixed this way!  You can cut it with commercial mayonnaise if you like.  This makes about 4 tbs of allioli. It can't be made ahead as it tends to 'break' upon sitting - still good, but it has to be pounded back together.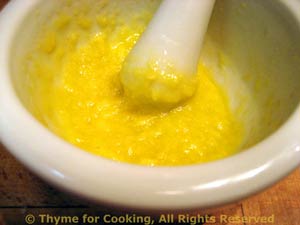 Ingredients:
4 large cloves of garlic
1/4 tsp sea, kosher or other coarse salt
2 - 3 tbs good olive oil
 Instructions:
Info: 

You have to do this with a mortar and pestle. (see below for possible substitutes) The garlic has to be mashed.  A blender or food processor will not work - you'll get a bland garlic mayonnaise.  The pounding pulverizes the cells, releasing allicin which gives it the sharp, hot flavor. 

Method:

Smack the garlic once with side of a knife to start breaking it down then put it in the mortar along with the salt. The texture of the salt is needed to help break down the garlic.  Pound with the pestle until you get a paste.  Yes, this will take awhile.  (It took 10 - 15 total minutes for me to make this.)  When you have a thick paste add the olive oil a few drops at a time and work into the garlic.  Once the drops are incorporated, add a few more.  Continue adding oil until it becomes difficult to incorporate then stop.  If you add too much the sauce will break - the oil will separate from the garlic.  This should look like a very thick mayonnaise.
Note:  If you don't  have a mortar and pestle you can use a small, deep bowl (ceramic if possible) and the round handle of something - table knife, spatula, rolling pin, something fairly large.  You could also mash the garlic and salt into a paste on a plastic cutting board (or in a heavy food bag) with a meat pounder, first, then put it into a bowl and incorporate the oil using a fork or whisk. Just remember that the garlic needs to be really mashed or it won't accept the oil.  And if nothing seems to work, just add the mashed garlic and oil to some mayo.....
Day 3:

 Caesar Pasta Salad with Flank Steak

Total time: 25 minutes
     With the chili powder, Worcestershire and garlic, this has a surprising kick to it... not hot, just assertive.  The creamy Greek yogurt is the perfect foil. 
 Ingredients:
 Instructions:
Cook pasta according to package instructions.
When done, drain, put into a large serving bowl and toss with 1 tbs olive oil. 
Mix chili powder, 2 tbs Worcestershire and garlic. 
Slice flank steak into strips and toss with chili powder mixture. 
Clean mushrooms and thickly slice. 
Make dressing.
Heat 2 tsp oil and 1 tbs Worcestershire in large nonstick skillet over medium heat. 
Add mushrooms and stir to coat.  Fry until soft and starting to brown, 5 - 7 minutes. 
Remove and set aside.
Add remaining 2 tsp oil to skillet.  Add beef and quickly stir-fry over medium-high heat, 2 - 3 minutes. 
To assemble:
Cut and slice avocado.
Cut cherry tomatoes in half. 
Add half the steak to the pasta.  
Add 2/3 dressing to pasta and toss to mix.  (A tongs works great for this!) 
After mixing, taste and add rest of dressing if you like. 
Put pasta in a large bowl. 
Spread the remaining steak in a circle on top. 
Add the mushrooms in the center. 
Arrange avocado slices around the edge. 
Add tomatoes and serve, any remaining dressing on the side.
Caesar Dressing
Mince garlic and put in small bowl. 
Add mustard, lemon, Worcestershire, vinegar and yogurt (and anchovies, if using) and mix well with wire whisk. 
Slowly drizzle in olive oil whisking constantly. 
Whisk in Parmesan and chives.
Day 4:

 Sweet and Sour Chicken Salad 

Total time: 25 minutes
    You can use bottled Sweet and Sour Sauce or my recipe - which makes just the right amount.  I usually use mushrooms raw in salads, but sometimes, as here, they are sautéed to absorb and blend the flavors.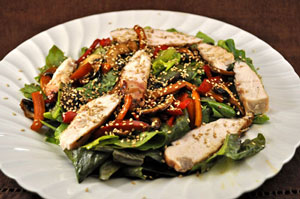 Ingredients:
leftover brined turkey

4oz (120gr) mushrooms
1 tbs fresh snipped chives  

sub. 1 tsp dried

1 tbs toasted sesame seeds
3 tbs Teriyaki sauce
2 tsp walnut or sesame oil
1/4 cup sweet and sour sauce
Lettuce, enough for 2 main course salads
Sweet and Sour Sauce: 
1 tbs sugar
1 tbs cider vinegar
2 tbs soy sauce
1 tsp cornstarch (maizena)
Vinaigrette:
1/4 cup sweet and sour sauce

1/2 tsp dry mustard

1/2 tsp garlic powder
1 tbs cider vinegar
3 tbs salad olive oil
 Instructions:
Pour 2 tbs Teriyaki sauce over chicken and allow to marinated a few minutes.
Clean and thickly slice mushrooms. 
Clean and slice pepper into strips
In nonstick skillet heat oil and 1 tbs Teriyaki sauce. 
When hot add mushrooms, pepper and sauté briefly, about 4 minutes.  Remove and set aside.
Cook chicken on barbecue grill over direct heat for 8 - 10 minutes per side.  When done remove and slice.  

Or: 

cut into strips before marinating, toss with Teriyaki sauce and stir-fry in nonstick skillet in 1 tbs oil for 4 - 5 minutes.
Sweet and Sour Sauce:
In a small saucepan, heat sugar, vinegar, soy sauce and cornstarch to boiling, stirring with a whisk. 
Cook until thick and clear, about 1 minute.  Allow to cool  
Vinaigrette:
Put all ingredients in a small bowl and whisk well to combine.
To finish:
Snip chives. 
Prepare lettuce and put into a large salad bowl along with chives. 
Toss with about half of the vinaigrette - it's quite thick so it takes a bit of tossing to distribute it well - be careful not to use too much to start. 
When it is to your liking, add mushrooms, peppers and toss gently.  Arrange chicken on top.  Drizzle with a bit of vinaigrette, sprinkle with sesame seeds, and serve with remaining vinaigrette on the side. 
Note: Toast sesame seeds in a dry, nonstick skillet, over medium-high heat, 3 - 6 minutes. Start flipping them or shaking the skillet after 1 - 2 minutes and remove as soon as light brown.
Day 5:

 Grilled Pork Tenderloin with Mustard Seeds

Total time: 35 minutes
   This is fun to cook on the barbecue grill: all the mustard seeds pop as they get hot.  The rub makes the tenderloin rather black, but not too spicy.  The sauce helps keep it moist.  Remember, slightly pink is perfect!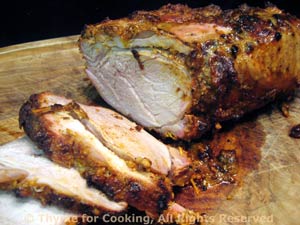 Ingredients:
14oz 420gr) pork tenderloin
1 tbs paprika
1 tbs mustard seed
1 tbs garlic powder
1 tbs olive oil
Basting Sauce:
3 tbs Dijon mustard
2 tbs red wine vinegar
1 tbs olive oil
 Instructions:
Day 6:

 Chicken and Grilled Pepper Pasta Salad

Total time: 25 minutes
     Grilled chicken and grilled or sautéed vegetables put a new twist on the old 'macaroni' or pasta salads of my childhood. Serve the chicken cut in chunks, mixed with the salad (my choice) or sliced and served on top (mon mari's choice).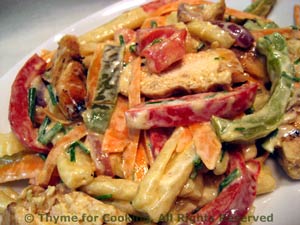 Ingredients:
2 chicken breasts, boneless, skinless
Marinade:
1 tbs Worcestershire sauce
3 tbs red wine vinegar
3 tbs olive oil
Salad:
1/2 green pepper
1/2 red pepper
1 onion
1 tsp olive oil
1 carrot
2 ribs celery
1 medium tomato
2 tbs fresh, snipped basil
2 tbs fresh snipped chives
1 1/4 cups (4.2oz, 125gr) pasta, penne, fusilli
Creamy Yogurt Dressing:
4oz (120gr) Greek or plain yogurt
1 tbs Dijon-style mustard
1 tbs lemon juice
1 tbs mayonnaise
2 tbs salad olive oil
 Instructions:
Pasta:
Cook pasta according to package directions.  When done, drain, rinse in cold water, drain well and put into large pasta bowl. 
Chicken:
In small bowl whisk together Worcestershire, vinegar and oil. 
Put chicken breasts in glass baking dish and pour marinade over.  Let marinate for 10 minutes.
Cook on barbecue grill for 8 - 12 minutes per side or until done (test - take a peak), basting when you turn them with any leftover marinade.

OR

sauté in nonstick skillet for 8 - 10 minutes per side until nicely browned and done, basting with marinade. 
When done, remove and slice.
Vegetables:
Slice peppers into long strips, then cut strips in half.
Slice onion.
Toss onion and pepper with oil and cook in grill pan on barbecue for 10 minutes, until crisp tender. 

Or

sauté briefly over high heat  until starting to brown but still crisp.
Remove from heat and put into pasta bowl. 
The rest:
Slice the carrot into paper thin strips using the vegetable peeler (hold onto to carrot and slice one half down to a thin stick. Holding on to the 'stick' slice the other half.  Eat the stick). 
Slice celery thinly, at an angle to get pretty slices.
Cut tomato into chunks. 
Snip herbs. 
Creamy Yogurt Dressing:
Put yogurt, mustard, lemon and mayo into a bowl and whisk together.
Add the olive oil, 1 tbs at a time, and whisk.
To Finish: 
Put vegetables and herbs into bowl with pasta. 
Add dressing and mix well.  Add chicken slices and toss gently to combine.... Or not.   Serve.