Main Course Menu Plan: Week 3 
Summer II
Day 1:

Teriyaki Grilled Swordfish

Total time: 15 minutes
       The steaks we had were quite thin, about 1/3" (1cm).  They cooked very quickly on the grill, about 2 minutes per side.  If you prefer, you can quickly pan-fry them for about the same amount of time. We use a grill basket for fish; it makes it easier to handle the filets or steaks.  You could also use a silicone mat - but no grill marks!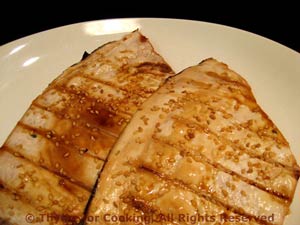 Ingredients:
1 - 2 swordfish steaks, 12oz total (360gr)
2 tbs Teriyaki sauce, divided
2 tsp toasted sesame seeds
 Instructions:
Lightly oil fish basket or grill. 
Brush 1 tbs Teriyaki sauce on swordfish. 
Place in oiled fish basket or on oiled grill rack over direct heat.  Cook 2-4 minutes per side, depending on thickness, turning once, or just until done.  Do not over cook!  The fish should flake easily and be opaque, but overcooking will dry it out.  Remove. 
Pour remaining 1 tbs Teriyaki sauce over the top, sprinkle with sesame seeds and serve.

To toast sesame seeds: 

Put them into a dry, nonstick skillet over medium heat.  Toss or stir them about in the pan until lightly golden, about 5 minutes.
Day 2:

Grilled Chicken Satay with Peanut Sauce

Total time: 35 minutes
   Fresh ginger adds a bit of heat and a lot of flavor to this chicken.  You can substitute 1/2 tsp ground ginger if you don't have fresh; and add more if you like the heat.  For a hotter dish you could add crushed red pepper, Asian chili sauce or even Tabasco to the marinade and/or the peanut sauce.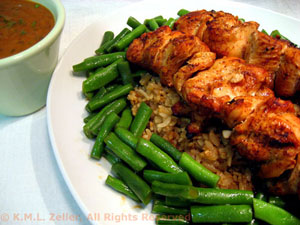 Ingredients:
 Instructions:
Soak skewers in warm water while preparing chicken and making marinade.
Cut chicken breast into long strips, 3 or 4 from each breast. 
Thread the meat the long way onto the skewers, (sort of pleating it). 
Mix the rest of the ingredients in a small bowl. 
Place chicken skewers into a baking dish and pour marinade over.
 Allow to marinade for 20 - 40 minutes. 
When ready, remove from marinade and grill over direct heat for 8 - 10 minutes.  Can also be done under the broiler (grill) for same amount of time. 
Or, you could skip the skewers and stir-fry them in 1 tbs olive oil and 1 tsp sesame oil. 
Serve with

Peanut Sauce

on the side.
Warm Peanut Sauce:
Heat oils in small saucepan.
Add chives and chili powder and sauté briefly. 
Add remaining ingredients and bring to a boil, stirring well to combine. 
Remove from heat and cover to keep warm.
Day 3:

 Grilled Pork Chops 

Total time: 30 minutes
    This is a simple marinade that works well with chicken and beef, too.  The chops marinate in the time it takes to get the grill ready.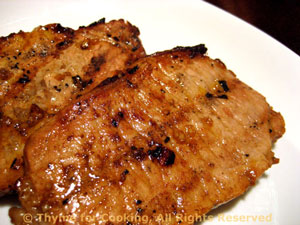 Ingredients:
2 - 4 pork chops, depending on size, boneless or not, 12oz (350gr) for boneless
Marinade:
3 tbs red wine vinegar
1 tbs Worcestershire sauce
1/2 tsp garlic powder
3 tbs olive oil
 Instructions:
Mix all ingredients for marinade and pour over chops. 
Let marinate for 15 - 20 minutes. 
Cook on barbecue for 5 - 8 minutes a side or until done.  Should be slightly pink near bone when done - take a peak (techniques). 
Or fry in nonstick skillet over medium-high heat the same amount of time.  Serve.
Day 4:

 Taco Salad,

a la Française

Total time: 25 minutes
         Couscous, chevre (goat cheese) and a vinaigrette add a different twist to this Taco Salad.  Substitute ground turkey and chicken stock if you like.
  Ingredients:
8oz (240gr) ground beef
1/3 cup (2oz, 60gr) couscous
2/3 cup (5oz, 150ml) beef stock
1 onion
1/2 red or green bell pepper
1 rib celery
2 cloves garlic
1 tbs olive oil
1 tsp chili powder
3oz (90gr) cherry tomatoes    
1 avocado
8oz (240gr) taco sauce
3oz (90gr) goat cheese
2 tbs bread crumbs
2 tbs olive oil
Lettuce - enough for 2 main meal salads
French Vinaigrette:
1 1/2 tbs ketchup
2 tsp red wine or sherry vinegar
2 tsp Dijon-style mustard
1/4 tsp chili powder
2 tbs salad olive oil
 Instructions:
Put couscous in a bowl
Heat stock to boiling. Pour over couscous, cover and set aside.
Chop onion, pepper and celery. 
Mince garlic.
Heat 1 tbs oil in a large skillet over medium-high heat. Add chili powder and sauté briefly (30 seconds). 
Add onion, pepper, celery and sauté for 5 minutes. 
Add garlic, beef and continue cooking until meat is done. 
Stir in taco sauce and remove from heat. 

Make vinaigrette:

 
Mix ketchup, vinegar chili powder and mustard.
Slowly add olive oil, whisking constantly.
Tear the lettuce and into a large bowl
Add vinaigrette and toss to coat.
Divide and arrange on plates. 
Slice tomatoes and avocado. 
Slice goat cheese into 6 slices.
Dip cheese rounds in oil, then in crumbs
Place on baking sheet and bake, 400F (200C) for 2 minutes. 
Divide couscous and sprinkle on lettuce, divide beef mixture and put on couscous. 
Top with hot goat cheese rounds. 
Artfully arrange tomatoes and avocado slices around salad and serve.
Day 5:

 Marinated, Grilled Chicken Breasts, II

Total time: 30 minutes
    I have a number of different marinades for chicken.  I decided it was easier to number them than come up with unique names. They only need to marinate as long as it takes to get the grill ready... but longer is fine!  We prefer slicing chicken, rather than serving the whole breast - nicer presentation.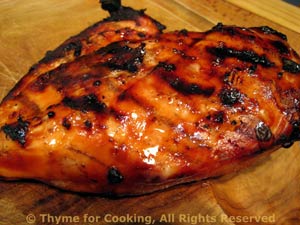 Ingredients:
2 chicken breasts, boneless, skinless
2 tsp soy sauce
2 tbs red wine vinegar
3 tbs ketchup
2 tbs olive oil
1/4 tsp garlic powder
1/2 tsp oregano
 Instructions:
In a small bowl whisk together soy sauce, ketchup, vinegar, oil, garlic and oregano. 
Put chicken breasts in a glass baking dish and pour marinade over. 
Let marinate for 15 - 20 minutes or up to 2 hours.
Cook on barbecue grill for 8 - 12 minutes per side or until done (test - take a peak), basting once with any leftover marinade. 

OR

sauté in nonstick skillet for 8 - 10 minutes a side until nicely browned and done, basting with marinade. 
Remove chicken, slice at an angle in 1/4" (.6cm) slices and serve.
Day 6:

 Barley, Ham and Green Bean Salad

Total time: 20 minutes
    Use quick-cooking pearl barley, which takes about 15 minutes.  Cook in chicken stock for added flavor.  I used the flat, Italian beans in this but any green or yellow bean will work.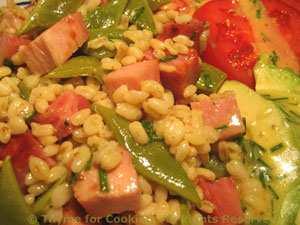 Ingredients:
2/3 cup (3.3oz, 95gr) quick cooking barley
1  1/3 cup (11oz, 330ml) chicken stock
10oz (300gr) ham
8oz (240gr) green beans
1 avocado
1 tomato
2 tbs fresh, snipped chives

Mustard Vinaigrette

:

2 tbs whole grain mustard
2 tbs Greek or plain yogurt
1 tbs sherry vinegar
1/2 tbs soy sauce
2 tbs olive oil
 Instructions:
Put barley and chicken stock in a small saucepan. 
Cover and simmer until tender, about 15 minutes for quick cooking barley. 
Top and tail beans.  Cut into 1 1/2" (4cm) lengths. 
Bring a medium saucepan half full of water to a boil over medium-high heat. 
Add beans and blanch for 4 minutes. 
Remove, drain and refresh in cold water.
Cut ham into bite-size pieces.  Slice avocado and tomato.  Snip chives. 
Make vinaigrette: Whisk all ingredients until well combined.
To finish: 
Put barley into a large bowl. 
Add beans, ham, chives and half of the vinaigrette,  Stir to combine. 
Divide and spoon onto 2 plates. 
Arrange half of the avocado and tomato on each plate, drizzle with a bit of vinaigrette and serve.