Main Course Menu Plan: Week 5 
Summer II
Day 1:

Barbecued Salmon

Total time: 20 minutes
  You could also use salmon steaks, or another firm-flesh fish: tuna, swordfish, halibut.  The sherry and soy sauce make a nice counterpoint to the salmon's richness.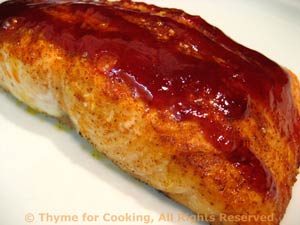 Ingredients:
2 salmon fillets, 6oz each (180gr each)
1/2 tsp paprika
1 tbs soy sauce
4 tbs ketchup
2 tbs sherry
1/2 tsp dry mustard
1/2 tsp garlic powder
 Instructions:
In small bowl mix all ingredients except salmon and paprika.
Sprinkle paprika over salmon. 
Put salmon in a grill basket if using barbecue grill or on mesh grill pan if you don't have a basket. 
Brush fish with part of the barbecue sauce. 
Cook on barbecue grill for 10 - 14 minutes with cover partially closed, basting with the rest of the barbecue sauce towards the end.

OR

put on baking sheet, spoon sauce over and roast in 400 F oven for 15 - 20 minutes, depending on thickness.  In both case salmon will be done when it flakes easily; slightly pink in the center is fine. 
Remove from heat and serve, sliding it off the skin if needed.
Day 2:

Brined and Grilled Cornish Hens (Poussin, little chickens)

Total time: 60 minutes  plus 10 earlier
  The poussin that we get are very young chickens and weigh about 18oz (550gr) each.  They are perfect individual servings (with maybe a snack leftover).  If you get larger birds one may be enough; you could cut it in half before cooking, if you like.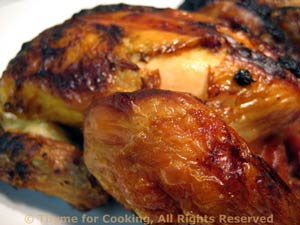 Ingredients:
2 Cornish game hens or poussin (little chickens), depending on size.
Brine:
3 cups very cold water
1 cup ice cubes app.
1/4 cup rock, sea or kosher salt
1/4 cup sugar
1/4 cup white wine tarragon vinegar
2 bay (laurel) leaves
2 cloves garlic
1 tbs juniper berries

optional

Basting sauce:
2 tbs olive oil
1 tbs lemon juice
 Instructions:
Earlier in the day:
At least 2 hours and up to 7 hours before cooking, mix water, salt, sugar and vinegar in a deep bowl.  Stir until sugar and salt are dissolved. 
Peel garlic and smash with the flat of the knife. 
Add garlic, bay leaves and juniper berries (if using). 
Add ice and hens, making certain that the hens are covered as best you can.   The tend to float..... 
Cover and refrigerate, turning occasionally, until ready to cook. 
Dinner: 
Remove chicken and allow to air dry for 15 minutes (or up to 30). 
Mix olive oil and lemon juice. 
Cook hens on barbecue grill over indirect heat (either charcoal or gas), covered, for 45 - 60 minutes, depending on size, or until done. 
Start basting after about 15 minutes and baste 2 or 3 times. Poultry is done at 160 F (70C) on your meat thermometer and/or the juices run clear when pierced with knife. 
The legs will also wiggle freely and the hens will be a lovely golden brown. 

Or

they can be baked in a shallow roasting pan in a 400F oven for 45 - 60 minutes, until done.  If baking, start basting immediately.
Day 3:

 Cobb Salad with Ham or Smoked Turkey

Total time: 20 minutes
      Similar to the classic summer salad on American menus, this is chock-a-block with summer vegetables and finished with a creamy, yogurt-based dressing, similar to the American Ranch.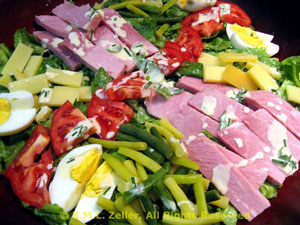 Ingredients:
8oz (240gr) slice ham or smoked turkey
4oz (120gr) firm cheese - Cheddar, Swiss
4oz (120gr) green and/or yellow beans 
2 eggs, hard-boiled
2 tomatoes
enough lettuce for 2 main dish salads
Creamy Herb Dressing:
1/3 cup (3oz, 90gr) Greek or plain yogurt
1 tbs Dijon-style mustard
1 tbs tarragon white wine vinegar
2 tbs fresh snipped chives
1 tbs fresh snipped tarragon
2 tbs salad olive oil
 Instructions
Day 4:

 Grilled Lemon Chicken Breasts 

Total time: 30 minutes
   Chicken breasts are a favorite on the grill but be careful not to overcook or they tend to dry out.  We prefer to slice them thinly, at an angle, to serve rather than leaving the breast whole, but that, of course is optional!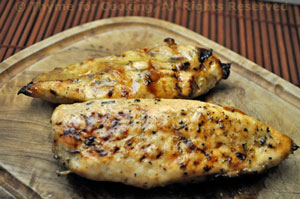 Ingredients:
2 chicken breasts, boneless, skinless
3 tbs olive oil
2 tbs lemon juice
2 tbs orange marmalade  

substitute 1 tbs honey

1/2 tsp garlic powder
1 tsp dried tarragon leaves
1/4 tsp ground ginger
 Instructions:
In small bowl whisk together oil, juice, marmalade, garlic, tarragon and ginger. 
Put chicken in shallow glass baking dish and pour marinade over.  Let marinate 15 - 30 minutes. 
Cook on barbecue grill 15 - 20 minutes or on baking sheet in oven (400F) for 25 - 30 minutes or until done.
When done (knife poked in and juices run clear) remove from heat, slice and serve.
Day 5:

 Sausage, Rice and Bean Salad

Total time: 20 minutes
     We've added a bit of Basmati rice to this salad - for interest and to round it out for a one dish dinner. Use any flavor sausage you like: Bratwurst, Italian, Duck and Olive....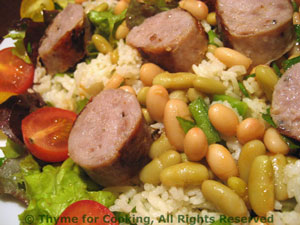 Ingredients:
1/3 cup (2.2oz, 65gr) Basmati rice
2/3 cup (5oz, 150ml) chicken stock
4 - 6 sausages, 10oz total weight, (300gr)
1/2 green bell pepper
3/4 cup cherry tomatoes
8oz (240gr) white beans, drained
8oz (240gr) flageolet (green or small lima) beans, drained  

or all white beans

2 tbs snipped fresh chives
Salad greens for 2 large salads
Vinaigrette:
1 Tbs Worcestershire
2 Tbs ketchup
1/4 tsp garlic powder
2 tbs red wine vinegar
3 tbs salad olive oil
 Instructions:
Cook rice according to package directions.
When done, remove from heat, fluff with fork and put into large serving bowl.
Cook sausages on barbecue grill for 10 - 15 minutes or until done or in nonstick skillet for same amount of time (until done).
Open beans, drain, rinse.
Cut tomatoes in half.
Cut pepper into matchsticks.
Snip chives.
Slice sausages into 1 1/2" (4cm) pieces.
Prepare salad greens.

Vinaigrette: 

Put vinegar, ketchup, Worcestershire, garlic in small bowl and whisk to combine. Slowly drizzle in oil, whisking constantly.

To finish: 

Toss salad greens with a bit of vinaigrette. 
Arrange on 2 plates. 
Layer rice, beans, pepper, tomatoes and sausage on top.
Drizzle with a bit more vinaigrette and serve, remaining dressing on the side.
Day 6:

 Grilled Chicken Breasts with Mustard Sauce 

Total time: 35 minutes
   Grilled chicken breasts finished with a warm mustard sauce; a little bit of heat for summer cooking.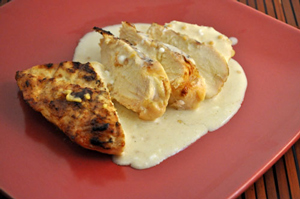 Ingredients:
 Instructions:
Combine stock, sherry in a small saucepan and bring to a boil over medium-high heat. 
Continue to boil until reduced to about 1/3 cup. 
Whisk in mustards, reduce heat and simmer 2 minutes. 
Remove from heat and allow to cool slightly. 
Stir in Greek yogurt.  
Mix 1 tbs Dijon mustard with 1 tbs olive oil and spread on chicken breasts. 
Cook on barbecue grill for 10 - 15 minutes or until done.  Remove from heat, slice and serve with sauce. 

Or

can be baked for 20 - 25 minutes 400F or sauté  for 15 - 20 minutes  - in all cases until done.