Main Course Menu Plan: Week 7 
Winter II
Day 1:

Salmon en Croute with Tarragon Cream Sauce

Total time: 35 minutes
    Cooking a whole salmon in puff pastry is a classic party dish.  This is a scaled down version for individual servings.  For a dinner party they can be assembled ahead and baked at the last minute.  The salmon stays moist and perfectly flaky.  I've given the dimensions used in the photos.  If your salmon is a different shape, you need enough pastry to cover it. Trim any excess.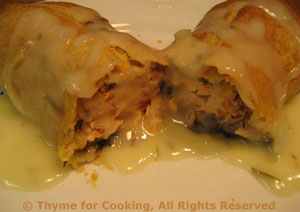 Ingredients:
2 pieces of salmon, skinned - about 3" wide by 4" long by 1" thick (5cm X 10cm x 2.5 cm) 7oz (200gr) each
1 large or 2 small sheets of puff pastry  

If they are not big enough you can roll them out a bit (using a rolling pin). 

2 tsp dried or fresh dill weed
4 tsp whole grain mustard
Tarragon Cream Sauce: 
1/3 cup (5oz, 150ml) chicken stock less 2 tbs
1/3 cup (5oz, 150ml) white wine
1 shallot
1 tbs butter
1 1/2 tsp dried tarragon  

substitute 1 tbs fresh

1 tbs cornstarch (maizena) dissolved in
2 tbs stock

1/3 cup (3oz, 90ml) Greek yogurt, crème fraiche or sour cream
 Instructions:
Lightly roll puff pastry dough if needed.  It needs to be just large enough to cover the salmon with an overlap of 1/2 - 1 inch (1.25 - 2.5cm).  
Lightly cover an area roughly the size of the salmon with dill. 
Skin salmon if needed, and cut/trim. 
Place salmon on top of dill. 
Spread 2 tsp mustard on the salmon. 
Depending on the shape of your fish you can bring opposite corners together (if it's square-ish) or fold over (if it's long-ish). 
Press the meeting edges of the puff pastry together to seal.  It's okay if there are gaps in the 'package' as long as the pastry is sealed together enough to hold it's shape as it bakes. 
Repeat with the other piece of salmon.
Bake at 400F (200C) for 15 - 25 minutes, until the pastry is golden brown. 
Remove and serve with

Tarragon Cream Sauce

on the side.
Tarragon Cream Sauce:
Finely chop shallots. 
In small saucepan over medium heat sauté shallots in butter until tender. 
Add tarragon, wine and stock and bring to a boil.  Simmer 5 minutes. 
Mix cornstarch in 2 tbs stock and stir into simmering stock.  Cook until thickened - should be quite thick. 
Remove from heat and stir in yogurt. 
Cover and keep warm until serving.
Day 2:

Veal Marsala

Total time: 15 minutes
      The tender veal scallops cook quickly and are finished with a silky wine sauce.  I can't get Marsala so I use Madeira.  Both are a slightly sweet, fortified wine.  Chicken breasts, pounded thin, or turkey scallops would make good substitutes.  Both would need a bit more cooking.  Pounding the veal is optional.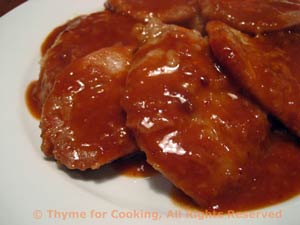 Ingredients:
 Instructions:
Place each piece of veal between 2 sheets of cling film (plastic wrap) and pound with a meat mallet or the edge of a heavy plate.  You want to get them a bit thinner and larger. 

(I often don't bother.) 

In a large, nonstick skillet heat the butter and oil over medium high heat. 
Spread the flour out on a plate.  
Dip the veal into the flour, coating both sides then place in the pan. Do not crowd.  Do them in batches if necessary.  Quickly brown on both sides, about one minute each. 
Remove to a small platter and cover to keep warm or place in a warm oven (250F, 125C). 
The sauce:
Add the Marsala, beef stock and tomato paste to the pan, stirring constantly and scraping up any browned bits on the bottom of the pan. 
Let sauce cook rapidly until reduced and thickened slightly, about 5 minutes.
 Return the veal to the pan, cover and heat through, 2 - 3 minutes.
  Put veal back on platter, spoon sauce over and serve.
Day 3:

 Cheesy Beef and Potato Pie

(Crustless)

Total time: 45 minutes
   Vegetables, meat and cheese, bound together with beaten eggs makes a simple but flavorful one-dish dinner.  It's like pie, but without the crust.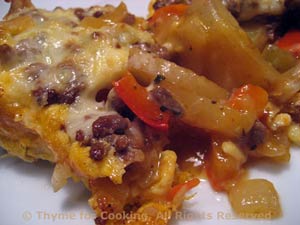 Ingredients:
 Instructions:
Roughly chop onion and pepper. 
Mince garlic. 
Cut potatoes in half the long way then slice thinly. 
Heat oil in a large nonstick skillet over medium heat. 
Add potatoes and toss to coat with oil.  Sauté potatoes for 5 minutes. 
Add the onions, peppers, garlic and continue to sauté until all vegetables are lightly browned, about 10 minutes longer. 
Add the beef stock, cover and cook for 5 minutes. 
Put vegetables in a baking dish, (9 inch, 23cm, square. 
Return pan to heat and add beef, paprika and oregano.  Brown beef, breaking it up as it cooks. 
When beef is done, spread it over potatoes. 
Sprinkle cheese evenly over beef. 
In a medium bowl whisk eggs and Worcestershire. 
Pour eggs evenly over the cheese. 
Bake at 400F (200C) until eggs are set, 15  - 18 minutes.  Serve.
Day 4:

 Italian Pork Chops

Total time: 40 minutes
     Just a few ingredients simmered together to produce moist, tender pork chops.  The lemon adds a fresh taste to the tomatoes.  Grate the lemon before cutting, using a lemon zester or the fine wholes on a grater.  You only want the yellow, or zest, not the white, which is bitter.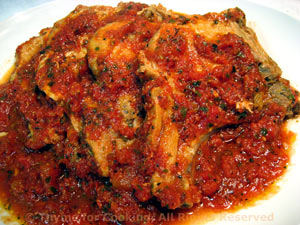 Ingredients:
 Instructions:
Day 5:

 Stir-Fried Chicken with Broccoli and Peanuts

Total time: 25 minutes
    Peanuts may not be as traditional with stir-fries as almonds or cashews, but they add a flavor a bit like sesame seeds, especially when combined with peanut butter - probably more Indian or Thai than Chinese.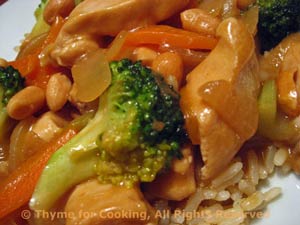 Ingredients: 
 Instructions:
Basmati Rice:
Melt butter in small saucepan over medium heat. 
Add rice and sauté, stirring for 2 - 3 minutes. 
Add stock or water and thyme. 
Cook rice for length of time on package.  When done fluff with fork and serve.
Stir-Fry:
Cut chicken into bite size pieces. 
Cut the broccoli into small florets with a bit of stem. 
Chop the onion. 
Cut celery into 1/4 inch slices. 
Cut the carrot into sticks 1/4 inch by 2 inch. 
Mince the garlic and the ginger. 
Dissolve the cornstarch in the soy sauce and set aside. 
In large skillet or wok heat half of both oils over medium-high heat. 
Add celery, onion, carrot and stir fry 3 minutes. 
Add garlic, ginger, broccoli and stir-fry 2 minutes more. 
Transfer vegetables to a plate. 
Add the rest of the oils to the skillet along with the chicken.  Stir fry 3 minutes. 
Return the vegetables to the pan and add the chicken stock, sherry and peanut butter. 
Bring to a boil.  Reduce heat, cover and simmer for 3 - 5 minutes longer, until the vegetables are just tender - but not over done.
Give the cornstarch/soy sauce a stir to recombine and add it to the pan, stirring constantly until thickened. 
Stir in the peanuts.  
Serve over rice.
Day 6:

 Swedish Meatballs with Egg Noodles

Total time: 30 minutes
   Traditionally served with egg noodles (home made) I usually use any bite-size pasta, preferably a bit 'hearty'.  To stick with tradition you could make small dumplings or hand cut noodles.  The dill is the secret to this dish.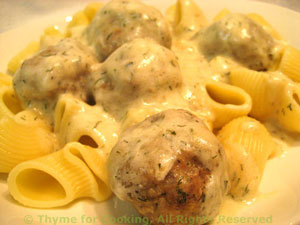 Ingredients:
8oz (240gr) ground beef
1 small onion
1/3 cup bread crumbs
1 egg
2 tsp dried dill weed
1 1/2 cups (12oz, 360ml) chicken stock
1/2 cup (4oz, 120gr) Greek or plain yogurt
1 1/2 tbs cornstarch (corn flour, maizena) dissolved in 2 tbs chicken stock
1 1/4 cups (4.2oz, 125gr) pasta  or 8oz (240gr) fresh egg noodles
1 tbs butter
 Instructions:
Cook noodles or pasta according to package directions. 
When done, drain and toss with butter.
Meatballs:
Mince onion.
In medium bowl combine onion, half of the dill, the egg, bread crumbs and beef.  Mix well and form into small meatballs, about 1" (2.5cm) in diameter.
In a medium skillet with lid heat the chicken stock. 
When simmering add the meatballs, being careful that they don't touch.  Cover and continue to simmer until done, stirring and turning the meatballs once or twice, about 15 minutes.  
To finish:
Dissolve cornstarch in 2 tbs chicken stock. 
When meatballs are done add the dill to the sauce and move the meatballs to the sides of the pan. 
Turn up the heat a bit and add the cornstarch mixture, stirring until thickened and clear.
Remove meatballs from heat and stir in the yogurt, mixing well. 

Serve, meatballs on top of or next to the pasta.

 

Sprinkle with a bit more dill...