Main Course Menu Plan: Week 10 
Winter II
Day 1:

Salmon with Hot and Sweet Glaze

Total time: 25 minutes
     The mustard and brown sugar glaze works well with the slightly sweet flavor of salmon.  Use hotter mustard if you want more of a 'kick'.  I used fillets rather than steaks: they cook in less time and the larger surface captures more of the glaze.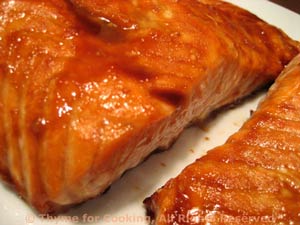 Ingredients:
2 salmon fillets,  6oz (180gr) each
1 1/2 tbs brown sugar
2 tsp Dijon-style mustard
2 tsp soy sauce
1 tsp Sherry
 Instructions:
Note:  For easy clean up cover pan with foil first.  This is especially nice if you are using fillets with the skin on.  You can carefully lift the salmon off the skin to serve, leaving the skin on the foil.  Then wrap the whole mess up and toss.
Day 2:

Filet Mignon or Tournedos with Creamy Brown Sauce

Total time: 20 minutes
    This is based on a main course from years ago, at one of my favorite restaurants in Minneapolis.  They didn't give me the recipe.... The steaks are sliced thinly, for tenderloin, and cooked quickly to stay medium-rare.  Serve on a bed of mashed potatoes.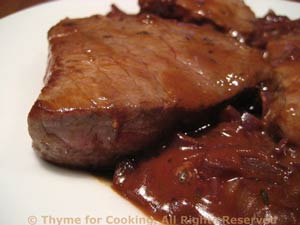 Ingredients:
4 slices beef tenderloin, each 1 inch thick (2.5 cm),  12oz (360gr) total weight
4 tsp olive oil
2 shallots
2 cloves garlic
1 tsp dried thyme
1/2 cup (4oz, 120ml) red wine
1/2 cup (4oz, 120ml) beef stock
1 tbs tomato paste
1 tbs Dijon-style mustard
1 tsp cornstarch
1/4 cup (2oz, 60ml) milk or cream
 Instructions:
The sauce:

  Thinly slice shallots and mince garlic. 
Heat 2 tsp oil in a nonstick skillet over medium heat. Add shallots, garlic and thyme and sauté 1 - 2 minutes. 
Add red wine and simmer until reduced by half. 
Add beef stock and simmer until reduced by half. 
Add tomato paste, mustard and mix well. 
Dissolve cornstarch in milk or cream and add to sauce, stirring until thick.
Spoon into a bowl and set aside.  
Rinse out the skillet for the steaks.

The steaks:

Heat remaining 2 tsp oil in the skillet over medium-high heat.
Add steaks and sauté 1 minute per side. 
Spoon the sauce over the steaks, cover and simmer 1 - 3 minutes longer, depending on how you like them done.

To serve: 

Put 2 steaks on each plate and spoon a little sauce over top. 
Put the rest of the sauce in a sauce boat and serve on the side.
Day 3:

 Chicken Noodle Soup

Total time: 120 minutes
      If you can get cheap chicken wings, add them to the stock for more flavor.  Use traditional egg noodles, spaetzle or any type of small pasta. This will make enough for 4 generous servings.  If you want more soup, use a stewing  hen, or add another breast and thigh and increase the vegetables.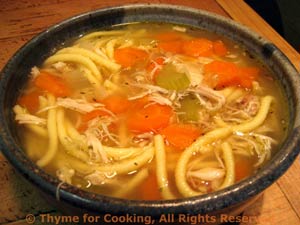 Ingredients:
The stock:
2 chicken breasts
2 chicken thighs
the tops from a bunch of celery or 2 ribs celery
1 carrot
1 onion
bouquet garni
8 cups water
salt or chicken base/stock cubes, or use some chicken stock instead of water
The soup:
6 carrots
4 ribs celery
1 onion
1 tsp dried thyme
1 tsp dried basil
1/2 tsp dried tarragon
6oz (180gr) egg noodles, spaetzle, or other small pasta
the chicken used to make the stock
6 - 8 cups of the chicken stock
 Instructions:
The stock:
Cut the vegetables into large chunks.  If you are using celery tops, use them all, including the leaves. 
Put chicken, vegetables, herbs and water in soup pot or Dutch oven. 
Cover, bring to a boil, reduce heat and simmer for an hour if using breasts, 2 or 3 hours if using a whole chicken.
When done, strain stock, discarding vegetables and reserving chicken. 
If time allows, chill stock and remove fat.
Refrigerate chicken if not making soup immediately.
The soup:
Bring stock to a boil over medium heat. 
Cut carrots in half, the long way then thinly slice. 1/8" (3 cm).  Add to stock. 
Thinly slice celery, add to stock. 
Chop onion, add to stock. 
Add herbs, cover, reduce heat and simmer.
Cut the chicken into small pieces and add to soup.
The soup and vegetables should simmer for 30 minutes.  Add the noodles towards the end of the cooking time and simmer until done. 
Taste and adjust, adding water, stock, salt or chicken base/stock cubes as needed.  Serve.
Day 4:

 Braised Pork Chops with Peppers and Olives 

Total time: 25 minutes
     Pork chops, quickly seared to caramelize the surface, then braised for 15 minutes with peppers, olives and a bit of spicy tomato sauce makes an easy weeknight dinner.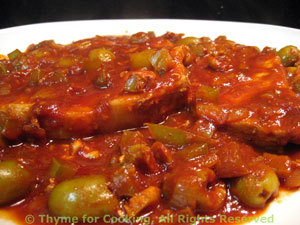 Ingredients:
2 - 4 pork chops, depending on size, (12oz, 360gr) total weight
2 tsp olive oil
2 tsp chili powder
1 onion
1/2 green or red bell pepper
1/2 cup green or black olives
2 cloves garlic
1 cup (8oz, 240ml) tomato sauce
1 tbs Worcestershire
 Instructions:
Chop onion and pepper.
Mince garlic.
In medium nonstick skillet heat oil over medium-high heat.  Sauté pork chops until lightly browned, about 3 minutes per side.
Remove and set aside.  Add chili powder, onions, garlic, pepper to pan and sauté 5 minutes.
Return chops to pan.
Add tomato sauce, Worcestershire sauce and olives.  Reduce heat to low, cover and simmer 10 - 15 minutes, until chops are done and tender.
Serve.
Day 5:

 Ham and Spinach Quiche

Total time: 65 minutes
    The rice makes a lovely crust, much healthier than the traditional pastry... and easier too, especially if you cook the rice earlier.  Use either brown or basmati rice.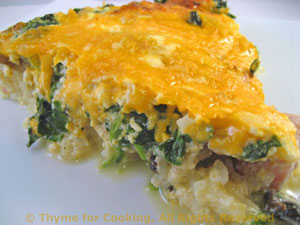 Ingredients:
Crust

1/2 cup (3.3oz, 95gr) quick-cooking brown rice

1 cup (8oz, 240ml) chicken stock

  

to yield 1 1/2 cups cooked rice

1/4 cup (1oz, 30gr)  shredded cheese
1 egg
1 tsp olive oil
Filling
8oz (240gr) ham
8oz (240gr) frozen spinach  or fresh, cooked spinach
5oz (150gr) mushrooms
1/2 pepper
1 tsp olive oil
3 eggs
1 cup (8oz, 240ml) cup milk
1 cup (8oz, 240gr) ricotta cheese
1/4 cup (1oz, 30gr) cup shredded cheese
 Instructions:
The rice: 

Cook the rice in stock.
 If doing in advance, refrigerate until needed. 
If doing now, spread the rice on a plate to cool for 5 minutes before making crust.

The crust:

Lightly whisk 1 egg. 
Mix cooked rice, cheese and egg.
Pat into a lightly oiled quiche or 10" (25cm) pie plate, working it up the sides a bit for the edges. 
Bake in 400F (200C) oven for 10 minutes.
The filling: Cut ham into small strips or cubes.
Thaw spinach, squeeze out all water.
Trim and slice mushrooms.
Roughly chop pepper
Heat oil in nonstick skillet and lightly sauté mushrooms, peppers.
Whisk 3 eggs and milk together.

To assemble: 

When crust is done, remove from oven.
Spread the spinach evenly over the crust.
Top with ricotta, mushrooms, ham and shredded cheese.
Pour egg mixture over all and bake, 40 - 50 minutes, 400F (200C). When done the center should be firm or with a very slight jiggle.
Remove from oven and let rest 5 minutes before cutting.
Note:  I usually put the quiche dish on a baking sheet to make it easier to handle – it gets kind of full.
Day 6:

 Stir-Fried Chicken and Broccoli with Barley  

Total time: 25 minutes
   Toast the sesame seeds first if they are not already toasted.  Add crushed red pepper flakes if you like some heat, and/or use a hotter mustard.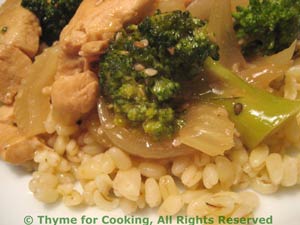 Ingredients:    
2 chicken breasts, boneless, skinless
1 onion
2 cloves garlic
2 ribs celery
3oz (90gr) mushrooms
1 small head of broccoli
3 slices ginger, peeled
1/3 cup (3oz, 90ml) sherry
2 tbs soy sauce
2 tbs red wine vinegar
1 tbs Dijon-style mustard
2 tsp brown sugar
2 tsp sesame seed oil
2 tsp olive oil
1/2 cup (4oz, 120ml) chicken stock
1 tbs cornstarch (maizena, corn flour)
1 tbs sesame seeds, toasted
Barley
2/3 cup (3.3oz, 95gr) barley, quick-cooking
1 1/3 cup (11oz, 330ml) chicken stock
 Instructions:
The prep: 

In a small bowl mix the sherry, soy sauce, vinegar, mustard and sugar.
Cut chicken into bite size pieces.  Add to the bowl with the sauce, stir to coat.
Cut the broccoli into small florets with a bit of stem.
Vertically slice the onion.
Cut celery into 1/4 inch slices.
Mince the garlic and the ginger.
Slice mushrooms
Dissolve the cornstarch in the chicken stock and set aside.

To cook: 

In a large skillet or wok heat half of both oils over medium-high heat.
Add celery, onion, mushrooms and stir fry 3 minutes.
Add garlic, ginger, broccoli and stir-fry 2 minutes more.
Transfer vegetables to a plate.
Add the rest of the oils to the skillet.
Remove chicken from sauce, reserving sauce, and stir fry 3 minutes.
Return the vegetables to the pan and add the reserved sauce.
Bring to a boil.  Reduce heat, cover and simmer for 3 - 5 minutes longer, until the broccoli is just tender, but not over done.
Give the cornstarch/stock a stir to recombine and add it to the pan, stirring constantly until thickened.
Stir in sesame seeds.
Serve over barley.
Barley 
Cook barley in chicken stock, covered, over medium-low heat until done.
To toast sesame seeds:  Put them into a dry, nonstick skillet over medium heat.  Toss or stir them about in the pan until lightly golden, about 5 minutes.