Main Course Menu Plan: Week 11 
Winter II
Day 1:

Sautéed Sole with Browned Butter and Capers

Total time: 10 minutes
    Sole is a delicate fish with a mild flavor that pairs well with lemon and capers.  It's normally served with the tail and bones intact: just skinned and cleaned but not filleted. They cook very fast and if you are not careful when you take them by the tail to turn them over the skeleton will come away in your hand.  The flesh comes away easily with a fork to eat.  Or, even better, buy them skinned and filleted.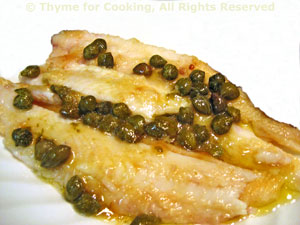 Ingredients:
 Instructions:
Put the flour and paprika on a plate large enough for the fish to fit.  Mix with a fork until combined. 
Over medium-high heat melt the butter in a nonstick skillet large enough to hold both fish. 
Rinse fish and pat dry. 
When butter is sizzling and just starting to color dip both sides of fish (hold it by the tail) in flour and add to pan. 
Sauté 1 - 2 minutes on each side depending on size of fish.  
When lightly browned and done remove to plates. 
Add capers, wine and lemon juice to skillet.  Quickly stir, loosening and browned bits. 
Pour over each fish. 
Serve with 2 lemon quarters to squeeze over top.
Note 1:  You can cook them slightly underdone, to this point, then put them on a platter, cover them loosely with foil and put in a 200F (100C) oven to keep warm.
Note 2: If you get sole filets, they will cook even faster.  Use a long spatula to turn them carefully.
Day 2:

Veal Parmigiana

Total time: 30 minutes
    A classic on every Italian menu, and one that is easy to make at home  The veal is lightly breaded and quickly fried.  We topped it with a slice of Mozzarella di Bufala, not traditional, but very good.  You could substitute turkey cutlets or chicken breasts, pounded thinly, for the veal, but they will require longer cooking.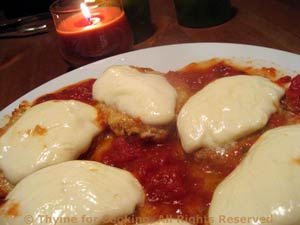 Ingredients:
 Instructions:
The pasta: 
Cook according to package directions.  Drain.
The veal: 
Mix bread crumbs and Parmesan on a plate. 
Crack egg into a flattish bowl and lightly beat with a fork.
Dip both sides of the veal cutlets in the egg, then in the crumbs/Parmesan. 
Lay on wax paper or a plate to rest for 5 minutes. 
In a medium nonstick skillet heat 1 tbs oil over medium-high heat.  Add veal cutlets and brown well on both sides, 2 - 3 minutes. 
Remove, put on a large, heat-proof plate and keep warm in a 250F (125C) oven. 
The sauce:
Chop onion and finely chop garlic.
Roughly chop tomatoes, reserving all juices. 
In same skillet add remaining tbs oil, onion and garlic and sauté 5 minutes. 
Add tomatoes, juices, sauce, paste, herbs, wine, and Worcestershire. 
Bring to a boil.  Reduce heat and simmer, uncovered, 15 minutes. 
To serve:
Remove veal from oven and put into pan with the sauce. 
Top with sliced mozzarella and cover until the cheese stars to melt. 

Arrange the veal on the warm plate, spoon some sauce around and serve with the remaining sauce on the side for the pasta.

 

The Parmesan is for sprinkling on the pasta.
Day 3:

 Italian Beef & Cabbage

Total time: 80 minutes 60 minutes baking
    A little bit of prep and an hour to bake, gives you a hearty casserole full of good food: cabbage, brown rice, onion, garlic, tomato; while you do something else.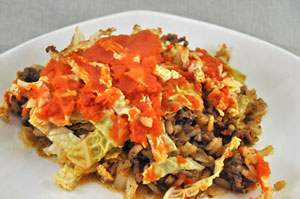 Ingredients:
 Instructions:
Cook rice. 
While rice cooks: Heat oil in nonstick skillet. 
Add onion, celery, garlic and sauté until tender, about 5 minutes. 
Add beef and brown, breaking it up as it cooks. 
Add Worcestershire sauce, herbs, chili powder. 
Cover and keep warm over low heat. 
Add brown rice when done. 
To assemble:
Put half (1 cup) of the cabbage into a baking dish, put the beef/rice mixture on top, then the rest of the cabbage.
Press it down a bit, then pour the tomato sauce over the top. 
Cover and bake at 375F (190C) for an hour.
Day 4:

 Chunky Turkey Hash

Total time: 30 minutes
    I buy turkey tenderloins for use in dishes like this.  If they are too large for a single meal I cut them in half (or whatever) and freeze the rest.  The tenderloin is very lean, takes on other flavorings easily and can be cut to size.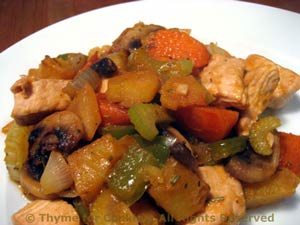 Ingredients:
2 small - medium potatoes
2 carrots
2 ribs celery
1/2 green pepper
1 onion
4oz (120gr) mushrooms
2 cloves garlic
10oz (300gr) turkey tenderloin
4 tsp olive oil
1/4 cup (2oz, 60ml) chicken stock
3 tbs ketchup
1 tbs Dijon-style mustard
1 tbs soy sauce
1 tsp oregano
 Instructions:
Cut potato into chunks. 
Roll-cut carrots: cut the end off the carrot at an angle, roll carrot 1/4 turn and cut next piece about 3/4 inch away at an angle, roll 1/4 and cut next piece, etc. 
Steam potatoes and carrots for 15 minutes over medium-high heat, until they are just tender. 
Chop onion, pepper, celery and mince garlic.  Clean mushrooms and slice thickly. 
Cut turkey into bite-size pieces. 
Heat 2 tsp oil in large nonstick skillet over medium - high heat. 
Add onion, pepper, celery and mushrooms.  Sauté until tender, about 7 minutes. 
Add garlic and sauté 3 minutes longer. 
Remove onion, etc to a plate.  Add turkey to skillet and sauté 3 - 5 minutes until browned. 
Put on same plate as onions. 
Heat remaining 2 tsp oil in skillet and add carrots and potatoes.  Stir-fry until vegetables are lightly browned. 
Return everything to pan and heat through. 
Add soy sauce, mustard, oregano, stock, ketchup and heat through, stirring constantly, 2 - 3 minutes over medium heat.  Serve.
Day 5:

 Upside Down Yorkshire Pizza Pie

Total time: 50 minutes
      This is an easy one-dish meal, quick prep work and 30 minutes baking time.  The top is a simple popover batter that puffs up high, and gets a lovely golden brown.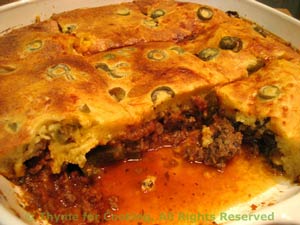 Ingredients:
8oz (240gr) sausage, or 2 Italian sausages, casings removed
1/2 onion, chopped 
2 cloves garlic, minced
1/2 green bell pepper, chopped
4oz (120gr) mushrooms, sliced
1 tsp dried basil
1 tsp dried oregano
1 tsp chili powder
1 tbs olive oil
1 cup (8oz, 240ml) tomato sauce
1/2 cup green or black olives, pitted
1 cup (4oz, 120gr) shredded cheese, mozzarella preferably
2 eggs
1 cup (8oz, 240ml) milk
1 cup flour
1/4 tsp salt
1/4 cup (1oz, 30gr) grated Parmesan
 Instructions:
Heat 1 tbs olive oil in medium nonstick skillet over medium-high heat.  Add chili powder and sauté 1 minute. 
Add onion, garlic, green pepper, mushrooms and sauté until tender, about 5 minutes. 
Add sausage and brown, breaking it up as it cooks. 
When done remove from heat, drain excess fat, and spread in a 10-inch (25cm) glass baking dish. 
Spoon tomato sauce evenly over the top. 
Sprinkle with herbs. 
Slice olives and sprinkle on herbs. 
Sprinkle cheese evenly over top.
In medium bowl lightly beat eggs with wire whisk. 
Add milk, flour and salt.  Beat lightly to just combine; a few lumps are okay - over-beating is not. 
Pour batter evenly over the top of the 'pizza'. 
Sprinkle with Parmesan. 
Bake, uncovered, at 425F (215C) for 30 minutes or until edges puff up and are golden brown.
Cut into wedges and serve.
Note 1: The quickest way to remove the sausage from the casing is to slit the casing, lengthwise with a sharp knife.  Open the casing like a book and scoop out the sausage.
Note 2: This is just a little too much batter for my taste; but cutting the recipe in half yields too little.  You can use it all, (I have, and it works fine - just a bit too much to eat) but the last time I made it I ladled out 1/2 cup of the batter (and threw it out) before pouring it on top.
Day 6:

 Chicken Braised in Sherry Vinegar

Total time: 25 minutes
    This is a slightly spicy. slightly tart sauce, simply reduced a bit and served with the onions.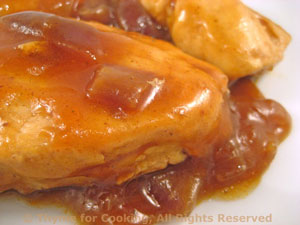 Ingredients: 
2 chicken breasts, boneless, skinless
1 onion, chopped
3 tbs sherry vinegar
3 tbs sherry
4 tbs chicken stock
1/2 tsp paprika
1/2 tsp cumin
2 tsp olive oil
 Instructions:
Heat oil in medium nonstick skillet over medium-high heat. 
Add paprika, cumin and sauté 1 minutes. 
Add onion and sauté 5 minutes, just until starting to brown. 
Move to the side, add chicken breasts and brown on both sides, about 8 minutes. 
Add vinegar, sherry, stock, cover, reduce heat and simmer 10 minutes. 
Uncover and reduce sauce slightly.  Serve.