Main Course Menu Plan: Week 8 
Spring II
Day 1:

Stir-Fried Scallops and Ham

Total time: 10 minutes
     The sweetness of shellfish pairs very well with the salty ham.  Small bits of ham are often used as flavorings in Chinese foods.  I buy frozen scallops, which are less expensive than fresh.  You could also use small, bay scallops, which will cook very fast or shrimp.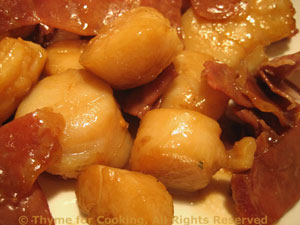 Ingredients:
10oz (300gr) large scallops
4 slices Prosciutto, (3.5oz, 100gr) or other dry-cured ham, Bayonne, Serrano
1 tsp minced fresh ginger
1 tbs dry sherry
2 tsp soy sauce
3 tsp olive oil
1 tsp sesame oil
1 tsp cornstarch (maizena) dissolved in 2 tbs water
 Instructions:
Cut ham slices into thick strips.
Dissolve cornstarch in water.
Stir sherry and soy sauce into cornstarch mixture.
Heat a large nonstick skillet over medium-high heat.
When hot add 2 tsp olive oil, ham and stir-fry until crisp.
Remove ham and set aside.  Add remaining 1 tsp olive oil and sesame oil to skillet.

Add scallops and stir-fry quickly until scallops turn opaque

. Some scallops will release water when cooked, causing them to steam rather than fry. Be sure to use a large skillet, giving them plenty of room. Turn the heat to high after adding the scallops if they don't start to sizzle.

Return ham to skillet, add cornstarch mixture and stir until it's hot, thick and coating the scallops, less than a minute. 

Serve immediately.
Day 2:

Filet Mignon with Caramelized Onions

Total time: 35 minutes
     With a lovely piece of flavorful, tender filet mignon this is truly marvelous main course. But the savory-sweet onions will make even a lesser cut shine.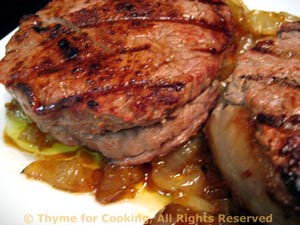 Ingredients:
2 filet mignon steaks (tournedos), 6oz (180gr) each 

or other cut of choice

1 large or 2 medium onions
2 tsp butter
2 tsp olive oil
1 tbs brown sugar
2 tsp Dijon-style mustard
1 tsp Worcestershire Sauce
 Instructions:
Mix Worcestershire sauce, oil and brush on steaks.  Set aside. 
Cut onion in half then into 1/4 inch (.65cm) think slices. 
Heat butter, oil in medium nonstick skillet over medium heat. 
Add onions and sauté until browned, stirring frequently, about 25 minutes.  You may have to turn the heat down to low after about 15 minutes. 
When onions are nicely browned add sugar, mustard, Worcestershire, and stir until well blended and sugar is melted.  Set aside and keep warm.  
Cook steaks on barbecue grill until done to your liking.... about 3 minutes per side for medium rare.  It depends on thickness of cut, heat of grill, etc.  Check out this site for the 'thumb test'.
Divide caramelized onions and place on 2 plates.  Put steak on top and serve. 
Note:   Could be done under the broiler (grill) or quickly pan fried over high heat for about the same time.
Day 3:

 Warm Chicken Pasta Salad with Spring Vegetables   

Total time: 30 minutes
   I have always disagreed with most 'Pasta Primavera' as they are meant to celebrate spring but insist on using summer vegetables: tomatoes and peppers.  This is my version, using only spring vegetables.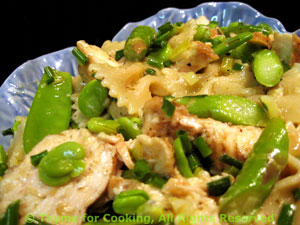 Ingredients:
6oz (180gr) green asparagus
4oz (120gr) snow peas, mangetout, pea pods
1/2  - 3/4 cup fava beans   

you'll need about 1lb (500gr) of pods to start with,    substitute edamame

4 green garlic, sliced, including green tops  

substitute 4 green onions

1 tbs oil
2 tbs fresh, snipped chives  

substitute 2 tbs dried - add to vinaigrette

1 1/4 cups (3.5oz, 100gr) farfalle pasta
Vinaigrette:
1 tbs Dijon-style mustard
1 1/2 tbs white Balsamic vinegar
4 tbs good olive oil
Grilled Chicken:
2 boneless, skinless chicken breasts
Marinade:
1 tbs red wine vinegar
1 tbs Worcestershire sauce
2 tbs olive oil
 Instructions
Cook pasta according to package directions. When done, drain well.
Mix marinade and pour over chicken.  Let marinate for 15 - 30 minutes.
Heat a sauce pan of water to boiling. 
Roll cut the asparagus into 1" (2.5cm) lengths. 
Trim the snow peas. 
Remove fava beans from the pods.
Blanch vegetables, one type at a time, in boiling water: asparagus for 3 minutes, snow peas for 2 minutes and fava beans for 2 minutes. 
Remove each from water and put into cold water. 
Shell fava beans (see notes).
Cook chicken on barbecue grill, 10 - 15 minutes, or until done or can be sautéed in skillet for about the same amount of time.
Remove and slice.
Whisk together mustard and vinegar for vinaigrette. 
Slowly drizzle in olive oil, whisking constantly.
To Assemble:
Heat 1 tbs olive oil in a large skillet over medium high heat. 
Add green garlic or onion, asparagus and  snow peas.  Stir-fry for 2 minutes, until hot and starting to brown. 
Add drained pasta and toss to heat through. 
Put into a large bowl, add fava beans, chives and sliced chicken. 
Pour vinaigrette over and toss well to combine. 
Serve.
Notes: 
Roll cut:  Cut the end off at an angle, roll 1/4 turn and slice at the same angle, roll 1/4 and slice, etc.  This gives you interesting looking pieces with lots of surface.  It's normally used on round vegetables: carrots, asparagus, etc.

Peel fava beans:  They peel like peas: break open the pod and take the beans out.  Don't bother with any really tiny ones.  After blanching they will have a whitish outer shell.  Just squeeze lightly and the inner, bright green bean will pop out.  It may split in half... that's okay.
Day 4:

 Grilled Turkey Teriyaki

Total time: 15 minutes
  Turkey cutlets are great for a quick main course.  Paired with a simple Teriyaki marinade, these can be ready in under 10 minutes.... But you have to let the barbecue grill warm up!  Or just quickly sauté in a nonstick skillet.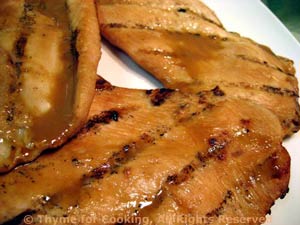 Ingredients:
2 - 4 turkey cutlets, depending on size  12oz total (360gr)
2 - 3 tbs Teriyaki marinade
 Instructions:
This is very work intensive:  Open bottle of Teriyaki marinade and pour some on the turkey cutlets. Set aside to marinate for a bit. 
When ready cook on barbecue grill for 2 - 3 minutes per side or under broiler for same amount of time or sauté in nonstick skillet for 3 - 5 minutes a side - in all cases cook until done.
Day 5:

 Pasta Primavera with Tuna

Total time: 30 minutes
     I've made this Primavera' a little more 'spring-like', added some tuna to make it a full main course rather than just a hearty side dish and finished it with a light egg/Parmesan sauce.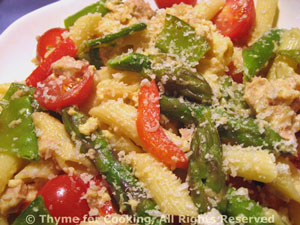 Ingredients:
 Instructions:
Day 6:

 Sautéed Chicken Breasts with Bacon and Mushrooms

Total time: 30 minutes
    One cannot go wrong with mushrooms and bacon.... A bit decadent, perhaps, but life is for living. My bacon is very lean, so I have to sauté it in oil.  Use it or not, as needed.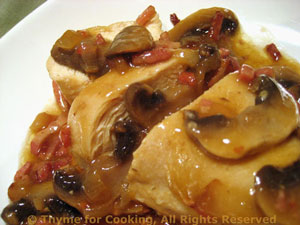 Ingredients:
2 chicken breasts, boneless, skinless
1 onion
2 cloves garlic
4oz (120gr) mushrooms
2oz (60gr) bacon   

about 2 - 3 slices

1 tsp olive oil
1/2 cup (4oz, 125ml) white wine
1 tsp cornstarch (maizena) dissolved in 1 tbs water
 Instructions:
Roughly chop onion. 
Mince garlic. 
Clean and thickly slice mushrooms. 
Roughly chop bacon. 
Heat olive oil in medium skillet over medium heat. 
Add bacon, onion, garlic, and sauté 5 minutes. 
Add mushrooms and sauté 5 minutes longer. 
Move onion/mushrooms to the sides of the pan.
Add chicken breasts and brown lightly on both sides, about 7 minutes total. 
Add white wine, reduce heat to low, cover and simmer until chicken is done, 10 - 15 minutes longer.
Remove chicken to a plate. Increase heat under skillet.
Add cornstarch mixture to mushroom bacon sauce, stirring until thickened. 
Spoon over chicken and serve.