Grilled Pork Chops with Peanut Marinade
Grilled Dijon Potatoes
Grilled Onions, Shallots and Tomatoes
Cooking time:  40 minutes for menu          Cooking schedule: see below for instructions
     Dinner from the grill - no indoor cooking required!
Grilled Pork Chops with Peanut Marinade
Total time: 30 minutes
   Similar to a Satay, this slightly spicy marinade goes well with pork.  For maximum flavor, poke the pork with a fork after adding the marinade to allow it to penetrate the meat.  We had thin chops that cook quickly; try not to overcook, slightly pink is now preferred for pork.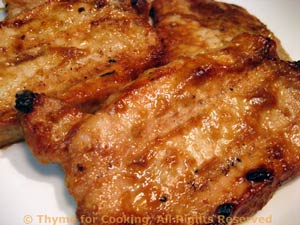 Ingredients:
2 - 4 pork chops, 12oz (360gr) total weight if boneless
Marinade:
1 tbs creamy peanut butter
1 tbs soy sauce
1 tbs red wine vinegar
1/4 tsp garlic powder
1/4 tsp powdered ginger
1 tbs sesame or walnut oil
2 tbs olive oil
 Instructions:
Mix all ingredients for marinade and pour over chops. 
Let marinate for 15 - 20 minutes. 
Cook on barbecue for 5 - 8 minutes a side or until done. Slightly pink is preferred - take a peak (techniques). 

Or

fry in nonstick skillet over medium-high heat the same amount of time.  Serve.
Grilled Dijon Potatoes
Total time: 40 minutes
    The mustard keeps these from getting as brown as most grilled potatoes, but it also keeps them very moist.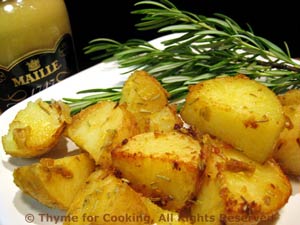 Ingredients:
2 medium potatoes (10oz, 300gr)
1 tbs Dijon-style mustard
2 tbs olive oil
1/2 tsp garlic powder
1 tsp dried rosemary or 1 tbs fresh
 Instructions:
Cut potatoes in 4ths the long way and then in thirds the short way. 
Put remaining ingredients into medium bowl and mix well - it will get thick. 
Add potatoes and toss well to coat. 
Now you have two choices: you can put them in the oven on a baking sheet with lip (trusty round pizza pan) and bake at 400F (200C) for 35 minutes, or put them in an old 'for barbecue only' metal pan and cook over direct heat on the barbecue, stirring frequently until brown and done, 20 - 25 minutes or over indirect heat for 35 - 40 minutes, stirring occasionally.  
Remove from pan and serve.
Grilled Onions, Shallots and Tomatoes
Total time: 30 minutes
    We don't often think of onion as a vegetable.... It is.  Combined with shallots and tomatoes it makes a lovely side dish.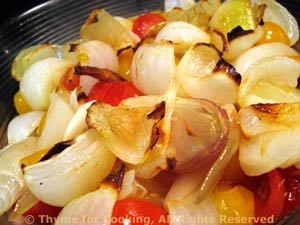 Ingredients:
2 - 3 medium shallots

more if they are small

1 medium - large onion
1 cup cherry or grape tomatoes - or 2 medium tomatoes
2 tsp white Balsamic vinegar
1 tbs olive oil
 Instructions:
Peel onion, cut in half, then cut each half into 4 wedges. 
Peel the shallots and cut in half. 
Put olive oil and vinegar in a medium bowl, add all onion and shallots.  Toss well to coat. 
Put into 'grill pan' (a metal or foil pan dedicated to use on the grill) NOT a mesh grill pan.  Cook over medium heat 15 - 20 minutes. 
Cut cherry tomatoes in half or larger tomatoes into wedges, and add to shallots and onion. 
Stir to combine and cook another 5 - 8 minutes. 
Remove all and serve.
OR:  Put onions and shallots onto a baking sheet with a lip (my trusty 'pizza' pan) and roast in 400F (200C) oven for 25 minutes, adding the tomatoes for the last 10 minutes.
Cooking schedule: 40 minutes
Assemble all food, utensils and serving dishes
Utensils: measuring cups, spoons, knives,
scissors, small bowl, dish for marinating, medium
bowl, (used 2 X) barbecue grill, 2 grill pans
Turn on/light barbecue grill
Mix mustard, oil, garlic rosemary
Cut potatoes, add to mustard, stir to coat
Start to cook potatoes
Make marinade for pork
Spoon over pork, set aside
Peel, cut onion

Peel, cut shallots
Mix oil, vinegar
Add onions, shallots, stir
Start to cook onions, shallots
Cut tomatoes
Stir potatoes
      Pause while stuff cooks
Start to cook chops
Add tomatoes to onions, stir
Stir potatoes
Turn chops
Remove everything and serve