Pasta with Turkey, Leeks and Peas
Cooking time:  30 minutes for menu          Cooking schedule: see below for instructions
     This uses my other winter freezer staple: peas.  Add some leeks, a bit of turkey, cheese and pasta and dinner is ready.
Pasta with Turkey, Peas and Leeks
Total time: 30 minutes
   Frozen peas are another under-used vegetable.  They are hard to find fresh and, for peas, frozen is better, anyway.  The leeks add a mild onion flavor to the pasta and a sprinkle of shredded cheese finishes it.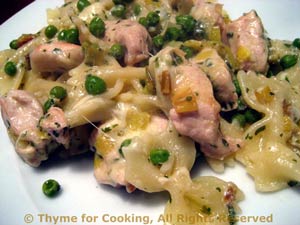 Ingredients:
 Instructions:
Cook pasta according to package directions. 
Slice turkey into strips.
Heat oil in a large nonstick skillet.  Add leeks and sauté until starting to get tender, about 5 minutes.
Add turkey and sauté 5 minutes longer.
Add chicken stock, wine, tarragon and peas
Cover, reduce heat and simmer until peas are done and tender, about 10 minutes. 

To finish:

Add the drained pasta, and cook, stirring until heated through and the liquid has either been reduced a bit or absorbed by the pasta.
Sprinkle with shredded cheese, stir to combine and serve.
Cooking schedule: 30 minutes
Assemble all food, utensils and serving dishes
Utensils: measuring cups, spoons, knives,
pot and colander for pasta, skillet with lid
Put water on high heat for pasta
Slice leeks, sauté
Slice turkey, add to leeks
    Pause while it cooks

Shred the cheese if needed
Start to cook pasta
Add peas, stock, wine, tarragon to turkey
Cover, reduce heat, simmer until pasta is done
    Pause while it all cooks
Drain pasta, put into skillet with turkey
Cook a minute or two, stirring gently
Sprinkle with cheese, stir and serve