Chicken with Mushrooms, Broccoli and Peppers
Basmati Rice
Cooking time:  25 minutes for menu      Cooking schedule: see below for instructions
      A stir-fry doesn't have to be Asian. This goes together quickly for a healthy dinner in under 30 minutes.  
Chicken with Mushrooms, Broccoli and Peppers
Total time: 25 minutes
    Tarragon and capers are the main flavor components of this chicken dish. They give a Mediterranean taste to the peppers and broccoli.  It all cooks quickly, leaving the vegetables crisp-tender.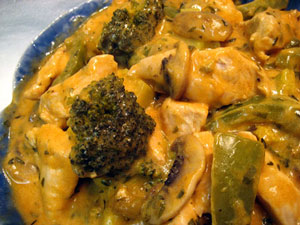 Ingredients:
2 chicken breasts, boneless, skinless
4oz (120gr) mushrooms
1 onion
1/2 green pepper
1/2 head broccoli
2 cloves garlic
2 tbs capers
3/4 cup (6oz, 120ml) white wine
1 tsp dried tarragon
1 tsp dried thyme
1 tbs tomato paste
1 tbs olive oil
1 tbs cornstarch (corn flour, maizena) dissolved in 2 tbs water
 Instructions:
Roughly chop onion.
Slice the green pepper into strips 1/4" (.6cm) wide.
Cut broccoli into florets and peel and slice the stem. 
Mince garlic.
Trim and thickly slice mushrooms.
Cut chicken into large bite-size pieces.
Dissolve cornstarch in water.
Heat oil in nonstick skillet.  Add onion and sauté 5 minutes.
Add garlic, broccoli, mushrooms and pepper and sauté another 5 minutes.
Add chicken and sauté until it's cooked on all sides.
Add capers, herbs, wine, stock and tomato paste.
Cover, reduce heat and cook another 10 minutes, until the chicken is cooked through and broccoli is just tender
Uncover, increase heat.
Stir in cornstarch to thicken. 
Serve over rice or with buttered potatoes.
Basmati Rice
Total time: 20 minutes
    Simple, fragrant, fluffy, quick-cooking ....for me, the perfect white rice for a side dish.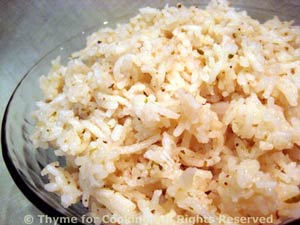 Ingredients:
1/2 cup (3.3oz, 95gr) Basmati rice
1 tsp butter
1 cup (8oz, 240ml) chicken stock
1/2 tsp dried thyme
 Instructions:
Melt butter in small saucepan over medium heat. 
Add rice and sauté, stirring for 2 - 3 minutes. 
Add stock or water and thyme. 
Cook rice for length of time on package. 
When done fluff with fork and serve.
Note:  Vary the herbs based on the main course.  If fresh are available use 1 tbs, snipped or minced and add during the last 5 minutes of cooking time.
Cooking schedule: 25 minutes
Assemble all food, utensils and serving dishes
Utensils:measuring cups, spoons, knives,
large skillet with lid, small saucepan with lid
Chop onion
Slice pepper
Trim, cut broccoli
Mince garlic
Sauté onion
Sauté rice in butter
Cut chicken breasts

Add stock, herbs to rice, cover, cook
Trim, slice mushrooms
Add remaining vegetables to onion, sauté
Add chicken, sauté
Add capers, herbs, wine, stock, tomato paste
Cover, simmer
Dissolve cornstarch in water
Uncover chicken, increase heat
Add cornstarch and thicken sauce
Fluff rice
Serve