Main Course Menu Plan: Week 9
Fall I
Day 1:

Balsamic Glazed Baked Salmon

Total time: 25 minutes
The honey-vinegar makes a lovely glaze with a hint of hot from the mustard.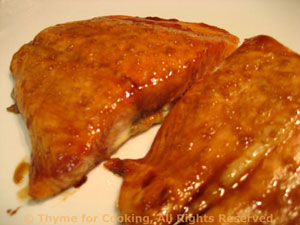 Ingredients:
2 salmon fillet or steaks, 6oz each (180gr each)
2 tbs Balsamic vinegar
2 tbs honey
1/4 tsp dry mustard
1/2 tbs olive oil
Instructions:
In a small sauce pan heat the vinegar, honey, mustard and oil, whisking to combine. When combined remove from heat and set aside.
Put the salmon, skin side down, on a baking sheet.
Brush with the honey/vinegar.
Bake in 400F (200C) oven for 15 - 17 minutes, depending on thickness, basting with the honey/vinegar twice more. Salmon will be done when it flakes easily, slightly pink in the center is fine. Baste a final time and serve.
Day 2:

Filet Mignon with (simple) Marchand de Vin Sauce

Total time: 30 minutes
This sauce in lovely with filet mignon, but use any tender steak that you like. Use a hot skillet or grill pan to cook quickly, adjusting time for desired degree of doneness. The sauce is simple, but intensely flavorful... And easier than the original.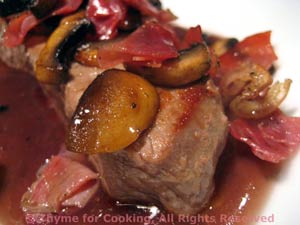 Ingredients:
4 slices beef tenderloin, each 1 inch thick (2.5cm), 14oz (420gr) total weight

or other steak of choice

2oz (60gr) Prosciutto, about 3 slices, divided
2 shallots
4oz (120gr) mushrooms
2 cloves garlic
1 cup (8oz, 240ml) beef stock
1 cup (8oz, 240ml) red wine
1 tbs cornstarch dissolved in 2 tbs beef stock
2 tsp olive oil
Instructions:
Day 3:

Chicken and Broccoli Risotto

Total time: 30 minutes
A silky risotto, with bright green broccoli and bits of chicken this is sure to please the most discerning palate. It's finished with freshly grated Parmesan and a scattering of sautéed mushrooms.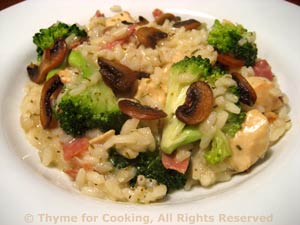 Ingredients:
2/3 cup (4.2oz, 125gr) Arborio rice

(or other rice specifically for risotto - Carnaroli or Vialone Nano)

1/2 cup (4oz, 120ml) dry, white wine
2 1/4 cups (18oz, 540ml) chicken stock
1/2 onion
1 tbs butter
3/4 cup (3oz, 90gr) Parmesan cheese - freshly grated
Condimenti
1 chicken breast, boneless, skinless
2 slices Prosciutto, 1oz (30gr)

optional, but I had some left

4oz (120gr) mushrooms
1/3 - 1/2 head of broccoli, about 1 cup of florets
1/2 onion
1 tsp thyme
1 tsp oregano
1 tbs olive oil
Instructions:
Heat chicken stock and keep hot over low heat.
Finely chop onion, divide.
In medium sauce pan heat butter; add the half the onion and sauté until transparent.
Add rice and sauté, stirring, for 2 - 3 minutes until rice has white center.
Add white wine and stir.
Start condimenti.
When wine is almost absorbed add a 1/3 cup of stock, stir. (No need to stir constantly but do stir from time to time.)
When stock is almost absorbed add another 1/3 cup and continue adding 1/3 cup at a time and stirring. Before adding the last 1/4 cup taste a few kernels of rice. They should be just 'al dente' - slightly resistant to the tooth, but fully cooked. If more stock is needed add it 1/8 cup at a time and waiting until almost completely absorbed. At this point risotto will be thick but not stiff - there will still be visible liquid and it will not hold it's shape on a plate.
Add the Parmesan and the chicken/onion mixture, stir well.
Gently stir in the broccoli and pour into a bowl or risotto platter.
Scatter mushrooms on top and serve.
Condimenti:
Cut broccoli into small florets.
When the stock for the risotto is boiling, drop in the florets and simmer 5 minutes.
Remove with a slotted spoon and spread out on a plate to cool to room temperature. This is to help retain their bright green color.
Clean and slice mushrooms.
Cut chicken into bite-size pieces.
Heat oil in a medium skillet. Add mushrooms and sauté until well browned, about 10 minutes.
Remove to a plate and set aside.
Add onion and sauté until tender.
Add chicken, ham if using, and sauté until cooked through.
Add herbs, cover and keep warm over very low heat until needed.
Note: The risotto will continue to absorb liquid and the leftovers (if any) will be quite stiff. The risottos that we have eaten in northern Italy have all been served in soup plates (flattish bowls) and eaten with a spoon - not a fork.
Day 4:

Hungarian Pork Chops

Total time: 40 minutes
Quickly browned, then simmered in white wine and stock, flavored with bay and paprika, these pork chops are fork tender and full of flavor.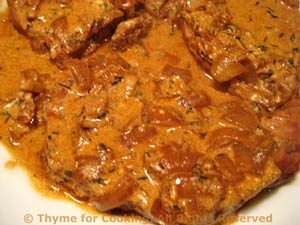 Ingredients:
Instructions:
Roughly chop onion and mince garlic.
Heat 2 tsp oil in nonstick skillet over medium heat.
Add pork chops and brown well on both sides, about 8 minutes, total.
Remove and set aside.
Add remaining oil and paprika and sauté 1 minute.
Add onions and garlic and sauté until tender, about 5 minutes.
Add remaining ingredients, except yogurt, to skillet and heat to boiling.
Return chops to pan, reduce heat, cover and simmer 20 minutes.
Uncover, increase heat and reduce pan juices to about 1/3 cup.
Turn heat off.
Remove chops and put on a small platter.
Remove bay leaf.
Stir yogurt into pan juices and pour over chops. Serve.
Day 5:

Stir-Fried Beef and Broccoli

Total time: 25 minutes
Flank steak lends itself very well to stir-frying, but a lot of markets are selling packages of pre-cut meat just for this purpose - take advantage of someone else's work if you can! You can arrange the rice on a platter, spoon the beef and broccoli on top and serve, or use separate bowls.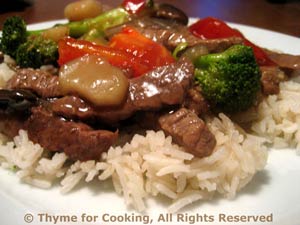 Ingredients:
Instructions:
Cut the beef at an angle across the grain into bite-size strips.
Mix 1 tbs sesame oil with 1 tsp soy sauce.
Toss with beef and set aside to marinate.
Thinly slice onion, pepper.
Mince garlic, ginger (peel first) if using fresh.
Open, drain and slice water chestnuts.
Cut the broccoli into bite-size pieces, try to keep a bit of floret and stalk on each piece.
Slice the celery at an angle.
Cut the tomato into 8 wedges.
Heat olive oil in large nonstick skillet over medium-high heat. Add onion, pepper and celery to skillet and stir-fry for 2 minutes.
Add water chestnuts, garlic and ginger and stir-fry another 2 minutes.
Remove onions/garlic from pan and set aside.
Add beef to skillet and stir-fry 3 - 5 minutes, until brown.
Remove and put with onions.
Add broccoli to skillet and stir-fry 3 - 5 minutes.
Add tomato and stir-fry 1 - 2 minute longer.
Add beef stock and sherry to skillet.
Return beef, onions, celery, etc. to pan. Stir to combine.
Heat to boiling, cover, reduce heat and simmer for 2 minutes.
Remove cover and add cornstarch mixture and stir until thickened.
Spoon rice on a platter or two plates, top with beef and serve
Basmati Rice:
Melt butter in small saucepan over medium heat.
Add rice and sauté, stirring for 2 - 3 minutes.
Add stock, cover and simmer, 15 minutes
Day 6:

Chicken Stew with Sherry

Total time: 50 minutes
Sherry adds flavor notes that go well with stews. It blends well with the traditional root vegetables and enhances the flavor of the chicken.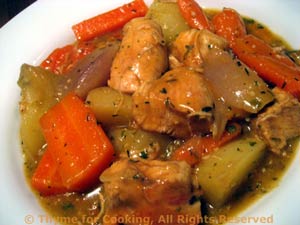 Ingredients:
2 chicken breasts, boneless, skinless
3 tbs flour
1 tbs paprika
3 - 4 shallots
2 medium carrots
2 potatoes
2 ribs celery
2 cloves garlic
1 tbs olive oil
1 tsp rosemary
1 tsp thyme
2 bay leaves (laurel)
1 cup (8oz, 240ml) chicken broth
1/4 cup (2oz, 60ml) sherry or white wine
1 tbs cornstarch (maizena) dissolved in 2 tbs chicken stock (if needed)
Instructions:
Cut chicken into 1 1/2" (4cm) pieces.
Put flour and paprika into a plastic food bag and mix well.
Add chicken, close bag and toss well to coat thoroughly.
Peel shallots and leave whole.
Peel or scrape carrots, cut into 2 inch (5cm) lengths, then quarter the long way.
Cut celery in half the long way, then into 2" (5cm) lengths.
Mince garlic.
Heat oil in medium saucepan over medium-high heat. Add chicken and brown quickly.
Add garlic and sauté 1 minute.
Add shallots, carrots, celery, herbs, broth and sherry.
Bring to a boil. Cover, reduce heat and simmer 5 minutes.
Quarter the potatoes the long way then cut in half or thirds depending on size.
Add potatoes to stew.
Simmer 30 minutes longer, just until vegetables are tender. Pierce vegetables with a fork or sharp knife to see if they are done; if not simmer another 5 - 10 minutes.
If desired, for a thicker gravy, dissolve cornstarch in chicken stock.
Uncover, increase heat and remove bay leaves. Add cornstarch mixture and stir until sauce is thickened. Serve directly from pot or ladle into serving bowl.