Main Course Menu Plan: Week 8 
Fall I
Day 1:

Bacalao a la Marinera (Fisherman's Cod)

Total time: 30 minutes
  This is a Spanish dish that would, traditionally, be made with dried, salted cod.  I used fresh.  In Spain you can buy the bacalao dry as a board or already reconstituted and rinsed.  You can substitute any white fish: tilapia, snapper, mahi mahi;  adjust cooking times slightly, according to thickness.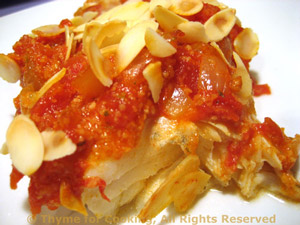 Ingredients:
12oz (360gr) cod filets or other white fish, fresh or frozen and thawed
1oz (30gr) slivered or chopped almonds
1/2 onion
2 cloves garlic
1 tbs olive oil
1 3/4 cup (15oz, 450gr) chopped tomatoes, drained 
1/3 cup (3oz, 90ml) white wine
2 bay (laurel) leaves
2 tbs dry bread crumbs
 Instructions:
Finely chop the onion and garlic. 
Heat oil in a medium skillet over medium heat.  Add onion, garlic and sauté until tender. 
Drain tomatoes, reserving juice for another use.  Roughly chop the tomatoes. 
Add tomatoes to pan along with white wine and bay leaves. 
Bring to a simmer and let cook, uncovered, 5 minutes or until thickened. 
Remove bay leaves and stir in bread crumbs. 
Place fish in baking dish just large enough to hold it in one layer. 
Spoon the sauce over, sprinkle with almonds and cover either with a lid or foil. 
Bake at 400F (200C) for about 15 minutes, or until fish is done. 
Uncover for the last 5 minutes of baking time.  Fish flakes easily when done.  (If you have pieces more than 1" (2.5cm) thick it may take 20 minutes.) 
Remove fish from dish, place on a small platter and serve.
Day 2:

Braised Lamb in Red Wine

Total time: 2 hours
     Slow-cooking lamb in wine is typical all over France.  This uses red wine, similar to the version made in Avignon.  The original is slowly baked for 5 hours in a 350F (180C) oven; I opted for a slow braise on the cook top.  After 2 hours the flavors have blended perfectly and the lamb melts in your mouth.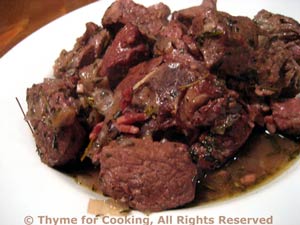 Ingredients:
14oz (420gr) lamb, shoulder or leg 

pieces are fine, buy a bit more if there is bone - but the bone adds flavor

1 onion
4 shallots
4 cloves garlic
3oz (90gr) bacon
2 tsp olive oil
1 cup (8oz, 240ml) red wine,

something hearty - Cote du Rhone, Cabernet Sauvignon

2 tsp beef paste, granules or 1 stock cube
2 tsp dried rosemary 

or fresh

2 tsp dried thyme
2 tsp dried parsley
4 bay (laurel) leaves
 Instructions:
Roughly chop bacon.
Cut onion into quarters, then slice. 
Slice shallots. 
Mince garlic. 
Cut lamb into 1 1/2" (4cm) pieces and trim excess fat.
Heat oil in a heavy pot or Dutch oven with tight-fitting lid.  Add bacon and sauté until starting to get crisp. 
Add onion, shallots, garlic and sauté until tender. 
Add lamb and lightly brown. 
Add all remaining ingredients and bring to a boil. 
Cover, turn heat to low and braise for 90 minutes. 
Serve lamb with onions/shallots and pan juices. 
Day 3:

 Tuna and Goat Cheese Lasagne

Total time: 50 minutes
     This is a simple lasagne, using no cooked ingredients.  Because there is no hot sauce to start, I increased the baking time by 10 minutes.  I puréed whole tomatoes rather than using prepared sauce.... It has a fresher taste.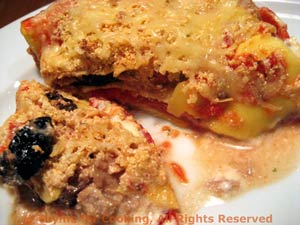 Ingredients:
 Instructions:
Open and drain tuna.  Put it into a bowl or on a plate and flake with a fork. 
Open and drain pimiento, slice or chop if whole.
Purée the tomatoes, with all juices, in a blender. 
Add the herbs, garlic and wine, mixing well. 
Put the egg in a medium bowl and whisk lightly.
Add the goat cheese and milk and whisk well to combine.
Pit the olives if needed and roughly chop.
Shred and/or grate the cheeses
Now you are ready to assemble:
In a 10" (25cm) square baking dish, or so... make the following layers
1/3 tomato sauce
3 - 5 noodles   breaking to fit as needed
1/2 goat cheese sauce
all of shredded cheese
3 - 5 noodles
1/3 tomato sauce
all of the pimiento
all of the tuna
3 - 5 noodles
1/2 goat cheese sauce
all of the olives
3 - 5 noodles
1/3 tomato sauce
sprinkle with Parmesan cheese
Cover and bake 400F (200C) for 25 - 30 minutes, or until noodles are done.  Test in center with a sharp knife. 
When noodles are tender, uncover and bake 5 minutes longer to brown cheese. 
Remove and let rest for 5 minutes. 
Cut into squares (or oblongs) and serve.
Day 4:

 Chicken Breasts with Sherried Mushrooms

Total time: 30 minutes
    Mushrooms soak up the flavors they're cooked with, and when simmered with a bit of sherry, they turn simple chicken breasts into an elegant, gourmet dish suitable for guests... or just a delicious mid-week treat.  For a dinner party I would use the cream... Midweek I use the milk or stock - which is what's on the List.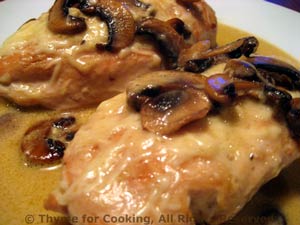 Ingredients: 
2 chicken breasts, boneless, skinless
5oz (150gr) mushrooms
1/4 cup (2oz, 60ml) sherry
3/8 cup (3oz, 90ml) milk
1/2 cup (2oz, 60gr) shredded cheese,  Gruyère
1 tbs olive oil
1 tbs white Balsamic vinegar or white wine tarragon
 Instructions:
Clean and thickly slice mushrooms.
Heat oil in medium nonstick skillet.
Add chicken breasts and brown on both sides, about 10 minutes total.
Remove and keep warm.
Add mushrooms and vinegar to pan and sauté 5 minutes.
Add sherry to mushrooms and scrape up any browned bits.
Return chicken to pan, turn heat to low and simmer 5 - 10 minutes, until chicken is cooked through.
Sprinkle chicken breasts with cheese and cover briefly, just until cheese melts.
Remove chicken and cover with the pan lid to keep warm.
Increase the heat to medium high and add the milk to the pan.
Boil rapidly, stirring, for about 3 minutes, until sauce has reduced and thickened.
Spoon mushroom sauce over the chicken and serve.
Day 5:

 Turkey Cutlets Piccata 

Total time: 25 minutes
    Thinly sliced turkey cutlets cook quickly and are a great substitute for the veal cutlets normally used in this dish.  If you can't get them get a turkey tenderloin and either slice it into thin cutlets yourself or ask your butcher. You could also use boneless, skinless chicken breasts.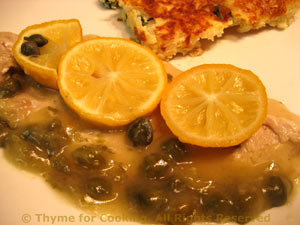 Ingredients:
2 - 4 turkey cutlets, 12oz, (360gr)
1/2 onion
2 tbs capers
1 lemon
1/2 cup (4oz, 120ml) chicken stock (broth)
1/2 cup (4oz, 120ml) white wine
1 tbs cornstarch (maizena, corn flower) dissolved in 1 tbs water
1 tbs olive oil
 Instructions:
Chop the onion.
Slice the lemon and pick the seeds out of the slices.
In medium nonstick skillet sauté the onion until tender.
Move onions to sides of pan and sauté turkey cutlets until lightly brown on both sides.
Add the chicken stock, wine and the capers.
Place the lemon slices on top of the turkey cutlets, cover, reduce heat and simmer 10 minutes.
Remove turkey cutlets (with lemon slices on top) to a platter and keep warm.
Stir in the cornstarch mixture and heat, stirring until thick.
Serve cutlets with sauce on the side - sprinkle on more capers if you like.
Day 6:

 Oriental Beef and Vegetables

Total time: 30 minutes
    You could substitute thinly sliced flank steak or beef pre-cut for stir-fry if you prefer.  Any bits of vegetable left in the fridge would be fine in this: sliced Brussels sprouts, broccoli, whatever.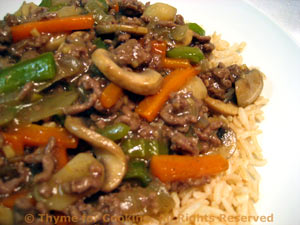 Ingredients:
 Instructions:
Mince garlic
Chop onion and pepper. 
Clean and slice mushrooms. 
Slice celery at an angle into 1/8 inch slices. 
Cut carrot into matchsticks. 
Drain and slice water chestnuts. 
Peel and chop ginger. 
In large non-stick skillet heat oils over medium-high heat. 
Add onion, celery, pepper and carrots and stir-fry 5 minutes. 
Add mushrooms, garlic and ginger and stir-fry 3 minutes more. 
Add beef and sauté breaking it up as it browns. 
When beef is brown add chestnuts, tomato paste and stock. 
Cover, reduce heat to medium-low and let simmer 5 minutes. 
Give the cornstarch mixture a stir to recombine.  Turn the heat up under the skillet and add the cornstarch mixture, stirring constantly until thickened.  Serve over rice.
Rice 
Cook rice according to package instructions adding the oregano with the stock
Fluff and serve.