Main Course Menu Plan: Week 13 
Fall I
Day 1:

Sesame-Crusted Salmon

Total time: 20 minutes
 The sesame crust adds just the right amount of crunch to these flavorful salmon filets; roasting keeps the crust nicely in place.
 Ingredients:
2 salmon fillets or steaks, 12oz total weight (360gr total)
2 tbs sesame seeds
2 tsp soy sauce
2 tsp sesame or walnut oil
1 tsp brown sugar
1/4 tsp ground ginger
 Instructions:
Mix soy sauce, sesame oil, ginger and brown sugar in a small bowl, whisking until sugar and ginger are dissolved.  
Put salmon on a baking sheet with a lip.  Divide soy mixture and spoon over salmon, coating evenly. 
Sprinkle sesame seeds on top of each filet, pressing them in lightly. 
Bake in 400F (200C) oven for 15 - 17 minutes, depending on thickness.  Salmon will be done when it flakes easily, slightly pink in the center is fine.  The sesame coated top should be a golden brown when done.  Remove and serve.
Note:  For easy clean up cover pan with foil first.  This is especially nice if you are using fillets with the skin on.  You can carefully lift the salmon off the skin to serve, leaving the skin on the foil.  Then wrap the whole mess up and toss.
Day 2:

Braised Pork with Leeks

Total time: 1 hour 30 minutes
       Braising does wonderful things to a pork roast: keeping it moist and making it very tender.   This is served with a White Wine and Leek Sauce.  There will be enough pork left for another meal...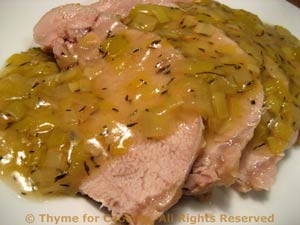 Ingredients:
24oz (720gr) pork loin roast
3 medium leeks
1 tbs oil
3/4 cup (6oz, 180ml) white wine
1/2 cup (4oz, 120ml) chicken stock
2 tsp dried thyme
1 tbs cornstarch (corn flour, maizena) dissolved in 2 tbs water
 Instructions:
Clean and trim leeks, discarding the dark green tops, using the light green.
Cut in half the long way and thinly slice.  Rinse well if sandy.
Heat oil in heavy pot or Dutch oven.  Add leeks and sauté until tender, about 10 minutes.
Remove to a plate and set aside.  Add pork and brown on all sides.
Add 1/4 cup of white wine and stir up all the browned bits from the bottom of the pan.
Return leeks to pot and add remaining wine, stock and thyme.
Bring to a boil, cover, reduce heat to a slow simmer and braise for at least 70 minutes, or up to 3 hours

To finish: 

Remove pork and let rest.
Increase heat under leeks.
Dissolve cornstarch in water and stir into leeks until thickened and clear.
Slice some of the pork and arrange on a small platter.
Spoon some Leek Sauce over and serve, remaining Leek Sauce on the side.
Day 3:

 Pork and Fennel Risotto

Total time: 30 minutes
     Cooked fennel has a mild flavor that works well in risottos.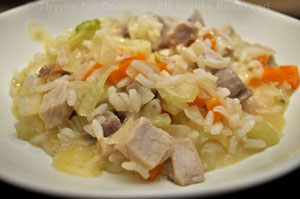 Ingredients:
 Instructions:
Heat chicken stock and keep hot over low heat. 
Finely chop onion. 
In medium saucepan heat butter over medium-high heat.  Add onion and sauté until transparent. 
Add rice and sauté stirring, for 2 - 3 minutes until rice has white center. 
Add white wine and stir.
Start condimenti. 
When wine is almost absorbed add a 1/3 cup of stock, stir.  (No need to stir constantly but do stir from time to time.) 
When stock is almost absorbed add another 1/3 cup and continue adding 1/3 cup at a time and stirring. 
Before the last 1/3 cup taste a few kernels of rice.  They should be just 'al dente' - slightly resistant to the tooth but fully cooked.  If more stock is needed add it 2 tbs at a time and waiting until almost completely absorbed. At this point risotto will be thick but not stiff - there will still be visible liquid and it will not hold its shape on a plate. 
Add the Parmesan and the condimenti, stir well, pour into a bowl or risotto platter and serve immediately.  It will continue to absorb liquid and the leftovers (if any) will be quite stiff.  The risottos that we have eaten in northern Italy have all been served in soup plates (flattish bowls) and eaten with a spoon - not a fork.
Condimenti:
Cut the pork. 
Roughly chop onion.
Peel the carrot and cut in half the long way (you may have to do it in sections).  Slice carrot thinly into half circles.  
Trim fennel, discarding fronds.  Cut sections in half or quarters and slice.
Heat olive oil in nonstick skillet.  Add the pork and brown. 
Remove pork; add onion, carrot and fennel, sauté until tender. 
Add stock, cover and simmer for 5 more minutes. 
 Return pork to skillet and heat through. 
Cover and keep warm until needed for risotto.
Day 4:

 Beef and Mushroom Lo Mein

Total time: 30 minutes
     One of the tenants of most Asian cuisines is that the food should be attractive: pleasing to the eye as well as the palate.  One way to achieve this is to make certain that your ingredients are colorful; another is to cut the ingredients into varied shapes.  This Lo Mein is as delicious as it is pretty.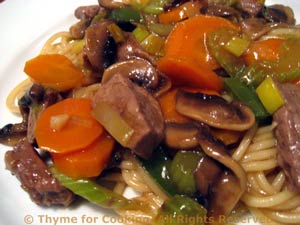 Ingredients:
 Instructions:
Cook pasta according to package instructions. 

While pasta water heats:

Cut the beef at an angle across the grain into bite-size strips. 
Mix sesame oil with 1 tsp soy sauce.  Toss with beef and set aside to marinate.
Clean and thinly slice leeks.
Mince garlic.
Mince ginger (peel first).
Cut the pepper into matchsticks.
Slice the celery thinly, at an angle.
Slice carrot into thin rounds.   
Clean and thickly slice the mushrooms. 
When water boils, cook pasta

While pasta cooks: 

Heat 1 tsp olive oil in large nonstick skillet over medium-high heat.
Add mushrooms and sauté 3 - 5 minutes, until they start to brown.  Remove to a plate and set aside. 
Add 1/2 tsp oil and leeks to skillet, stir-fry for 3 minutes. 
Add garlic and ginger, stir-fry another 2 minutes. 
Remove leeks/garlic to plate with mushrooms.
Add 1/2 tsp oil, carrot, pepper, celery to skillet and stir-fry 3 minutes. 
Remove to plate with other vegetables.
Add beef to skillet and stir-fry 3 minutes, until brown.
Return vegetables to skillet.
Add stock and sherry.
Bring to a boil, cover and simmer for 3 - 4 minutes. 

To finish:

Drain pasta.
Dissolve cornstarch in soy sauce.
Uncover skillet and add cornstarch mixture, stirring until thickened.
Put pasta into a large bowl.
Pour beef mixture over top, toss to combine and serve.
Day 5:

 Sautéed Chicken Breasts with Lemon & Capers

Total time: 30 minutes
     Chicken breasts, bathed in a light lemon and caper sauce, are always a refreshing main course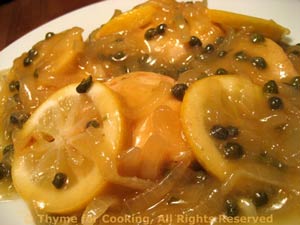 Ingredients:
2 chicken breasts, boneless, skinless
1 medium onion
1 cup (8oz, 240ml) chicken stock
2 tbs capers
1 lemon
1 tbs cornstarch (maizena) dissolved in 1 tbs water
1 tbs olive oil
 Instructions:
Peel and slice onion.

Slice lemon, discarding ends, and remove pips.
Heat oil in nonstick skillet. Add onion and sauté until tender, 7 - 8 minutes.
Move onion to sides of pan and add chicken breasts.  Sauté until light brown, about 5 minutes per side.
Add chicken stock and capers.
Arrange lemon slices on top of chicken breasts.  If you have too many slices just put directly in the stock.
Cover, reduce heat and let simmer about 10 minutes, until chicken is done.

To finish:

Dissolve cornstarch in water.
Remove chicken and lemon slices to a plate and cover with the lid from the pan.
Turn heat up and when stock is boiling add cornstarch mixture, stirring until thickened.
Serve chicken with lemon-caper sauce on the side.
Day 6:

 Swiss-Style Pork Chops 

Total time: 45 minutes
    Pork chops, smothered in tomatoes, peppers and onions, in the style of old-fashioned Swiss Steak, are fork tender and chock-a-block with flavor.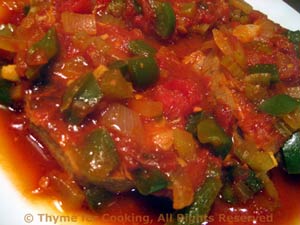 Ingredients:
2 - 3 boneless pork chops, (12oz, 360gr total weight)
2 tsp olive oil
1/2 green bell pepper
1 onion
1 rib celery
2 cloves garlic
1 3/4 cups (15oz, 450gr) tomatoes with juice
1 tbs Worcestershire sauce  
 Instructions:
Heat oil in a heavy skillet with a tight-fitting lid.  Add chops and brown on both sides, about 6 minutes total.
Roughly chop pepper, celery and onion. 
Mince garlic. 
Move chops to one side (stack them up) and add vegetables to pan.  Sauté, stirring, for 1 - 2 minutes, just to soften slightly. 
Arrange chops on vegetables. 
Open tomatoes and drain juice onto chops.  Roughly chop tomatoes and add to pan along with Worcestershire sauce.
Bring to a boil, cover, reduce heat and simmer 35 minutes.  
Uncover, cook down a bit if you like, and serve. 
Note:  For really tender chops, braise for another 30 minutes or cook in a crock pot.