Main Course Menu Plan: Week 11 
Spring I
Day 1:

Teriyaki Grilled Swordfish

Total time: 15 minutes  
       The steaks we had were quite thin, about 1/3" (1cm).  They cooked very quickly on the grill, about 2 minutes per side.  If you prefer, you can quickly pan-fry them for about the same amount of time. We use a grill basket for fish; it makes it easier to handle the filets or steaks.  You could also use a silicone mat - but no grill marks!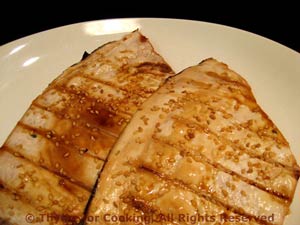 Ingredients:
1 - 2 swordfish steaks, 12oz total (360gr)
2 tbs Teriyaki sauce, divided
2 tsp toasted sesame seeds
 Instructions:
Lightly oil fish basket or grill. 
Brush 1 tbs Teriyaki sauce on swordfish. 
Place in oiled fish basket or on oiled grill rack over direct heat.  Cook 2-4 minutes per side, depending on thickness, turning once, or just until done.  Do not over cook!  The fish should flake easily and be opaque, but overcooking will dry it out.  Remove. 
Pour remaining 1 tbs Teriyaki sauce over the top, sprinkle with sesame seeds and serve.

To toast sesame seeds: 

Put them into a dry, nonstick skillet over medium heat.  Toss or stir them about in the pan until lightly golden, about 5 minutes.
Day 2:

Lemon Soy Grilled Cornish Games Hens

(Poussin... little chickens)

Total time: 60 minutes
    If you get one, larger bird, you can cut it in half to cook faster (serving will be easy) or leave whole and add 10 - 15 minutes cooking time.  When done they should have a lovely, dark gold glaze.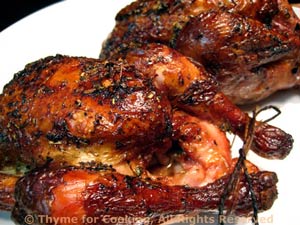 Ingredients: 
 Instructions:
Tie legs together with kitchen string and fold wing tips under back (at first joint) - keeps them from flapping. 
Rub birds with olive oil. 
For the basting sauce: melt butter in a small saucepan; add lemon, soy and pepper.
Cook hens on barbecue grill over indirect heat for 45 - 60 minutes or until done.  Chicken is done at 160 F (70C) on your meat thermometer and/or the juices run clear when pierced with knife. 
During last 20 minutes of cooking baste with sauce 2 or 3 times. 
When done, remove from heat, cut string and serve - don't forget finger bowls (it's messy) and bone bowls (to keep your plates tidy). 

Or

they can be baked in a shallow roasting pan in a 400F oven for the same amount of time - until done.  If baking start basting immediately.
Day 3:

 Grilled Pork Chops 

Total time: 30 minutes
    This is a simple marinade that works well with chicken and beef, too.  The chops marinate in the time it takes to get the grill ready.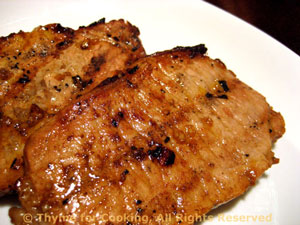 Ingredients:
2 - 4 pork chops, depending on size, boneless or not, 12oz (350gr) for boneless
Marinade:
3 tbs red wine vinegar
1 tbs Worcestershire sauce
1/2 tsp garlic powder
3 tbs olive oil
 Instructions:
Mix all ingredients for marinade and pour over chops. 
Let marinate for 15 - 20 minutes. 
Cook on barbecue for 5 - 8 minutes a side or until done.  Should be slightly pink near bone when done - take a peak (techniques). 
Or fry in nonstick skillet over medium-high heat the same amount of time.  Serve.
Day 4:

 Pesto Pasta Salad with Grilled Chicken

Total time: 25 minutes
     This is not the prettiest salad, pesto usually isn't... But the taste is wonderful: the feta and Greek Olives adding just the right amount of contrast to the chicken and pasta.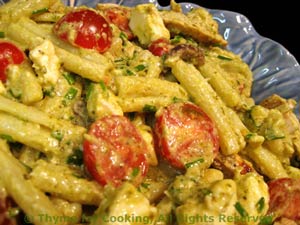 Ingredients:
 Instructions
Cook pasta according to package instructions. 
Chicken Breasts:
Mix Worcestershire, vinegar, basil and oil in a small bowl. 
Pour over chicken and allow to marinate a few minutes.
Salad:
Cut tomatoes in half. 
Cut feta into small cubes or crumble.
Pit olives, if needed, and cut in half or thirds.
Snip chives. 
Cook chicken, either on barbecue grill or nonstick skillet, 7 - 10 minutes per side, or until done. 
When done, remove and slice.
To finish:
In pasta bowl, mix pesto, oil and mayonnaise. 
When pasta is done drain, rinse lightly with cool water, drain well and add to pesto in bowl.  Toss to coat. 

Add chicken, tomatoes, olives, feta and chives, toss gently to combine and serv

e.
Note:  If using leftover chicken, cut into bite-size pieces and add to pasta.
Day 5:

 Marinated, Grilled Chicken Breasts, II

Total time: 30 minutes
    I have a number of different marinades for chicken.  I decided it was easier to number them than come up with unique names.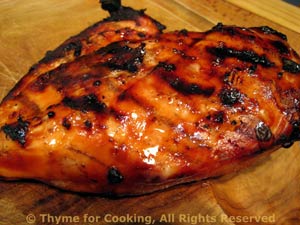 Ingredients:
2 chicken breasts, boneless, skinless
2 tsp soy sauce
2 tbs red wine vinegar
3 tbs ketchup
2 tbs olive oil
1/4 tsp garlic powder
1/2 tsp oregano
 Instructions:
In a small bowl whisk together soy sauce, ketchup, vinegar, oil, garlic and oregano. 
Put chicken breasts in a glass baking dish and pour marinade over. 
Let marinate for 15 - 20 minutes or up to 2 hours.
Cook on barbecue grill for 8 - 12 minutes per side or until done (test - take a peak), basting once with any leftover marinade. 

OR

sauté in nonstick skillet for 8 - 10 minutes a side until nicely browned and done, basting with marinade. 
Remove chicken, slice at an angle in 1/4" (.6cm) slices and serve.
Day 6:

 Healthier Taco Salad

Total time: 30 minutes  
   I like to add rice or quinoa to salads to round out the meal.  You can leave it out and have some crusty country bread, if you prefer.  Add more chile powder, more chilies or jalapeños, Tabasco, whatever, to make it as hot as you like. 
 Ingredients:
8oz (240gr) ground beef (mince) or turkey
1/3 cup (2.2oz, 65gr) quick-cooking brown rice
2/3 cup (5oz, 150ml) beef stock
1 onion
1/2 red pepper
2 cloves garlic
4oz (125gr) chopped green chiles
1 tbs olive oil
1 tsp chili powder
3oz (90gr) cherry tomatoes  

about 1/2 cup before slicing

1 avocado   

if it's ready earlier in the week, refrigerate it until needed

2 jars taco sauce    

hot or mild, or 1 of each

1/2 cup (2oz, 60gr) shredded cheese - your choice
Lettuce - enough for 2 main meal salads
 Instructions:
Cook brown rice according to package directions.
Chop onions and pepper. 
Mince garlic.
Heat oil in nonstick skillet over medium-high heat. Add chili powder and sauté briefly (30 seconds). 
Add onion, pepper and sauté for 5 minutes. 
Add garlic, beef and continue cooking until meat is done. 
Drain chiles and stir into beef. 
Add taco sauce - you want the meat mixture to be thick so don't add all of the sauce if it's not needed - serve the rest on the side. 
Take meat mixture off heat. 
Slice tomatoes and avocado (see techniques). 
Tear the lettuce and arrange on plates. 
Divide rice and put on lettuce, divide meat mixture and put on rice. 
Top with shredded cheese. 
Artfully arrange tomato and avocado slices around salad and serve with any remaining salsa.