Main Course Menu Plan: Week 1
Summer I
Day 1:

Marinated Salmon with Brown Sugar Yogurt Sauce

Total time: 20 minutes
The salmon, marinated in an herbal bath for 15 minutes, is cooked on the barbecue grill or baked and served with a cold, hot-sweet sauce.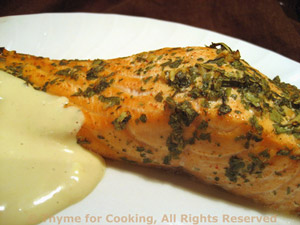 Ingredients:
2 salmon fillets, 12oz total (360gr each)
Marinade:
2/3 cup (5oz, 150ml) white wine
2 cloves garlic
1 tbs lemon juice
1 tbs fresh parsley

substitute dried

2 tsp tarragon

substitute dried

Brown Sugar Yogurt Sauce:
1/3 cup (3oz, 90gr) Greek yogurt
2 tbs Dijon-style mustard
2 tsp brown sugar
Instructions:
Mince garlic.
In a flat dish, just large enough for the salmon, mix wine, garlic, lemon, herbs. Add salmon, turning once to coat, and allow to marinate for 15 - 25 minutes.
Put salmon in a grill basket if using barbecue grill or on mesh grill pan if you don't have a basket.
Grill for 10 - 12 minutes, skin-side down, with the grill cover closed. Be careful not to overcook.

OR

put on baking sheet and roast in 400 F oven for 15 - 18 minutes, depending on thickness.
In both case salmon will be done when it flakes easily, slightly pink in the center is fine.

Sauce:

In a small bowl, whisk together the yogurt, mustard and sugar. Set aside.

To serve:

Slide the salmon off the skin if needed and place on plates.
Spoon some sauce on the side and serve.
Day 2:

Filet Mignon with Caramelized Onions

Total time: 35 minutes
With a lovely piece of flavorful, tender filet mignon this is truly marvelous main course. But the savory-sweet onions will make even a lesser cut shine.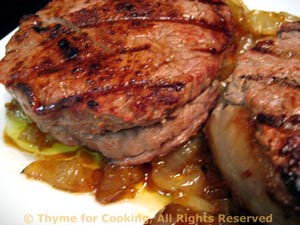 Ingredients:
2 filet mignon steaks (tournedos), 6oz (180gr) each

or other cut of choice

1 large or 2 medium sweet onions
2 tsp butter
2 tsp olive oil
1 tbs brown sugar
2 tsp Dijon-style mustard
1 tsp Worcestershire Sauce
Instructions:
Mix Worcestershire sauce, oil and brush on steaks. Set aside.
Cut onion in half then into 1/4 inch (.65cm) think slices.
Heat butter, oil in medium nonstick skillet over medium heat.
Add onions and sauté until browned, stirring frequently, about 25 minutes. You may have to turn the heat down to low after about 15 minutes.
When onions are nicely browned add sugar, mustard, Worcestershire, and stir until well blended and sugar is melted. Set aside and keep warm.
Cook steaks on barbecue grill until done to your liking.... about 3 minutes per side for medium rare. It depends on thickness of cut, heat of grill, etc. Check out this site for the 'thumb test'.
Divide caramelized onions and place on 2 plates. Put steak on top and serve.
Note: Could be done under the broiler (grill) or quickly pan fried over high heat for about the same time.
Day 3:

Ham, Green Bean and Cherry Tomato Pasta Salad

Total time: 25 minutes
I love cold ham in salads of any type and beans with basil is always a hit. Here, it all comes together with a lower fat/calorie dressing of half mayonnaise and half Greek Yogurt.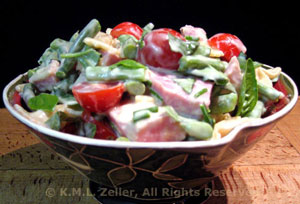 Ingredients:
1 1/4 cups (4.1oz, 125gr) pasta, bite-size - fusilli, rigatoni, penne
1 tbs olive oil, for salads
9oz (270gr) deli-style (baked) ham
6oz (180gr) green beans
1/2 cup (3oz, 90gr) cherry tomatoes
1/4 cup (2oz, 60gr) mayonnaise
1/4 cup (2oz, 60gr) plain or Greek yogurt
1 tbs Dijon-style mustard
1 tbs lemon juice
2 tbs fresh chives, snipped
2 tbs fresh basil, snipped
Instructions:
Day 4:

Salad with Turkey, Beans and Feta

Total time: 20 minutes
I can get small cans of beans so I like to combine different types and colors. If you only have access to the 15oz (450gr) cans or jars use all 1 type/color... which ever you prefer. The turkey cooks quickly, either on the BBQ or in a nonstick skillet.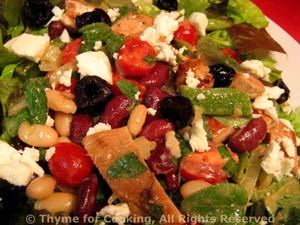 Ingredients:
10oz (300gr) turkey cutlets
1 small red bell pepper
1/2 cup (3oz, 90gr) cherry tomatoes
8oz (250gr) red kidney beans
8oz (250gr) white beans (cannellini)

or all one color

1/2 cup (2oz, 60gr) dry-cured, Greek olives
2oz (60gr) feta, crumbled
2 tbs fresh oregano, snipped if large leaves
Lettuce - enough for 2 main meal salads
Marinade for turkey:
1 tbs Worcestershire sauce
1 tbs ketchup
1 tbs red wine vinegar
2 tbs olive oil
White Balsamic Vinaigrette:
1 clove garlic
1 1/2 tbs white Balsamic vinegar
2 tsp Dijon mustard
4 tbs salad olive oil
Instructions:
Mix all ingredients for marinade, spoon on to turkey and set aside.
Vinaigrette:
Crush garlic.
Mix garlic, vinegar and mustard.
Slowly add olive oil, whisking constantly.
Salad:
Open and drain the beans.
Clean and slice the pepper into bite-size sticks.
Cut the tomatoes and olives in half.
Wash and spin-dry the lettuce.
Tear the lettuce and put into a large salad bowl along with the oregano.
Cook turkey on barbecue grill or sauté in nonstick skillet until done, 4 - 7 minutes per side, depending on thickness.
Remove and let rest while assembling the salad.
To assemble:
Add half of the vinaigrette to the lettuce and toss well to coat.
Add beans, peppers and the rest of the vinaigrette, toss well.
Slice turkey into strips.
Add turkey, tomatoes and olives, toss gently.
Sprinkle with crumbled feta and serve.
Day 5:

Pork Chops Diablo, Grilled,

summer version

Total time: 30 minutes
Pork chops with a kick, marinated and cooked on the barbecue grill. If you want them hotter, more 'devilish' you could add a drop or 2 of Tabasco or other hot sauce.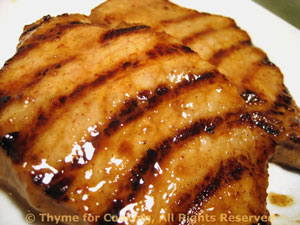 Ingredients:
2 - 4 pork chops - depending on size 12oz total weight (360gr)
Marinade:
2 tbs Dijon-style mustard
2 tbs Worcestershire Sauce
2 tbs olive oil
2 tbs red wine vinegar
1 tsp chili powder
1/2 tsp garlic powder
Instructions
Mix all ingredients for marinade and brush on chops. Let marinate for 15 - 20 minutes.
Cook on barbecue for 4 - 7 minutes a side or until done. Should be slightly pink in center when done - take a peak (techniques).

Or

fry in nonstick skillet over medium-high heat the same amount of time. Serve.
Day 6:

Spicy Barbecued Burgers

Total time: 20 minutes
Slightly spicy burgers, topped with a ketchup based sauce. Serve with or without buns, pickles and onions. They have enough flavor to stand alone. If cooking on the barbecue grill, a grill basket or mat makes it easier.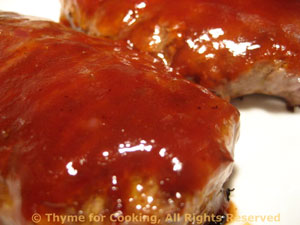 Ingredients:
12oz (360gr) ground beef
1 tsp chili powder
1 tsp garlic powder
4oz (120gr) chopped green chilies (or jalapeños' if you prefer)
2 tbs ketchup, divided
1 tbs Worcestershire sauce
Instructions:
Put beef, chili powder, garlic powder, chilies and 1 tbs ketchup into a large bowl and mix well.
Shape into 3 - 4 patties.
Cook on barbecue grill for 4 - 8 minutes per side, or until done to your liking.
Mix 1 tbs ketchup and Worcestershire sauce. After you turn the burgers, baste with ketchup sauce. Serve.

Or

sauté in a nonstick skillet for the same amount of time, depending on how you like them done.