Main Course Menu Plan: Week 4 
Summer I
Day 1:

Salmon with Lemon and Herbs,

Lightly Smoked

Total time: 15 minutes 
    This is a cross between smoking and grilling.  The wood chips are optional, but we like the added flavor, especially for salmon.  As always, with fish, cook until it just flakes easily, being careful not to let it on too long.  You could also roast the salmon, 400F (200C) oven.  If you do, add 1/2 tsp soy sauce to the lemon/herb mixture.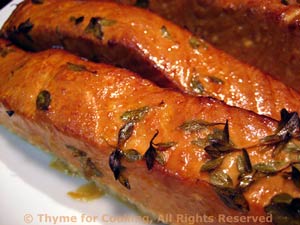 Ingredients:
2 salmon fillets, 6oz (180gr) each 
2 tbs lemon juice
2 tbs olive oil
1 tbs fresh lemon thyme or regular thyme leaves  

substitute 1 tsp dried

1 tbs snipped fresh parsley    

substitute 1 tsp dried

1 tsp kosher, sea or rock salt
wood chips for smoking - apple is nice See Barbecue Grills for more info
 Instructions:
In all cases, fish should flake easily but not be dry.  Slightly pink in the center is perfect.  Remove from heat and serve, sliding it off the skin if needed.
Day 2:

Grilled Lamb Chops with Lemon and Rosemary

Total time: 35 minutes
    Is there a better match than lamb and rosemary?  This simple marinade, with a bit of soy sauce and garlic, imparts a lot of complex flavors to our lamb chops.  Great grilled but equally good done indoors.  A grill pan for your stove top is nice but a hot nonstick skillet works fine.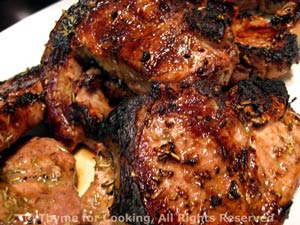 Ingredients:
4 - 6 center-cut lamb chops - depending on size
2 tbs lemon juice
1 tbs soy sauce
2 tbs oil
1/2 tsp garlic powder
2 tsp rosemary
 Instructions:
Mix lemon juice, soy sauce, oil, garlic powder and rosemary. 
Pour over lamb chops and allow to marinate for 15 - 30 minutes. 
Remove chops and discard marinade. 
Either cook on barbecue grill or in a non-stick skillet over medium-high heat.  In either case you will cook chops for 2 - 5 minutes a side depending on thickness and desired degree of doneness (I don't know if that is a word - but you get the idea).  We do ours on a hot grill 2 minutes a side for medium rare.  When you think they might be close take one off, cut into center and peak.  You can always put them back on to cook more - you cannot undo... When done to your liking remove from heat and serve.
Day 3:

 Grilled Citrus Chicken

Total time: 25 minutes
     This has a definite citrus flavor, the tart of lemon tempered by the orange marmalade and rounded out with the tomato in the ketchup.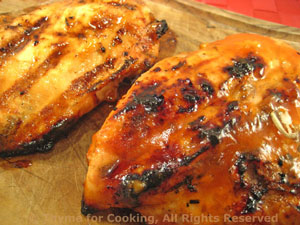 Ingredients:
2 boneless, skinless chicken breasts
Marinade:
3 tbs orange marmalade
2 tbs lemon juice
2 tbs ketchup
2 tbs oil
 Instructions:
Mix all ingredients for marinade well with a whisk. 
Spoon over chicken breasts and let marinate for 10 minutes or longer. 
Either cook 10 - 15 minutes on barbecue grill or under broiler (4 inches ) for 6 - 8 minutes a side. 
They should be nicely browned and juices should run clear when pierced with a knife.
Day 4:

 Southwestern Salad with Grilled Sausages

Total time: 20 minutes
     The quinoa, corn, beans and peppers give this salad a 'southwestern' flavor.  The oregano, Greek olives and feta a Mediterranean flavor. An eclectic Salad!  It's equally good with turkey, chicken or sausages!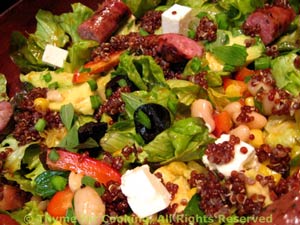 Ingredients:
8oz (240gr) sausages, any flavor
1/3 cup (2.3oz, 65gr) quinoa
2/3 cup (5oz, 150ml) chicken stock
8oz (240gr) sweet corn
8oz (240gr) white beans
1/2 red pepper
1 avocado
4oz (120gr) feta, crumbled
1/3 cup dry-cured Greek olives
2 tbs fresh oregano, snipped if large leaves
1 tbs fresh, snipped chives
Lettuce - enough for 2 main meal salads
Honey French Vinaigrette:
2 tbs ketchup
1 tbs red wine vinegar
1 tsp Dijon-style mustard
1/4 tsp paprika
1 tsp honey
3 tbs salad olive oil
 Instructions:
Put the quinoa and chicken stock in a small saucepan.  Cover and simmer until done, about 15 minutes. 
Honey French Vinaigrette:
Mix ketchup, vinegar, mustard and honey. 
Slowly add olive oil, whisking constantly. Set aside.
Open, drain and rinse the sweet corn and white beans.
Slice the pepper. 
Slice the avocado (see techniques). 
Cut the olives in half. 
Cube or cut the feta. 
Tear the lettuce and put into a large salad bowl along with the herbs. 
Cook the sausages on barbecue grill or sauté in nonstick skillet until done, 8 - 15 minutes, depending on size. 
Remove and cut into 1 1/2" (4cm) lengths.
To assemble:
Add half of the vinaigrette to the lettuce and toss well to coat. 
Add beans, corn, pepper and the rest of the vinaigrette, toss well. 
Add sausage, olive and avocado, toss gently. 
Sprinkle quinoa, feta on top and serve.
Day 5:

 Niçoise Pasta Salad

Total time: 25 minutes 
   Traditionally (besides being served on lettuce) this should have the small, black Niçoise olives but I use the dry-cured Greek - because I didn't want to bother pitting the small ones.  Get the best canned tuna you can find.  Salade Niçoise always uses canned, never fresh.  The pasta takes the place of the potatoes.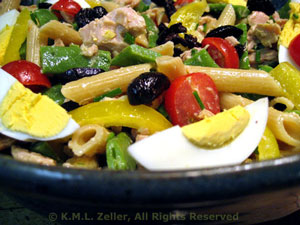 Ingredients:
6oz (180gr) green beans
1 medium tomato

or cherry tomatoes

1/2 red bell pepper
9oz (270gr) canned tuna
2 eggs, hard cooked
1/2 cup black or green olives, (or both) pitted and halved 
2 tbs fresh snipped chives    

Substitute 2 tsp dried

1 1/4 cups (4.2oz, 125gr) pasta - bite-size, penne, fusilli
4 anchovy fillets 

optional

Vinaigrette:
1/4 cup salad olive oil
2 tbs tarragon white wine vinegar
1 tbs Dijon-style mustard
1 tbs lemon juice
1 tbs fresh tarragon   

Substitute 2 tsp dried

2 tbs snipped chives 

Substitute 2 tsp dried
 Instructions:
Boil eggs. 
Cook pasta according to package directions. 
Top and tail beans and cut in half. 
Fill a medium saucepan 2/3 full of water and bring to a boil over high heat. 
Add beans and blanch for 3 minutes. 
Drain and rinse with cold water. 
To make vinaigrette:
Whisk vinegar, mustard and lemon juice. 
Slowly add oil, whisking until it emulsifies.  
Add tarragon, chives, stir and put into a large salad bowl. 
The Salad:
Add beans to vinaigrette. 
Slice tomatoes, cut slices into quarters and add to vinaigrette. 
Clean pepper by cutting in half and discarding seeds.  Slice half of the pepper and add to vinaigrette. 
Snip chives and add. 
Cut olives in half and add (you get the picture.. - stir gently after each addition.). 
Drain tuna, and add. 
When pasta is cooked, drain and add to mix in salad bowl. 
Toss lightly to combine. 
Quarter eggs and arrange on top. 
Garnish with anchovies, if desired, and serve.
Day 6:

 Oriental Barbecued Pork Tenderloin

Total time: 45 minutes 
     This is a 'liquid' marinade that gets nicely into the pork.  Continue basting as it cooks, but remember to stop about 10 minutes before you take the pork off the grill, and give the pork one last turn, so any 'raw' marinade is cooked before removing the pork.  Do not use any leftover sauce without cooking it first.  Pink is best for pork.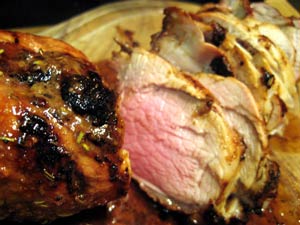 Ingredients:
12oz (360gr) pork tenderloin
3 tbs red wine vinegar
2 tbs olive oil
2 tbs soy sauce
2 tbs ketchup
1/2 tsp garlic powder
1/2 tsp rosemary
 Instructions:
Put all ingredients except pork into a bowl and mix well using a whisk.
  Pour over pork and let marinate for 15 minutes. 
When ready, cook pork on barbecue for 25 - 30 minutes, depending on thickness.  Turn occasionally to brown on all sides and baste frequently with marinade.  Quit basting after 15 minutes.
Pork is done at 145 F (62C).  It will be slightly pink in the center which is perfect.  If you don't have a thermometer (instant or remote read) check it after 20 minutes by slicing into middle for a peak.  When done let it rest for 3 - 4 minutes, then slice at an angle, into 1" (2.5cm) thick slices and serve.
Note:  Could also be roasted about the same amount of time, turning and basting, 400F (200C).