Main Course Menu Plan: Week 6 
Summer I
Day 1:

Grilled Lemon Shrimp (Prawns)

Total time: 15 minutes  longer if you have to clean them
    Use a grill pan (it's like a mesh skillet) or a mat for these, if possible.  Or thread them onto skewers (soaked in water for 15 minutes if wood) to make them easier to turn.  We don't want them falling through the grill.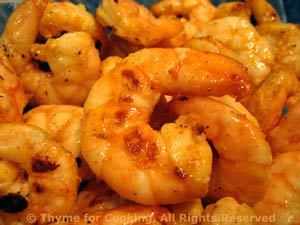 Ingredients:
12oz (360gr) large shrimp (prawns)
1 tsp garlic powder
2 cloves garlic
3 tsp sweet paprika (smoked if you can find it)
2 tbs butter
2 tbs lemon juice  

juice from 1/2 lemon

Olive oil for coating pan
 Instructions:
Clean shrimp if needed, if not just rinse and let drain. 
Mix 1 tsp garlic and 2 tsp paprika in a small bowl. Add shrimp and toss to coat. 
To cook on barbecue either put shrimp on skewers or cook in perforated grill pan with a little olive oil. 
To cook on stove add a little olive oil to a large frying pan and sauté over medium-high heat for 3-5 minutes - until shrimp curl and turn opaque. 
When done, remove from heat, toss with butter sauce and serve.
Butter sauce:
Mince garlic. 
Melt butter in small pan.  Add garlic, 1 tsp paprika and sauté until garlic is tender, 2 - 3 minutes. 
Add lemon juice and whisk lightly to combine.
Day 2:

Filet Mignon with Glazed Mushrooms

Total time: 35 minutes 
     Small, thick-cut filet mignon are perfect done on the barbecue grill.  A wrap of bacon adds flavor and helps the steak stay moist.   We've painted these with a light marinade and served with some savory glazed mushrooms.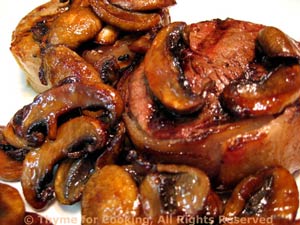 Ingredients:
2  6oz (180gr) filet mignon steaks (tournedos)
2 - 4 strips bacon 

optional

4oz (125gr) mushrooms
1 tbs butter
1 tbs Worcestershire Sauce
Marinade:
1 tbs olive oil
1 tbs Worcestershire Sauce
1 tbs ketchup
1/2 tsp dried oregano
1/2 tsp chili powder
1/2 tsp garlic powder
 Instructions:
Wrap bacon around steaks (if using) and secure with toothpicks or kitchen string. 
Mix Worcestershire sauce, oil, ketchup, oregano, chili, garlic and brush on steaks.  Set aside.
Clean mushrooms and thickly slice. 
Heat butter and Worcestershire in medium nonstick skillet over medium heat. 
Add mushrooms and sauté, stirring frequently, until they are dark and glazed, about 10 minutes.  You may have to turn the heat down a bit after 7 or 8 minutes.  Set aside and partially cover to keep warm.
Cook steaks on barbecue grill until done to your liking.  We'll cook ours about 3 minutes per side for medium rare, 4 - 5 minutes per side for medium, but it depends on.... thickness of steak, heat of grill, etc. 
Put a steak on each plate, spoon mushrooms on the side and serve. 

Note:

  Could be done under the broiler (grill) for about the same time.
Day 3:

 Barbecued Chicken With Lemon and Herbs

Total time: 60 minutes       Prep early in the day or the night before 
    If you want cold chicken leftovers, do a whole chicken, otherwise just do your favorite pieces.  The herb mixture is enough for a whole chicken.  If you do the equivalent of half of a chicken (2 thighs and 2 legs would be my choice) cut the herb mix in half.  If you don't have all of the herbs, just leave them out rather than use dried.  If you have no fresh herbs, substitute 1/4 the amount, dried.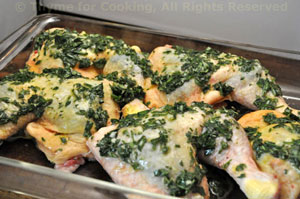 Ingredients:
1 chicken, cut-up, skin on   

 or your favorite pieces

4 tbs snipped fresh chives
4 tbs finely chopped fresh parsley
2 tbs finely chopped fresh thyme
2 tbs finely chopped fresh tarragon
2 tbs finely chopped fresh oregano
2 tbs finely chopped fresh basil
4 cloves minced garlic
1/2 tsp salt
1 tsp pepper
1/3 cup lemon juice
1/4 - 1/2 cup olive oil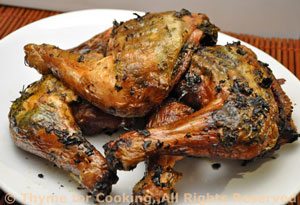 Instructions:
Early in the day or the night before snip, chop and mince herbs, garlic - you're making a paste so they should be fairly fine. 
Put all into a small bowl and add the lemon juice, salt and pepper.  Mix well. 
Add enough olive oil to make a thin paste - it won't hold together but it shouldn't be like a vinaigrette.
Loosen the skin on the chicken by slowly working your fingers between the flesh and the skin.  Try not to puncture the skin.  
With your fingers take a bit of the herb mixture and put it under the skin, smoothing it over the flesh.  Stretch the skin to cover and put in a glass baking dish of some sort, just large enough to hold all of the pieces.  You will want to put about half of the mixture under the skin of the pieces. 
When finished, add a bit more oil to the remaining herb mixture and rub/pour over the the top of the pieces. 
Cover with film and refrigerate until ready to cook. 
Cook on barbecue grill for 30 - 45 minutes. Chicken is done at 170F (76C) or when juices run clear - poke with a skewer or knife. Thighs and legs take a bit longer than breasts. Try not to overcook. Start it over direct heat, but watch carefully - the oil will cause flair-ups. Once it gets some nice color/flavor move it to indirect heat, close cover and let finish cooking.
Day 4:

 Cheeseburgers with Glazed Mushrooms

Total time: 20 minutes
    Simple grilled burgers topped with a thick wedge of runny Brie or goat cheese and sautéed mushrooms: adult cheeseburgers.  We normally eat burgers with a fork and a glass of red.  Feel free to have them on a bun with a Mountain Dew.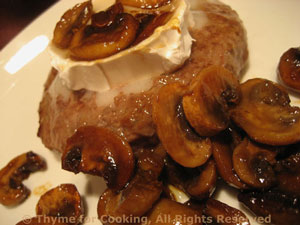 Ingredients:
12oz ground beef (360gr mince)
3oz (90gr) Brie or Chevre (aged goat cheese), sliced
1 tbs bread crumbs
1 tbs ketchup
1 tbs Worcestershire sauce
1 tsp thyme
1/4 tsp garlic powder
4oz (120gr) mushrooms
2 tsp olive oil
2 tsp Worcestershire sauce

more

1 tsp soy sauce
 Instructions:
For the burgers: 
Put bread crumbs, ketchup, Worcestershire sauce, garlic, and thyme in a medium bowl and mix well. 
Add the beef.  Mix well - hands work best, and form into 3 or 4 patties. 
Cook on barbecue grill over direct heat for 3 - 5 minutes per side, using a grill pad or pan if you have one, it's easier. 
Or sauté in a nonstick skillet for the same amount of time.  
When burgers are almost done, move off heat and top with the cheese. 
Cover for a minute if possible.  Remove as soon as cheese starts to melt, spoon some mushrooms over and serve.
For the mushrooms:
Trim and thickly slice mushrooms. 
Heat 2 tsp oil, 2 tsp Worcestershire and soy sauce in medium nonstick skillet over medium heat. 
Add sliced mushrooms and sauté until nicely glazed, stirring and turning frequently, about 7 minutes.
Day 5:

 Chicken Caesar Salad

Total time: 25 minutes 
     Grilled chicken and a yogurt dressing keep the calories down on this salad; the Parmesan and the anchovies keep the classic 'Caesar' flavor high.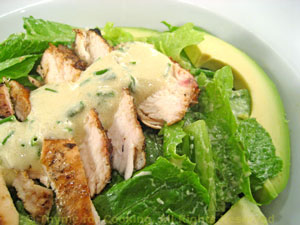 Ingredients:
 Instructions:
Mix chili powder, Worcestershire and garlic.
Rub over chicken. 
Cook chicken on barbecue grill or sauté in a nonstick skillet, 7 - 8 minutes per side, or until done. 
Remove and slice.
Clean lettuce. 
Put lettuce in large salad bowl tearing if necessary. 
Caesar Dressing:
Put mustard, lemon juice, vinegar, Worcestershire sauce and yogurt in small bowl and whisk well to combine.
Slowly add olive oil whisking constantly. 
Stir in garlic, Parmesan and anchovy paste, if using.  Dressing should be thick. 
Add chives and set aside.
To Finish:
Toss lettuce with some of the dressing. 
Arrange chicken and avocado on top. 
Drizzle a bit of dressing over all, sprinkle with Parmesan and serve, remaining dressing (and anchovies) on the side.
Day 6:

 Grilled Pork Chops with Peanut Marinade

Total time: 30 minutes
   Similar to a Satay, this slightly spicy marinade goes well with pork.  For maximum flavor, poke the pork with a fork after adding the marinade to allow it to penetrate the meat.  We had thin chops that cook quickly; try not to overcook, slightly pink is now preferred for pork.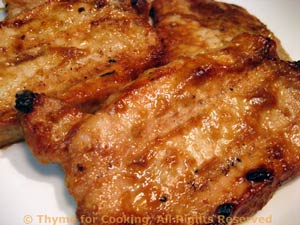 Ingredients:
2 - 4 pork chops, 12oz (360gr) total weight if boneless
Marinade:
1 tbs creamy peanut butter
1 tbs soy sauce
1 tbs red wine vinegar
1/4 tsp garlic powder
1/4 tsp powdered ginger
1 tbs sesame or walnut oil
2 tbs olive oil
 Instructions:
Mix all ingredients for marinade and pour over chops. 
Let marinate for 15 - 20 minutes. 
Cook on barbecue for 5 - 8 minutes a side or until done. Slightly pink is preferred - take a peak (techniques). 

Or

fry in nonstick skillet over medium-high heat the same amount of time.  Serve.