Main Course Menu Plan: Week 1 
Winter II
Day 1:

Shrimp and Scallop Newburg

Total time: 20 minutes
  This is a lovely dish made with almost any shellfish or seafood.  For a party presentation it can be served in Puff Pastry shells.  I served it on fragrant Basmati rice.
 Ingredients:
6oz (180gr) cleaned shrimp
6oz (180gr) scallops
4oz (120gr) mushrooms
2 shallots
1 clove garlic
2/3 cup (5oz, 150ml) chicken stock
1/3 cup (3oz, 90ml) sherry
1 tbs cornstarch  (maizena, corn flour)
1 tbs olive oil
1 tsp dried chives
1 tsp dried marjoram
Basmati Rice
1/2 cup  (3.3oz, 95gr) Basmati rice
1 tsp butter
1 cup (8oz, 240ml) chicken stock
1 tsp dried chives
 Instructions:
If any of the scallops are huge, cut them in half. 
Finely chop shallots and mince garlic (see techniques). 
Trim and slice mushrooms. 
Heat oil in medium nonstick skillet over medium heat.  Add shallots, mushrooms, garlic and sauté 7 - 10 minutes or until just starting to brown. 
Remove to a plate.
In the same skillet, but over medium-high heat, sauté shrimp and scallops until done, 3 - 5 minutes: shrimp curl up and both shrimp and scallops become opaque (white).  
Remove shrimp and scallops to plate with mushrooms and cover to keep warm. 
Add chicken stock and herbs to pan and bring to a boil. 
Dissolve cornstarch in sherry. 
When stock is boiling add cornstarch/sherry to pan and stir constantly until thickened. 
Return shrimp, scallops, mushrooms, etc. to pan.  Stir to coat well and heat through.
Basmati Rice 
Melt butter in small saucepan over medium heat. 
Add rice and sauté, stirring for 2 - 3 minutes. 
Add stock and chives, cover and cook rice for length of time on package. 
When done fluff with a fork. 
To serve:
Spoon Basmati rice onto a small platter.  Make a well in the center. 
Spoon the Newburg into the center of the rice and serve.
Day 2:

Corsican Beef and Pasta

Total time: 3 hours 15 minutes prep time
     This is one of those long-cooking dishes that I love doing during the winter.  It's not quite a stew and not quite a pasta.  If possible, get 1 or 2 thick slices of dry-cured ham, like Prosciutto, from the meat counter.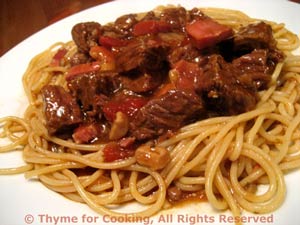 Ingredients:
24oz (720gr) beef, suitable for braising or stewing  
6oz (180gr) dry-cured ham, such as Prosciutto, Serrano
1 medium onion
4oz (120gr) mushrooms
4 cloves garlic
1 3/4 cups (15oz, 450gr) whole tomatoes, with juices
1 cup (8oz, 240ml) white wine
2 bay leaves
2 tsp dried Herbes de Provence
2 pinches nutmeg
1 tbs olive oil
4oz (120gr) pasta, spaghetti or linguini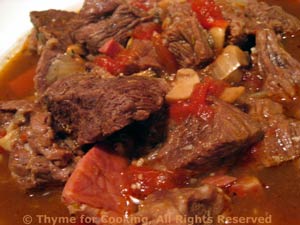 Instructions:
Day 3:

 Cabbage Soup with Ham and Vegetables

Total time: 60 minutes
     Many vegetable soups use regular, white cabbage.  I decided to make one featuring Savoy or green cabbage.  With a slice of ham from the deli counter, this goes together quickly for a warming, winter meal.  Stirring in a bit of cornstarch at the end gives the broth a more luscious 'mouth feel'.  This is enough for 4 servings.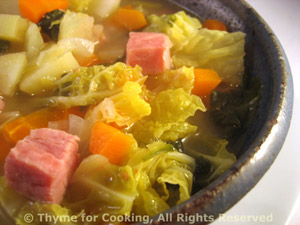 Ingredients:
3 medium potatoes
4 medium carrots
3 ribs celery
1 large onion
small Savoy cabbage, 4  - 5 cups
10oz (300gr) baked or pink ham
1 tbs olive oil
2 bay leaves
1 tsp Herbes de Provence
6 - 8 cups chicken stock 

or water plus ham base

2 tbs cornstarch (maizena) dissolve in 1/4 cup water
 Instructions:
Roughly chop onion. 
Peel carrots; then slice by cutting in half the long way (in 2 or mores sections) then into half or quarter circles. 
Peel and slice potatoes to a similar size. 
Slice celery, cutting the wide end in half lengthwise. 
Cut ham into small pieces. 
Remove dark green outer leaves from cabbage. Cut off a thick slice, avoiding the core. Lay flat, cut into 3 or 4 wedges, then thickly slice the wedges. 
Heat olive oil in a medium soup pot. Add onion and sauté until it starts to get tender, about 5 minutes.
Add celery and sauté 5 minutes longer.
Add ham and sauté briefly.
Add carrots, potatoes, cabbage, herbs and stock. Cover and simmer until vegetables are tender, 30 - 40 minutes.
To finish:
Remove bay leaves.
Dissolve cornstarch in water.
Uncover soup and increase heat.  When simmering hard, add cornstarch, stirring until it clears. Serve.
Day 4:

 Corsican Beef and Pasta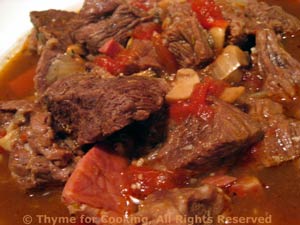 Total time: 10 minutes

 Ingredients:
 Instructions:
Barley 'Risotto' Style, with Leeks or Green Garlic
Total time: 25 minutes
    We try to eat a variety of grains.  I have always loved barley in soup... why not as a side dish?  If you don't have it or like it, substitute Orzo, everything else the same.  My barley cooks in 15 minutes, check your package and increase cooking time if needed.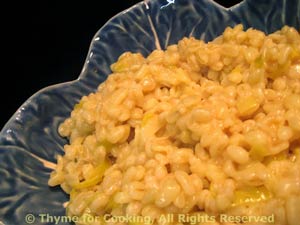 Ingredients:
 Instructions:
Melt butter over medium-high heat in small saucepan. 
Add garlic/leek and sauté for 2 minutes. 
Add barley, wine, stock and bring to a simmer on medium heat. 
Turn heat to low and simmer until done, stirring occasionally.  All stock will be absorbed. 
Stir in cheese. 
Remove from heat and serve. It should be loose and creamy, if not add a bit more stock.
Day 5:

 Chicken with Tomato/Yogurt Sauce

Total time: 25 minutes
    This is not a 'chicken in tomato sauce' but a 'chicken with chunky tomatoes'.  If you hate tossing the tomato juice you can put it in a plastic bag and freeze it for the next time you need a bit of sauce.  The trick with using yogurt and tomatoes is not to let it boil or it may separate - no problem with taste, just appearance.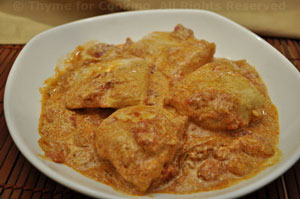 Ingredients:
2 chicken breasts, boneless, skinless
1 3/4 cup (15oz, 450gr) whole tomatoes
1/2 cup (4oz, 120gr) Greek or plain yogurt
1/2 tsp basil
1/2 tsp oregano
1/2 tbs oil
 Instructions:
Drain tomatoes, discarding or saving sauce for another use.  Roughly chop tomatoes. 
Heat oil in nonstick skillet.  Add chicken and brown lightly on both sides, about 4 minutes per side. 
Cover chicken, reduce heat and cook another 5 - 7 minutes, until the chicken is cooked through. 
Uncover, add tomatoes and herbs.   Simmer 5 minutes, uncovered. 
Add yogurt, stir well and heat through. 
Put chicken on small platter, spoon sauce over. 
Day 6:

 Pork Tenderloin Braised with Apples and Onions

Total time: 30 minutes
     There is something about apples, pork and fennel that just goes so well together.  The apples will be very soft, but the skin will help them hold their shape for a lovely presentation.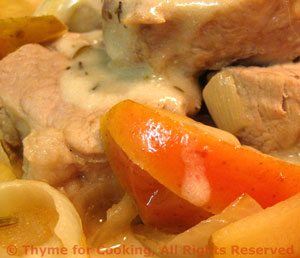 Ingredients:
 Instructions:
Thinly slice the onion and finely chop the garlic. 
Cut the apple into 12 wedges. 
Slice the tenderloin into 1 inch (2.5 cm) thick slices. 
Sauté onion and garlic in oil in nonstick skillet over medium-high heat until tender, about 4 minutes. 
Add fennel seeds and sauté 1 minute longer. 
Move onions to the side and add sliced pork.  Brown slices on both sides, about 5 minutes total. 
Add apple slices around pork. 
Combine thyme, stock, wine and mustard.  Pour over pork and apples. 
Reduce heat to low, cover and simmer 15 minutes.  
Dissolve cornstarch in chicken stock. 
Uncover skillet and remove pork to small platter. 
Increase heat and add cornstarch mixture.  Stir gently until sauce is thickened. 
Add yogurt and stir to combine. 
Spoon apples and onions around pork and serve.