Main Course Menu Plan: Week 10 
Summer I
Day 1:

Pasta with Shrimp (Prawn) and Avocado Sauce

Total time: 25 minutes
   The avocado makes a wonderful, creamy sauce for the pasta with only the 'good' fat. You can use heavy cream in place of the milk if you crave that richness, but I don't.  It really doesn't need it!  Grilling the shrimp adds another dimension to the dish, but you could just poach them quickly in a skillet in a 1/2 inch of water with a bit of lemon and pepper or use pre-cooked .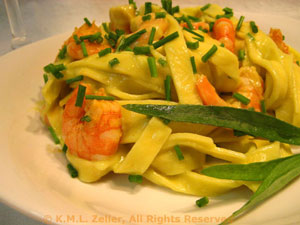 Ingredients:
 Instructions:
Cook pasta according to package directions.  Drain and rinse lightly with cool water.
Clean shrimp if necessary. If not, rinse and drain. 
Mix chili powder, garlic, lemon and olive oil in a bowl. 
Add shrimp and toss to coat.
Cut avocado and remove pit (see techniques). Scoop it out of the shell and put it into your blender.
Add chicken stock, vinegar and purée until smooth.
Add oil and purée just until blended, then add milk and purée a few seconds more. 
Cook shrimp in a grill pan on the barbecue grill over medium heat for 3 - 4 minutes, until they start to curl and turn opaque.  You could also sauté in a skillet in another tablespoon of olive oil.  Either way, when done remove.  It's not necessary to have them hot for this dish. 

To finish:

Put pasta into a large bowl and add avocado sauce, shrimp and chives.  Mix gently and serve.
Day 2:

Grilled Sirloin with Madeira Sauce

Total time: 20 minutes      plus marinating time 
    This makes a great dinner party dish: Use a larger, cheaper cut of meat, about 1 1/2" (4cm)  thick, and marinate 8 - 12 hours.  The rest of the ingredients can be doubled (I actually 'halved' everything for this version for 2)  You can also make more and serve the leftovers with pasta.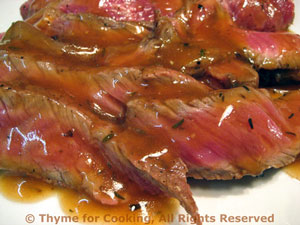 Ingredients:
1 steak, 1 - 1 1/2 inches thick (3 - 4cm), about 16oz (480gr)

Sirloin, tip steak, strip steak

Marinade:
1/3 cup (3oz, 90ml) red wine vinegar
1/4 cup (2oz, 60ml) ketchup
2 tbs olive oil
1/2 tsp salt
1/2 tsp dry mustard
1/2 tsp garlic powder
1/2 tsp dried thyme
1/2 tsp dried oregano
pinch dried cloves
Madeira Sauce:
1/4 cup of reserved marinade
1/2 cup (4oz, 120ml) beef stock
1/3 cup (3oz, 90ml) Madeira  

you could substitute cream sherry, port or red wine

1 tbs cornstarch (maizena) dissolved in 1 tbs water
 Instructions:
Day 3:

 Grilled Chicken Breasts Piccata

Total time: 30 minutes
  Capers, tarragon and lemon add a wonderful flavor to chicken breasts. Marinated for just 15 minutes, cooked on the barbecue grill and finished with a lemon, tarragon, caper sauce, these boneless chicken breasts make a lovely gourmet summer dinner, worthy of dinner guests... or just you!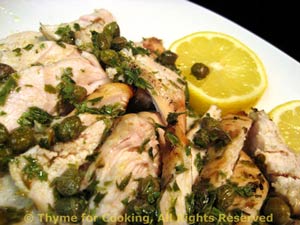 Ingredients:
2 chicken breasts, boneless, skinless
3 tbs capers (with liquid)
4 tbs fresh lemon juice,

about 1 lemon

4 tbs olive oil
2 tsp fresh snipped tarragon  

substitute 1 tsp dried
 Instructions:
Chop 2 tbs capers. 
Squeeze the lemon and remove any pips. 
Put lemon juice and oil in a small bowl and whisk well to combine, it should get thick. 
Put 3 tbs of the lemon/oil mixture into a separate bowl for the sauce. 
To the remaining marinade add the chopped capers. 
Put chicken in a shallow dish, pour the marinade with the chopped capers over and let marinate for 15 minutes. 
Snip the tarragon and add it to the sauce (reserved 3 tbs of lemon/oil), set it aside.

To cook:

Remove the chicken from marinade, discarding the marinade, and cook on barbecue grill for 8 - 12 minutes per side depending on size, or until done, take a peak and see. 

Or

can be sautéed in nonstick skillet over medium heat for the same time. 
Remove from heat, slice, drizzle the sauce over the top, sprinkle with remaining capers and serve.
Day 4:

 Grilled, Marinated Pork Chops 

Total time: 25 minutes
    The marinade adds a zesty flavor to the pork and helps keep them tender as they cook.  Remember, slightly pink is okay, too done dries them out, and makes them rather tough.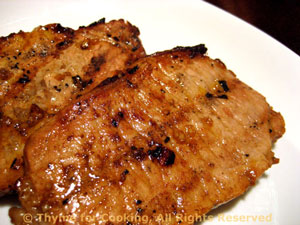 Ingredients:
2 - 4 pork chops, 12oz total (360gr)
Marinade:
2 tbs red wine vinegar
1 tbs Worcestershire sauce
1 tbs soy sauce
1 tsp paprika
1 tsp cumin
1/2 tsp garlic powder
1/4 tsp dry mustard
1 tbs olive oil
 Instructions:
Day 5:

 Cobb Pasta Salad

Total time: 25 minutes 
   This is not a traditional pasta salad. With lots of vegetables and big chunks of ham, cheese and egg, no one will mistake this for a small side dish.  I didn't thoroughly cool the beans.  As I wanted them to retain a bit of warmth I just rinsed lightly.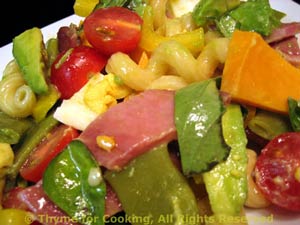 Ingredients:
8oz (240gr) ham or smoked turkey, thick slice 

get it at the deli counter

6oz (180gr) green beans  

I used flat, Italian or runner beans

2oz (60gr) cheese  

Cheddar, Colby

2 eggs, hard-boiled
1 avocado
1/2 orange bell pepper
1/2 cup (3oz, 90gr) cherry tomatoes
10 - 12 basil leaves
1 1/4 cups (4.2oz, 125gr) pasta, bite-size, fusilli, elbow
White Balsamic Vinaigrette:
1 tbs Dijon-style mustard
2 tbs white Balsamic vinegar
3 tbs salad olive oil
 Instructions:
Cook pasta according to package directions.  When done, drain.
Boil eggs.
Top and tail beans... cut off the ends.  Cut into 1 1/2 inch lengths (4cm).
Bring a medium saucepan half full of water to a boil over high heat.  
Add beans and blanch for 4 minutes. 
Remove, drain, rinse with cold water and set aside. 
Slice pepper, about 1/4" thick (.5cm) then cut slices in half. 
Slice ham or turkey and cheese into large, bite-size chunks. 
Cut cherry tomatoes in half. 
Cut avocado into large chunks.
When eggs are done, cool, peel and cut into chunks. 
Tear large basil leaves in half. 
Make vinaigrette:
Whisk vinegar,and mustard. 
Slowly whisk in oil and whisk until it emulsifies.

To assemble: 

Put drained pasta in a large bowl and add vinaigrette.  Toss well to combine. 
Add ham, peppers, tomato and beans, toss well. 
Add cheese, egg, basil and avocado.  Stir gently, just to combine. 
Serve.
Day 6:

 Grilled Turkey Teriyaki

Total time: 15 minutes
  Turkey cutlets are great for a quick main course.  Paired with a simple Teriyaki marinade, these can be ready in under 10 minutes.... But you have to let the barbecue grill warm up!  Or just quickly sauté in a nonstick skillet.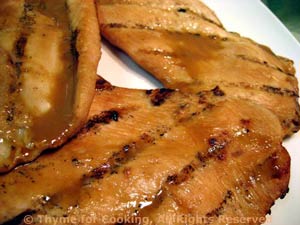 Ingredients:
2 - 4 turkey cutlets, depending on size  12oz total (360gr)
2 - 3 tbs Teriyaki marinade
 Instructions:
This is very work intensive:  Open bottle of Teriyaki marinade and pour some on the turkey cutlets. Set aside to marinate for a bit. 
When ready cook on barbecue grill for 2 - 3 minutes per side or under broiler for same amount of time or sauté in nonstick skillet for 3 - 5 minutes a side - in all cases cook until done.