Tuna Barley Salad
Fresh Fruit
Cooking time:  20 minutes for menu           Cooking schedule: see below for instructions
          I always have frozen peas on hand for tossing in a salad.  If you have any celery in the fridge, add some, sliced, to the salad
Tuna Barley Salad 
Total time: 30 minutes
    This is a variation on the traditional Tuna Macaroni Salad. It's lots healthier and we like the chewy barley.... Use quick-cooking pearl barley, which takes about 15 minutes.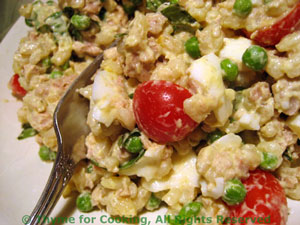 Ingredients:
2/3 cup (3.3oz, 95gr) quick-cooking barley
1 1/3 cup (11oz, 330ml) chicken stock
2 hard-boiled eggs
9oz (270gr) tuna
1 - 2 ribs celery
1 cup peas  

frozen, thawed, no sauce

1/2 cup (3oz, 90gr) cherry tomatoes
2 tbs fresh, snipped chives
2 tbs fresh, snipped basil

Creamy Dressing:

2 tbs Dijon-style mustard
4 tbs Greek or plain yogurt
4 tbs mayonnaise
 Instructions:
Put barley and chicken stock in a small saucepan. 
Cover and simmer until tender, about 15 minutes for quick cooking barley.
Cook eggs. When done, cool, peel and roughly chop.  
Thaw peas by running under hot water; drain well. 
Open and drain tuna  
Cut cherry tomatoes in half.
Roughly chop celery. 
Snip chives and basil. 

Make dressing:

Put all ingredients into a bowl and stir well to combine.

To finish: 

Put barley into a large bowl. 
Add tuna, eggs, peas, tomatoes, celery, herbs, dressing and stir well to combine.
Fresh Fruit
Your choice - peaches, watermelon, maybe?
Cooking schedule: 20 minutes
Assemble all food, utensils and serving dishes
Utensils: measuring cups, spoons, knives,
scissors, small bowl, 2 small saucepans with lids,
large bowl, strainer
Cook barley
Cook eggs
Put peas in strainer, thaw in hot water
Open tuna, drain

Cut tomatoes
Roughly chop celery
Snip chives, basil
Make dressing
When barley is done, put into bowl
When eggs are done, cool, peel. chop
Add tuna, peas, eggs, tomatoes, herbs, celery, stir
Add Dressing to salad, stir, Serve
Don't forget the fruit!