Creamed Spinach
Total time: 10 minutes
    Yes, creamed spinach.... but updated, with more flavor than the traditional version.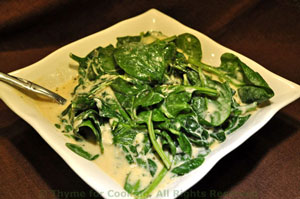 Ingredients:
6oz (180gr) spinach
1/2 cup (4oz, 120ml) milk
2 tsp cornstarch dissolved in 1 tbs water
2 tbs Greek or plain yogurt
1/4 tsp dry mustard
1/3 cup (1.5oz, 45gr) shredded cheese
 Instructions:
Heat milk in a large skillet just until it simmers. 
Add cornstarch mixture and stir until it thickens. 
Add yogurt, dry mustard, cheese, and stir until cheese just melts.
Add spinach, stir briefly to coat, cover, remove from heat and let sit until spinach is slightly wilted.
Stir well and serve.