Burgers Stuffed with Chevre
Fried Sweet Potatoes
Sautéed Snow Peas with Spring Onions
Sautéed Snow Peas (Mangetout) with Spring Onions
Total time: 15 minutes
    Spring onions are the small, round white onions that appear in spring.  If you don't have them use green onions.   If the snow peas are small, leave them whole.  If they are large (2", 5cm) cut in half of thirds, at an angle.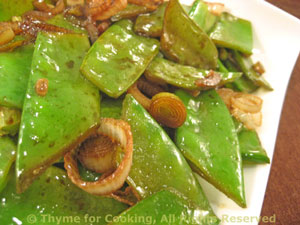 Ingredients:
4oz (120gr) mangetout, snow peas
2 spring onions or 4 green onions, including tops
2 tsp Balsamic vinegar
1 tsp soy sauce
2 tsp olive oil
 Instructions:
Peel and slice onions.
Clean pea pods - snip off the stem end.  Cut large pods into pieces, at an angle, if desired. 
Heat oil in nonstick skillet over medium heat. 
Add onions and mangetout, 5 - 7 minutes, stirring frequently. 
Add vinegar and soy sauce, stir to combine and serve.