Pork Tenderloin, Oriental Barbecue
Grilled Potatoes
Oriental Zucchini, (Courgette)
Oriental Zucchini (Courgette)   
Total time: 25 minutes
   Thinly slice the zucchini using a box slicer, mandolin, or food processor.  Sauté quickly, until just starting to get soft but stop while they still retain their shape.  Finish with toasted sesame seeds.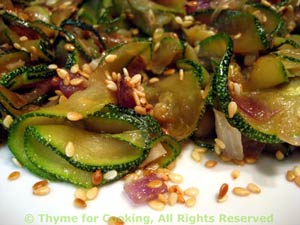 Ingredients:  
1 medium zucchini (courgette) - about 2 cups thinly sliced
1 small red onion or 1/2 large
2 cloves garlic
1 tsp sesame or walnut oil
1 tbs olive oil
1 tbs soy sauce
1/4 tsp ground ginger
1 tbs sesame seeds
 Instructions:
Slice onion. 
Mince garlic. 
Thinly slice zucchini. 
Heat oils in medium, nonstick skillet over medium-high heat.  Add onion, and sauté until tender. 
Add garlic, ginger and soy sauce and sauté briefly. 
Turn heat to medium, add courgette and continue to sauté for about 7 - 10 minutes, stirring occasionally with a wooden spoon, until zucchini is tender. 
Remove, top with toasted sesame seeds and serve.
Note:  To toast sesame seeds put into a bare, nonstick skillet over medium heat and brown, tossing/stirring frequently.  It takes 8 - 15 minutes depending on heat and size of pan.