Sautéed Chard
Total time: 15 minutes
   Chard, or Swiss Chard, is a slightly bitter green, reminiscent of spinach.  Both stems and leaves are eaten; some cultures preferring one over the other.  We're democratic and eat it all.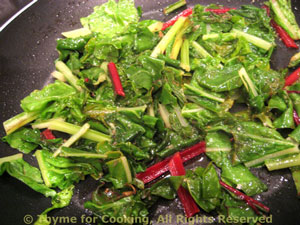 Ingredients:
8oz (240gr) chard or Swiss chard
2 tsp olive oil
2 tsp butter
1 tsp soy sauce
 Instructions:
Wash the chard and trim any bad bits. 
Stack the leaves together and fold over, the long way.  Slice into thin strips, using both leaves and stems. 
Heat butter and oil in a large skillet. 
Add the chard and stir-fry over medium heat until it softens and fits into the skillet. 
Reduce heat to low and cook until tender, another 5 - 7 minutes. 
Drizzle with soy sauce, stir and serve.