Christmas Eve Dinner
Smoked Salmon with Traditional Garnish
Standing Rib Roast / Yorkshire Pudding, Horseradish Sauce
Cauliflower Parmesan
Bûche de Noël recipe not included
Cauliflower Parmesan
Total time: 30 minutes
    Sometimes, simple is best.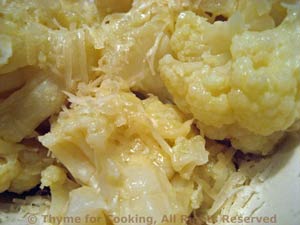 Ingredients:
1/3 head cauliflower
1 tbs olive oil
1/4 cup (1oz, 30gr) Parmesan, freshly grated
 Instructions:
Cut cauliflower into pieces, put into a steamer and steam over water for 12 - 15 minutes until fork-tender.
Remove and empty water from pan.
Heat oil in the same pan. Add cauliflower and sauté briefly.
Sprinkle with Parmesan and serve.