Egg Crêpes with Leeks and Ham
Salmon, Balsamic Glazed
Pasta with Olive Oil and Sage
Cauliflower with Paprika
Cauliflower with Paprika
Total time: 25 minutes
    A bit of smoky paprika makes an interesting finish for cauliflower.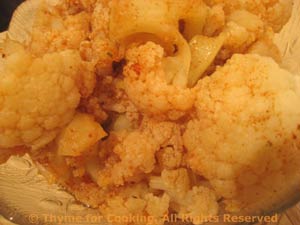 Ingredients:
1/3 head cauliflower, enough for 2 people
1 tbs olive oil
2 tbs chicken stock
2 tsp paprika  (sweet, smoky or hot - or both)
 Instructions:
Cut cauliflower into pieces, put in steamer and steam over water for 10 - 15 minutes until fork-tender. 
Remove from pan and empty water. 
Put oil into same pan.  Add paprika and sauté 1 minute. 
Add stock and heat through. 
Pour over cauliflower.  Toss to coat and serve.