Grilled Chili Chops
German Potato Salad, leftover
White Balsamic Glazed Carrots
White Balsamic Glazed Carrots
Total time: 30 minutes
  A bit of sugar emphasizes the natural sweetness of the carrots.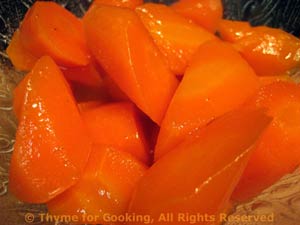 Ingredients:
2 - 3 medium carrots
1/4 cup (2oz, 60ml) chicken stock
2 tsp butter
2 tsp sugar
2 tsp white Balsamic vinegar
 Instructions:
Peel carrots and roll cut - that is cut the end off of the carrot at an angle, roll carrot 1/4 turn and cut next piece about 3/4 inch away at an angle, roll 1/4 and cut next piece, etc.  This gives you interesting looking pieces with lots of surface. 
Put carrots in small skillet, add stock and cook, covered, 15 - 20 minutes or until vegetables are done. 
Remove cover, turn heat to medium-high and cook off all but 1 tbs of liquid. 
Add butter, vinegar and sugar, stirring to dissolve sugar. 
Sauté until thick and glazed, stirring often, about 5 minutes. Serve.