Asparagus and Green Garlic Pastry
Baked Snapper with Lemon Sauce
Pimiento Barley
Carrots with Butter and Chives
Carrots with Butter and Chives
Total time: 25 minutes
These are delicious in the spring when the chives start coming up - as well as the rest of the summer.  If you don't have access to fresh chives, substitute dried.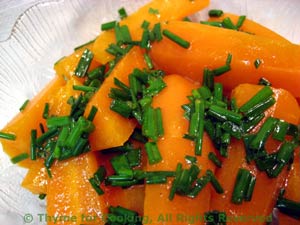 Ingredients:
 Instructions:
Peel carrots, cut into sticks.
Put carrots into a small saucepan or skillet.  Add stock, cover and bring to a simmer over medium heat. 
Reduce heat and let simmer until done, 10 - 15 minutes. 
Drain any remaining liquid from pan. 
Add chives and butter, stir well to coat and heat through. 
Remove from heat, add pepper if you like and serve.