Sweet Sour Carrot Coins
Total time: 20 minutes
     Sliced thinly and cooked in a sweet and sour glaze, these luscious carrots complement any meal.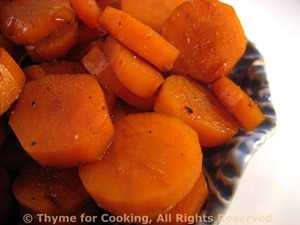 Ingredients:
2 large carrots
1/4 cup chicken stock
1 tsp Balsamic vinegar
1 tsp brown sugar
2 tsp butter
 Instructions:
Slice the carrots very thinly. 
In small skillet heat the stock, vinegar, sugar and butter. 
When simmering add the carrots, cover, reduce heat to low and simmer for 10 minutes. 
Uncover and cook off any remaining liquid. Serve.