Italian Brussels Sprouts
Total time: 30 minutes
    These are steamed until tender, and finished with Balsamic vinegar and Fresh Parmesan. Simple.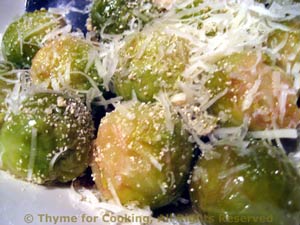 Ingredients:
 Instructions
Trim Brussels sprouts: slice a bit off of the stem end and peel away the outer leaves - any that are damaged or discolored.  With the tip of your knife make a small X in the stem end - that, supposedly, aids even cooking.
Put in a steamer basket over an inch of water and steam until done, 15 - 25 minutes, depending on size.  They are done when you can easily pierce them with a sharp knife.  Don't over cook or they can be a bit strong tasting and mushy.
Remove from pan and empty the water.
Return pan to heat and heat the oil.  When hot add the sprouts and sauté for 2 minutes.
Add vinegar and toss gently.
Sprinkle with Parmesan and serve.