Broccoli Cheese
Total time: 30 minutes
  This is based on the very popular British comfort food 'Cauliflower Cheese', but a bit lighter.  Like some other cruciferous vegetables (Brussels Sprouts) broccoli is best if not overcooked.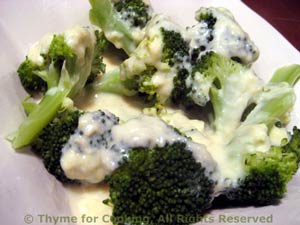 Ingredients:
 Instructions:
Cut broccoli into bite size florets and stems. 
Put in steamer basket in saucepan with an inch of water in bottom. 
Put on medium heat and steam for 10 minutes or just until barely tender.  Remove from pan and keep warm. 
In same pan, if not too large, or a small saucepan, melt butter. 
Add flour and cook, stirring with a whisk or fork. 
Slowly add milk, stirring constantly until you have a thick sauce. 
Stir in cheese and heat until just melted. 
Pour over broccoli and serve immediately.
Or arrange broccoli in an oven-proof casserole or serving dish. Pour cheese sauce evenly over top and place in a warm oven for 10 - 15 minutes. (250F, 125C).