Sliced, Baked Tomatoes
Brined and Grilled Cornish Hens
Roasted Potato Salad with Capers
Green Beans with Tomato and Onion
Braised Green Beans with Tomatoes, Shallots and Basil 
Total time: 35 minutes
   A perfect showcase for summer's bounty: Tender green beans braised with ripe tomatoes and finished with fresh basil!  I often make enough to have the next day, cold.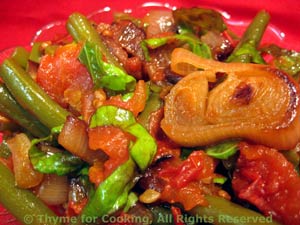 Ingredients:
6oz (180gr) green beans
2 medium shallots (3oz, 90gr) shallots 

or 1 small onion

1 medium tomato, (5oz, 150gr)
1 tbs olive oil
2 tbs freshly snipped basil
 Instructions:
Top and tail beans... cut off the ends.  Cut into 1 1/2 inch lengths (4cm). 
Thickly slice shallot. 
Roughly chop tomato. 
Snip basil. 
Heat oil in nonstick skillet over medium heat.  Add shallot and sauté until tender and transparent. 
Add beans and tomato, cover, reduce heat to low and simmer 20 - 25 minutes, until beans are tender and done. 
If they start to dry out add a tbs of water or chicken stock. 
When beans are done, uncover, stir in basil and serve.