Cheese-burgers with Glazed Mushrooms
Quinoa with Fresh Herbs
Green Beans with Lemon and Soy Sauce
Green Beans with Lemon and Soy Sauce
Total time: 20 minutes
  I love the combination of lemon and soy sauce, the slightly tart, slightly salty blend enhances the flavors of most foods, particularly vegetables.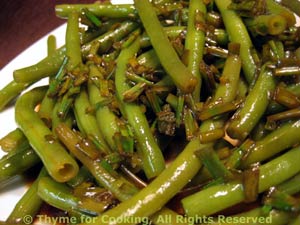 Ingredients:
6oz (180gr) green beans
2 tbs fresh snipped chives
2 tsp butter
2 tsp soy sauce
1 tsp lemon juice
 Instructions:
Top and tail and beans.
Cut in 1 1/2inch (4cm) lengths. 
Put in a small sauce pan with an inch of water.
Bring to a boil over medium heat.  Turn down to low and simmer until done - about 10 minutes. 
Drain beans and put into a serving bowl. 
Melt butter in same pan. 
Add soy sauce, chives and lemon and stir to combine.
Pour over beans and serve.