Gazpacho de Andaluz
Pork Loin, Brined and Grilled
Pasta with Fresh Tomato and Green Olive Sauce
Fried Green Beans
Fried Green Beans
Total time: 15 minutes
   A simple preparation to highlight the best of summer vegetables.  Adding a bit of oil to the butter prevents it from browning or burning.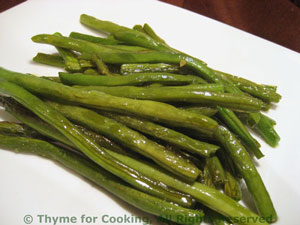 Ingredients:
6oz (180gr) green beans
2 tsp butter
2 tsp olive oil
sea salt
 Instructions:
Top and tail beans but leave whole. 
Heat butter and oil in a skillet large enough to hold the beans without cutting. 
Add beans and sauté over medium heat until starting to brown and blister, 7 - 9 minutes.  
Sprinkle with salt, remove and serve.