Tomato, Mozzarella and Avocado Salad
Grilled Scallops with Lemon Ginger Sauce
Basmati with Lemon and Chives
Green Beans with Caramelized Shallots
Green Beans with Caramelized Shallots
Total time: 25 minutes
    Crispy, fried shallots top these green beans, slightly reminiscent of a retro American Green Bean Casserole, but much healthier.  I let them caramelize naturally, no added sugars to help.  Simple summer flavors.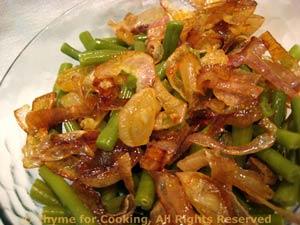 Ingredients:
5oz (150gr) green beans

1/3 (3oz, 50ml) cup chicken stock
2 - 3 shallots
2 tsp olive oil
 Instructions:
Slice shallots. 
Heat oil in medium nonstick skillet over medium-high heat.  Add shallots and sauté until tender, about 5 minutes. 
Turn heat down to medium and continue cooking until nicely brown and starting to caramelize, about 15 minutes longer.
Top and tail beans (cut off the ends...).  Cut beans into 1 1/2" (3.75cm) lengths. 
Put beans and stock in a small skillet or saucepan  Cover and cook over medium heat just until beans are done, 10 - 15 minutes. 
Drain, top with shallots and serve.