Ham and Chive Mini Frittatas
Brined, Grilled Pork Tenderloin
New Potato 'Oven Fries'
Sautéed Asparagus with Tarragon Yogurt Sauce
Sautéed Asparagus with Tarragon Yogurt Sauce
Total time: 15 minutes
    Along with the chives, tarragon is one of the first herbs to appear in the spring.  It's traditional with fish and chicken, but also does well with most vegetables - especially the early spring vegetables.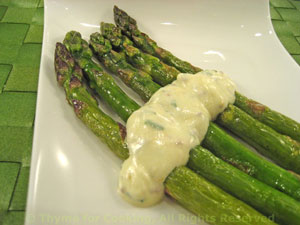 Ingredients:
10oz (300gr) asparagus, green or white
2 tsp olive oil
Tarragon Yogurt Sauce:
3 tbs Greek or plain yogurt
1 tbs mayonnaise
1 tbs white Balsamic vinegar
1 tsp Dijon-style mustard
2 tsp fresh, snipped tarragon
1 tsp fresh, snipped chives
1 tbs good olive oil
 Instructions:
Snap off ends of asparagus. 
If white use vegetable peeler and peel the bottom half of stalk, laying the asparagus flat to prevent breaking.
 Heat oil in a large skillet. 
Add asparagus and sauté over medium heat until starting to brown and blister, 8 - 10 minutes.
Remove, spoon Yogurt Sauce over and serve.
Tarragon Yogurt Sauce:
Whisk together yogurt, mayonnaise, vinegar and mustard.
Drizzle in oil, whisking. 
Stir in snipped herbs.