Chicken, Asparagus and Avocado Salad
Total time: 20 minutes
     Quickly blanched asparagus, stir-fried chicken and sliced avocado go together quickly for this simple, spring salad.  Some crusty country bread is the perfect accompaniment.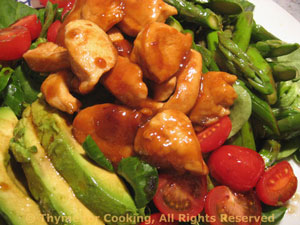 Ingredients:
 Instructions:
Vegetables:
Snap off asparagus ends.  Peel if using white. 
Cut asparagus into 1 1/2" (4cm) lengths. 
Bring a medium saucepan half full of water to a boil over medium high heat. 
Add asparagus and blanch for 2 minutes (3 for white). 
Remove, drain, rinse thoroughly with cold water and drain again.
Prepare salad greens, washing and spinning dry if needed
Slice tomatoes in half.
Remove avocado from shell and slice.
Chicken:
Cut chicken into large bite-size pieces. 
Heat oils in a medium skillet over medium-high heat. 
Add Teriyaki sauce and chicken; stir-fry 5 - 7 minutes until chicken is cooked through.
Vinaigrette:
Mix Teriyaki sauce, vinegar and sesame oil.
Slowly add olive oil, whisking constantly. 
Salad:
Arrange salad greens on two plates. 
Divide chicken and place in the center.  
Arrange avocado slices on one side, asparagus on the other. 
Add tomatoes. 
Drizzle a bit of dressing over all and serve, remaining dressing on the side.