Lentil and Sausage Pasta with Avocado Sauce, 
garnished with Zucchini
Total time: 30 minutes
   Not quite a hot pasta dish; not quite a pasta salad.  But chock-a-block with vegetables and flavor. Can easily be made vegetarian: eliminate the sausages and add more zucchini, lentils (cooked in water) or tofu.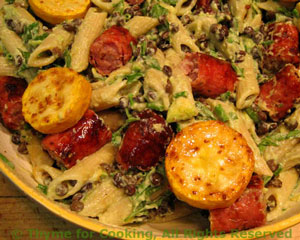 Ingredients:
1 cup cooked lentils I used Lentils du Puy,   (1/3 cup lentils cooked in 1 cup water or stock)
1 1/4 cup (4.2oz, 125gr) pasta, penne
1 small avocado
1 tbs lemon juice
1/3 cup (2.5oz, 75gr) soft goat cheese
1 tbs snipped fresh basil
1 tbs snipped fresh parsley
1 tbs snipped fresh chives
4 - 6 sausages, depending on size, 8oz (240gr) total weight
1/2 courgette (zucchini or yellow squash) 
1 tbs olive oil
 Instructions:
Cook pasta according to package directions.

If cooking lentils:

Briefly inspect the lentils in case someone missed the odd stone.  Rinse and drain. 
Cook the lentils in water and/or stock, about 25 minutes / according to package directions or until done.  When done, remove from heat and drain if needed.

Avocado sauce:

Cut avocado and remove pit.  Put both halves of the avocado into a small bowl. 
Add lemon juice and mash with a fork or potato masher. 
When well mashed add goat cheese and mash together. 

Zucchini:

Slice into 1/2" (1.25cm) thick slices. 
Heat oil in a nonstick skillet over medium heat.  The skillet needs to be large enough to hold all of the slices flat. Add zucchini slices and fry 8 - 12 minutes. 
Check after 8 by lifting up with tongs and looking at the bottom; it should be getting brown spots on it.  If not, fry some more; if yes turn and fry the other side.  The other side won't take quite as long. 
When they are done the slices will have nice, browned patches on both sides and be tender. 

Sausages:

Cook on barbecue grill 10 - 15 minutes or until done (can also be sautéed in nonstick skillet - same amount of time). 

To finish: 

When pasta is done put it into a large bowl with lentils and herbs. 
Add mashed avocado/chevre and toss well to combine. 
When sausages are done, remove and slice in 1 inch (2.5cm) lengths. 
Add to pasta and toss well to combine. 
Lay zucchini slices on top and serve.