Old-Fashioned Cucumber Salad
Total time: 10 minutes plus 1 hour
   This is my mother's recipe, as made by her mother.... Probably German in origin.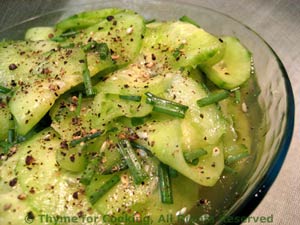 Ingredients:
2 - 3 cucumbers
1 tbs salt
2 tbs sugar
1/4 cup cider vinegar
1 tbs fresh chives, snipped
1/2 tsp pepper
 Instructions:
Peel cucumber and thinly slice, using a box slicer, food processor or mandolin. 
Put 1/3 of the cukes in a deep bowl, sprinkle 1/3 salt. 
Repeat twice. 
Place a small plate or bowl, that will rest directly on the cucumbers, on top. Add a weight of some sort to add pressure to the cukes, and let sit for an hour. 
Drain, rinse lightly and squeeze dry. 
Add remaining ingredients, mix well. 
Serve.  This gets better the next day.